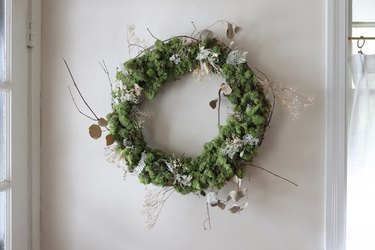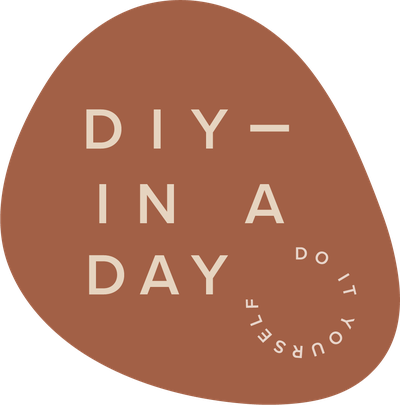 DIY in a Day brings you step-by-step instructions for easy projects that will spruce up your space — within 24 hours (or less!).
If ever there were a wreath that encapsulated the transitional beauty of spring and winter, it very well may be this DIY. Covered in gorgeous fluffy moss, it features the verdant hues of a lush spring forest, while the clusters of dried florals and twigs echo of the quiet hush of winter. Since it straddles the two seasons, you can get a lot of use out of it with your home decor. Hang it on your front door, above a table, in a window, or on a wall, and enjoy the rustic elegance of nature's jewels throughout both seasons. This spring moss wreath tutorial creates a design that is also perfect for celebrating Easter, a spring baby shower, or even Mother's Day.
Things You'll Need
Tip
While you can buy dried baby's breath and silver dollar eucalyptus at craft stores such as Michaels or on Amazon o, a cheaper alternative is to buy it fresh at a retailer like Trader Joe's and hang it upside down to dry for a few days.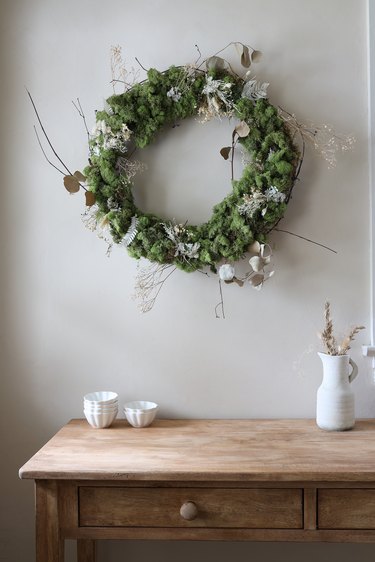 Step 1
Clip off the thick vine that holds the grapevine wreath form together, and pull and loosen the branches to create more of an unruly shape.
Step 2
Place large pieces of sheet moss on top of the grapevine wreath and wrap floral wire around them to attach them to the branches. You want to wrap the wire tight enough that it will keep the moss in place, but not so tight that it pulls the branches of the wreath back together again.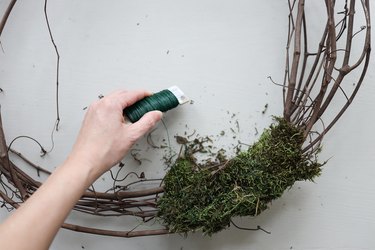 Continue attaching sheet moss until the entire wreath is covered. It doesn't have to be uniform in coverage — in fact, the less uniform it is, the more organic it will look. Again, be sure to leave some of the grapevine branches loose and protruding from all directions.
Step 3
Using hot glue, attach pieces of reindeer moss on top of the sheet moss. This will hide the floral wire and add more volume to the wreath.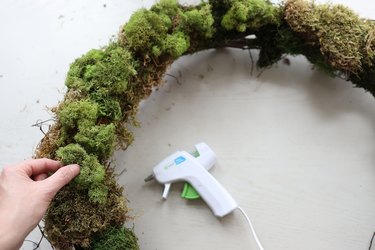 Continue adding layers of reindeer moss, gluing as you go, until the wreath looks quite full and fluffy.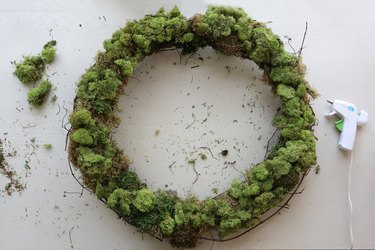 Step 4
Bunch together several stems of dried florals and bind them together at the bottom with floral wire. Leave long tails when you cut the wire, so you can attach the bundles to the wreath.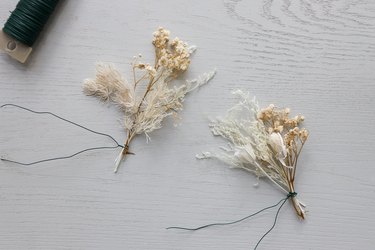 Step 5
Attach several bundles of dried florals to the wreath with floral wire. Space them out around the wreath, switching up the direction that they face for a more unkempt look.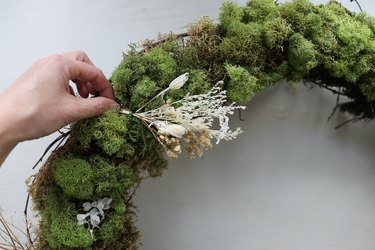 Step 6
Glue a smaller dried floral on top of the bundles to hide the floral wire.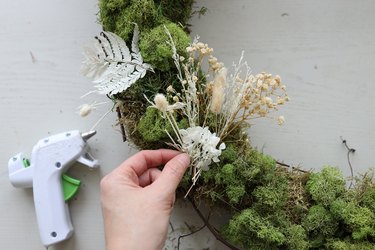 You can also directly glue any really delicate pieces that would crumble if attached with wire, such as ferns.
Step 7
Leave the stems long on several pieces of baby's breath and silver dollar eucalyptus, and tuck them tightly into the wreath. You want them to stick out prominently and break up the circular shape.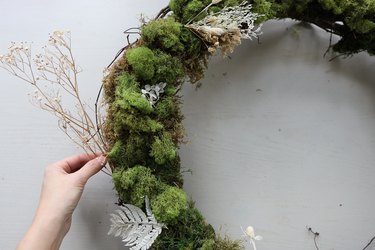 Step 8
Glue a few more layers of reindeer moss around the inside rim of the wreath to build up more volume and create more of an irregular shape.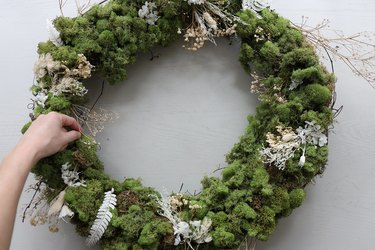 Now hang your spring decor wreath either indoors or outside (such as on your front porch), and enjoy the seasonal greenery along with the dried floral beauty of winter!