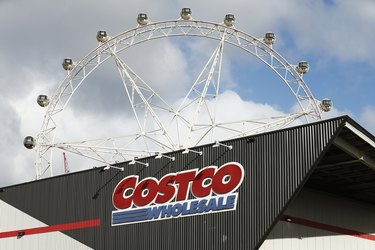 Did you know that Costco has international locations? According to the company's March 2021 news release, Costco has 804 warehouses with 103 locations in Canada, Mexico, the United Kingdom, Japan, Korea, Taiwan, Australia, Spain, Iceland, France, and China. The other 558 stores are in the U.S. and Puerto Rico.
To get a peek at what Costco is like across the globe, check out the following videos.
Strictly Dumpling takes us around Costco Japan while he hunts down a massive 50-piece sushi plate. Along the way, we get to see that the store's layout is similar to those in America and that they do, in fact, serve free samples. The same goes for the food court — however, they also sell clam chowder there.
As for the products, depending on where you live, you might notice some familiar brands alongside a few different products that are special to Japan. You'll also, understandably, see a lot of fish at Costco Japan.
Thanks to Sean & Sandy, we get to take a peek inside the Costco in Mexico City. Just like with Japan, the layout is what we're used to the U.S., but the food court is a bit different in terms of menu items. There, you can buy canelones, strudel de manzana (apple strudel), pizza de pastor, churros, and a mango smoothie.
A standout product in the store is the Kinder Surprise egg, which is banned in America because it contains a non-food item inside (aka a choking hazard).
When RebeccaAndSometimesEuan visited the only Costco in Iceland, they found that everything was pretty standard. However, they did find more weather-appropriate clothing, Icelandic sweets, dried fish filets, and whole peaches in syrup. At the food court, there was also a special Icelandic mustard called SS Pylsusinnep.
Strictly Dumpling is back again to show us the inside of a South Korean Costco. While the layout is consistent with what we've seen before, you'll quickly notice that the store serves a ton of meat products. The food court is no exception — there, they serve a bulgogi bake and bulgogi pizza.
The most significant difference you'll notice when you see Costco China is the crowds. Apparently, during the Shanghai store's grand opening, it took people several hours to get inside the store.
While we didn't see anything particularly different about the food products in Ann Tomada's video, the food court does have a few standout items: clam chowder (just like Japan), a seafood pizza, spicy fried chicken, and a chicken Caesar salad.
Who's ready for an international Costco trip?