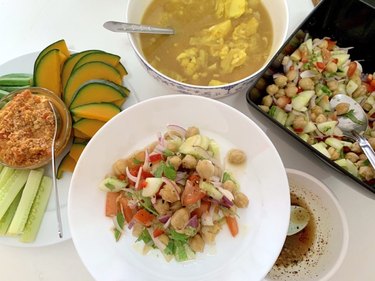 You might think that you welcomed the arrival of 2021 back in January, but to millions of Thais (like myself), Laotians, Cambodians, and Burmese, the new year doesn't start until April 13. On this day, we will be celebrating the Buddhist New Year — also known in Thai as ​Songkran​ — marked by three days of carousing, splashing strangers with water, and, of course, much feasting.
Songkran, meaning "approaching" or "passing" in Sanskrit, is arguably the biggest holiday on the Buddhist calendar. In Thailand, the entire country comes to a standstill as people head home to be with their families in provinces throughout the country. It is important for younger Thais to show their respect and to receive blessings from the family elders by washing the elders' hands with jasmine-scented water. Families then come together to make merit, usually by donating meals to visiting monks who pray for their health and prosperity by flicking holy water onto their heads.
If you haven't guessed already, water plays a big part in Songkran festivities as a symbolic way of "cleaning the slate" and starting the year renewed. On the final two days of the holiday, water plays an even bigger part as the "water festival" shifts into high gear. Celebrating Thais fill up empty bins with water, flinging it at passersby with bowls or even water guns. Those who get too close are rewarded by getting their faces marked with colored powder, usually in the form of handprints on the cheeks. Of course, tourists always bear the full brunt of the water guns. Luckily, Songkran happens at the hottest time of the year in Thailand, so feelings don't get too hurt when the water starts spraying.
It all sounds like fun and games, but when it comes to food, Thais get serious. What is served on each family table after merit-making is as important as making the merit itself. Of course, these dishes will all vary. One of the great things about Songkran is that all Thais celebrate it in their own way, no matter what region of the kingdom they're in. Here, you'll find seven recipes illustrating all the different dishes that families may be enjoying for Songkran. As Thais gather over the table this year, they will celebrate starting over — looking ahead to the better times that lie in wait for them.
​Sawasdee pii mai​ (Happy New Year)!
1. Bangkok Glutton Som Tum (Grated Green Papaya Salad)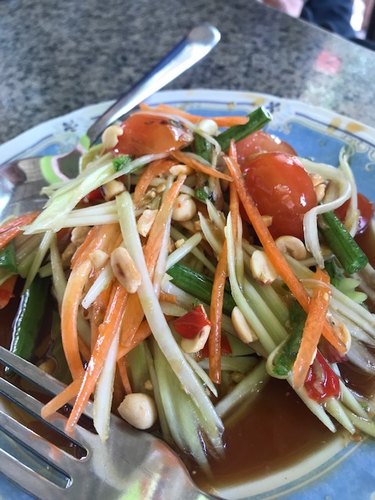 Although this dish hails from the northeastern region of Thailand (also known as Isaan), this salad has become one of the most popular dishes to order for Thais all over the country. This recipe (plug alert: nabbed from my upcoming cookbook!) is modeled after the salads eaten in Isaan, but if you prefer a tamer, Central Thai version, just swap out the anchovies for a little more palm sugar and garnish it with roasted peanuts and dried shrimp.
Get the full recipe here.
2. Courageous Kitchen Yum Tua Chickpea (Chickpea Salad)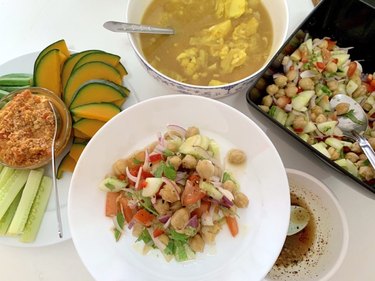 If you are vegan, no need to look any further for culinary inspiration than Thai vegan chef Panisha Chan's recipes on courageouskitchen.com. One of her most popular dishes is this tangy chickpea salad, brimming with vegetables, but with just enough of a flavor punch in the Thai-style dressing (oil-free!) to give it something extra. Add a couple of sliced bird's eye chilies if you can stand the heat.
3. Christao Khao Soy Nuea (Beef Curried Noodles)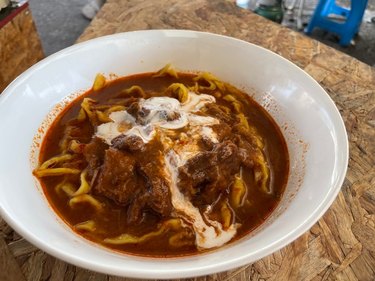 Khao soy, or Northern Thai curried egg noodles, may be the most popular dish to come out of the region and, arguably, Thailand, since pad thai. Luckily for Thai food lovers, it's not as time-consuming to make as it seems. Enjoy it for a leisurely lunch accompanied by garnishes like fresh lime wedges, pickled cabbage, and thinly sliced shallots.
Watch the full recipe here.
4. Courageous Kitchen Gang Massaman Gai (Chicken Massaman Curry)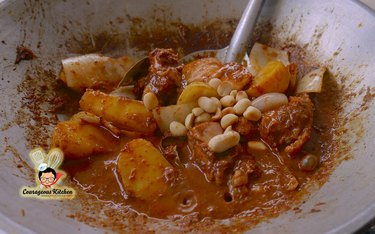 In Southern Thailand, this curry reigns supreme. Funnily enough, massaman curry (which translates roughly to "Muslim curry") did not start out as a Thai dish, and instead was considered an import to the kingdom's shores courtesy of either Persian traders, Malaysian visitors, or my husband's ancestor Sheikh Ahmad (depending on whom you speak to, obviously).
In any case, the "foreign" elements in the dish (potatoes, cardamom, cinnamon, bay leaves) transform it into one of the best examples of a fusion dish around. This version comes from Dwight Turner of Courageous Kitchen, a non-profit organization devoted to helping at-risk families in Bangkok.
5. Oh Happy Bear Gang Gai Fak Tong (Thai Chicken Curry With Pumpkin)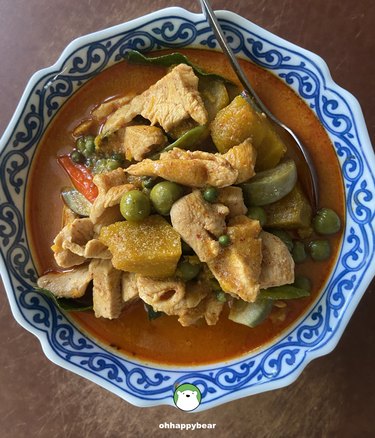 Pumpkin may be to Thais what potatoes are to Westerners — a versatile staple that can be used in everything, even desserts. In this delicious red curry, pumpkin bulks up a fragrant Central Thai curry studded with chicken and mellowed out with coconut milk. It's a comfort food dish straight out of Oh Happy Bear's childhood.
Get the full recipe here.
6. Cooking & Clothes Gluay Buad Chee (Bananas in Coconut Milk)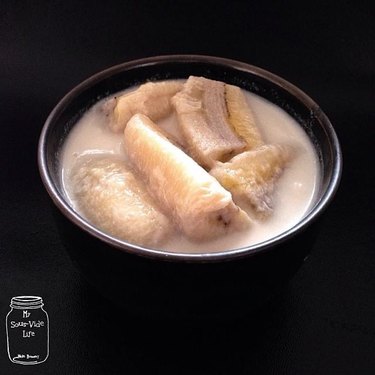 One of Central Thailand's most traditional and oldest desserts is this deceptively simple dish of boiled bananas enrobed in a thick coconut cream — a great example of the Thai love for both sweet and salty flavors. Best of all, this dessert is vegan.
Note: The first recipe is in Thai. For the English version, scroll to the second recipe.
Get the full recipe here.
7. Eating Thai Food Khao Niew Mamuang (Mango Sticky Rice)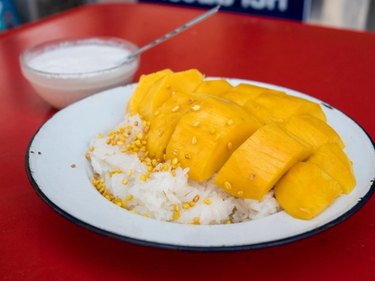 Of all the desserts to come out of Thailand, this one might be the most famous. Its genius lies in its simplicity: fresh, sweet mango coupled with sweet sticky rice smothered in that slightly salty coconut cream. This recipe by Mark Wiens is the most thorough one I've come across.