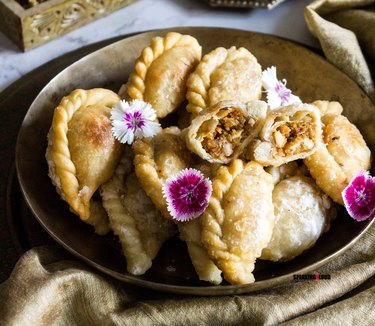 Holi, the festival of spring that marks the end of winter and beginning of the spring season, is celebrated in most of India during the month of March, according to the Gregorian calendar. The festival marks the start of harvest season and kicks off on the evening of a full moon night during Phalgun (March in the Hindu lunar calendar).
Since nature is now bursting with flowers of hundreds of hues, this festival is commemorated with people covering each other in colored powders called gulal. A bonfire on the full moon night also symbolizes the burning of all evil, hostility, and heartaches, marking new beginnings in life. The next morning, the air is a riot of colors with gulal and colored water sprays. It is a joyous and vibrant festival marked by the beats of drums and traditional foods. Holi's many folklores and traditions can be read here.
The festival has gained much popularity over time and is celebrated in many parts of South Asia. Besides India and Nepal, the celebrations are observed in Suriname, Mauritius, Fiji, Malaysia, and more. Even parts of Europe and North America celebrate it as the spring festival of love, fun, frolic, and colors.
With different regions of India celebrating the festival, various traditional food items are made specifically for the two-day festival that goes from March 28-29. Here are a few recipes for these colorful days.
1. Nandita Godbole Puran Poli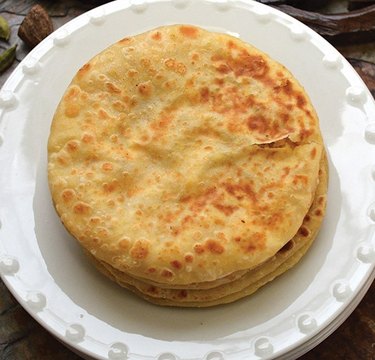 This Indian flatbread is a much-loved Holi dish in the state of Maharashtra. Filled with a gooey mixture of cooked toor dal (split pigeon peas) or chana dal (split Bengal gram similar to chickpeas, but with a black seed coat) and sugar or jaggery, this meal is best had with homemade ghee or clarified butter.
Get the full recipe here.
2. Priyanka Bhattacharya Peraki Gujiya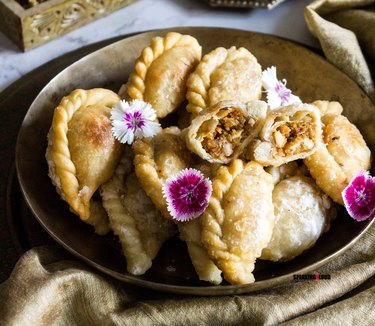 Gujiya is more like a mini calzone or a fried momo (a type of steamed dumpling), only with a sweet filling. Made by Indians across the country, this sweet little dumpling has regional variations in the filling.
Get the full recipe here.
3. Deepali Khetrapal Thandai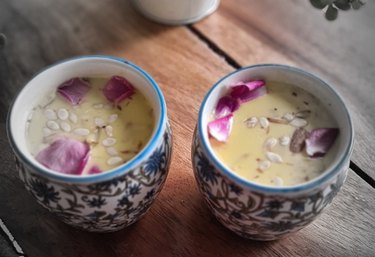 Thandai is a refreshing, cooling, and energizing milk-based drink with punchy spices and nutty flavors that are perfect all throughout an Indian summer. During the festival of Holi, it is sometimes mixed with bhang, an edible preparation made by grinding cannabis leaves, for mild intoxication and that extra revelry.
Get the full (non-intoxicant) recipe here.
4. Deepali Khetrapal Kanji Wada
All that playing with water and colors on Holi tires you out a bit and that is where the Kanji, a savory, tangy drink, comes in. The soft, fried lentil balls dipped in fermented water will give enough energy to revel in a color-spraying activity yet again.
Get the full recipe here.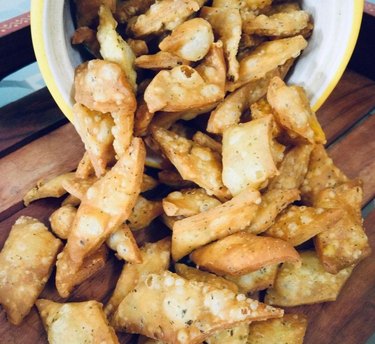 A variety of snacks are prepared for the festivities during Holi. For example, namakpara are small bits of savory flour fried golden brown to grab and go.
Get the full recipe here.
6. Astha Mahajan Shrikhand
I saved the best for last. Easy to make, the traditional Shrikhand is a lusciously creamy sweet dish made from hung curd and sugar. Saffron strands are also typically used to add the auspicious yellow color to the dish. A garnish of sliced almonds is the perfect finishing touch.
But of course, there are variations with foodies willing to experiment and add that extra special something to the traditional flavors. The following recipe offers six tasty Shrikhand variations.
Get the full recipe here.