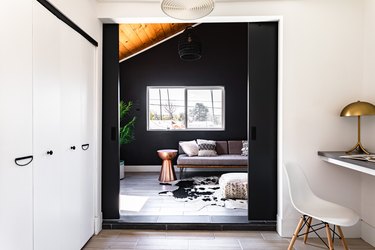 Closets are a truly versatile (and far too often underrated) staple in our homes. We've seen them in all sorts of configurations from bedroom to linen closet — they are mainly just a storage solution for a wide variety of essentials — and, at times, even makeshift nurseries. So it's only natural that they have started to serve as mini home offices, or ​cloffices​ (that's a closet office), too. Especially now that more and more homeowners are working remotely and need to carve out a somewhat secluded and dedicated workspace. It should also not go without saying that the trend brought with it an array of fresh organization ideas, clever makeovers, and plenty of creative takes on the concept.
Whether you have a small home or a palatial estate, ahead, you'll find eight design-forward closet office ideas that you won't want to miss.
Home office ideas shouldn't emulate sterile work environments. On the contrary, consider it an opportunity to transform the small space into your very own WFH oasis, just as Karrah Aguilar did in her closet-turned-workspace. From the muted palette down to the woven accents, no detail was overlooked in this laidback, boho-inspired office nook.
2. Rethink traditional office storage.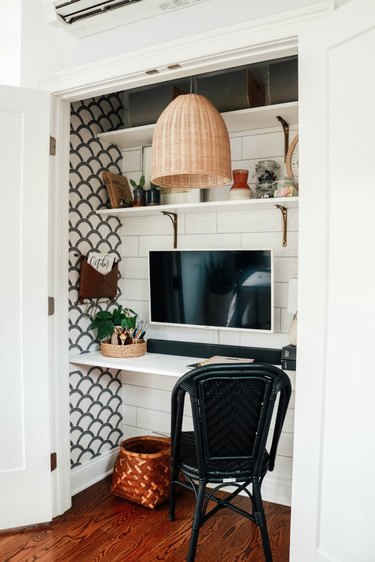 Depending on the size of your closet, chances are, there might not be enough room for bookcases, let alone a filing cabinet. This is where you need to get creative with storage ideas. Embrace traditional methods, like shelving, as well as untraditional solutions. We're loving the functionality and versatility of the leather pocket folder cleverly hung on the side wall of this office space by Nesting With Grace.
3. Line it with wallpaper.
An accent wall is always a welcome touch, especially in small spaces. Sarah of Flynn Haus transformed her mini office with a simple, yet high-contrast, patterned wallpaper and the end result is pure perfection. The reserved palette combined with the minimalist decor scheme packs a big dose of style, further elevated by the handful of earth-toned ceramics and a dash of greenery.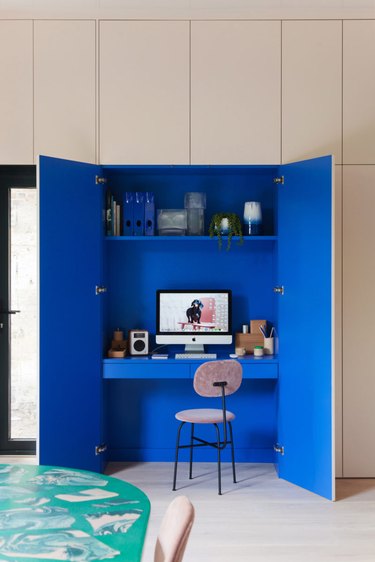 Use your office design as an opportunity to make a statement with a little help from a vibrant hue that will pack a punch. The saturated cobalt blue of this stunning closet office by 2LG Studio definitely has the right idea. Go all out and paint the closet doors, worksurface, and shelving to really turn it into a moment. Cap things off by adding potted greens and accents in complementary tones to tie the whole look together.
5. Give it a built-in feel.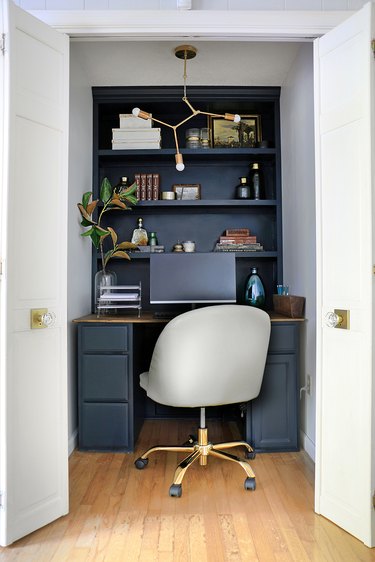 A cloffice shouldn't have to feel like you're compromising on the more traditional elements of a workspace (if you want them). The creative behind Homemade by Carmona reinvented her walk-in closet by installing a set of built-ins, which included a DIY office desk with cabinetry and plenty of storage up top for office supplies. The result? A certifiable workspace that's prime for productivity.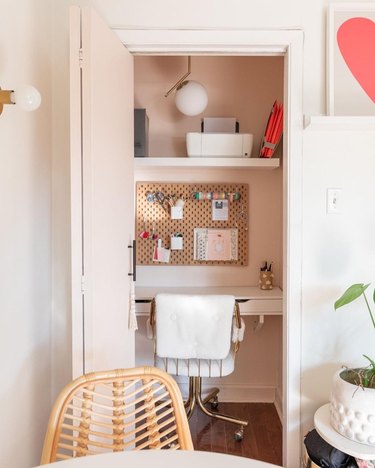 Lighting is a must for any office space, but it's especially important in a closet. File this under: office ideas you definitely don't want to skip out on. Bring in a variety of light sources to ensure that you've covered all your bases. Start with a soft ambient fixture that can hang overhead — similar to the lustrous pendant seen here in Alexandra Gater's closet office — and complement it with a desk lamp for extra illumination.
7. Go for a floating desk.
If you don't quite have the floor space for a standard desk in your small closet, a wall-mounted piece of wood can just as easily serve the same purpose. And we're loving the matching set of floating shelves in this charming nook by My Farmhouseish, which cleverly uses up valuable wall space to make the most of the limited square footage.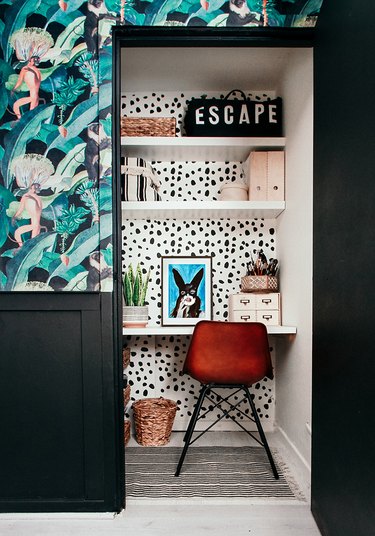 When it comes to home office design ideas we love, a setup that serves as an extension of the existing decor is at the top of the list. For example, this contemporary closet from Style Squeeze makes quite the case, thanks to the high-contrast, pattern-heavy interior that pairs beautifully with the adjacent tropical-themed print and striking black wall paint.