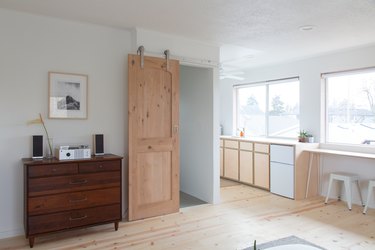 The thing about trends is that they come and then they go. It's inevitable — especially when people are spending so much time at home. As we all work to make our spaces the best they can be for multiple activities, certain design trends have declined along the way. To find out more, we asked interior designers: What interior trends are on their way out in 2021?
Though painted accent walls can create personality in a space, interior designer Justin Q. Williams of TradeMark Design Co. tells Hunker that they're being replaced by a new trend: wallpaper and wall coverings. "Painting can convey unfinished business," he says. "We should use a wall covering to seamlessly complement the whole design."
"We all loved the clean all-white interior look when it first came on the scene," designer Candice Kaye of Candice Kaye Design tells Hunker. "It was fresh and clean and, well, easy to duplicate. But the white walls are either being covered with wallpaper, texture like plaster, or hand-painting techniques to achieve a natural concrete look."
3. Single-Purpose Furniture and Spaces
Brooklyn-based interior designer Delia Kenza of Delia Kenza Interiors tells Hunker that she's seen a decline in furniture and spaces that harbor a single purpose. Instead, she advises us to keep an eye out for "dining tables with table lamps that can do double-duty as a desk, or a stool that can be a drink table, a foot rest, or even a small coffee table."
4. Fashionable Furniture That's Also Functional
"As people spend more time at home and work remotely, they begin to understand that their furniture has to be more comfortable," interior designer Lorna Gross of Lorna Gross Interior Design tells Hunker. "So most people don't have as much use for furnishings that are simply nice to look at — they need them to be functional and comfortable as well."
5. Matching Furniture Sets
Williams adds that matching furniture sets are starting to feel dated. "In my opinion, matching sets or identical furniture pieces don't showcase a client's personal style," he explains. "As a designer, I like to select non-conforming pieces with colors and styles that complement each other." He also prefers to pick individual pieces based on a client's personality.
6. Traditional Midcentury Modern Styling
Midcentury modern is on the way out, while mixed and matched design is on the way in. "We are updating the popular midcentury trend by adding in warmer finishes," Kaye says, adding that she's been seeing a rise in oversized down couches, organic wall treatments, and wood paneling. "Recently, I saw a midcentury home mixed with bohemian accents and I fell in love!"
"Many people are feeling that the previously popular cool gray tones throughout the home are reading too sterile," Gross says. "In these somber times, homeowners are looking for a lift and are opting for whites and warmer neutrals with pops of color."
When it comes to subway tiles, Kenza feels that plain white tiles are no longer cutting it. "People are asking for abstract shapes, colors, textures, and patterns," she says. Kenza is also noticing an increase in subway tiles featuring unique layouts and bold grout.
"Barn doors took over the industry roughly ten years ago, but this trend is walking out in glory," says Williams. "The trend is being replaced by the traditional classic French doors, modern pocket doors, and classic iron grid doors, which I can definitely appreciate."
Kenza states, "Mass-produced factory furniture is out. People are loving pieces made by hand that have a story and/or a history. Vintage is in as well as small-batch pottery, tile, and lighting."
Kaye seconds this opinion, adding that social media has made it much easier for people to find one-of-a-kind pieces for their homes.