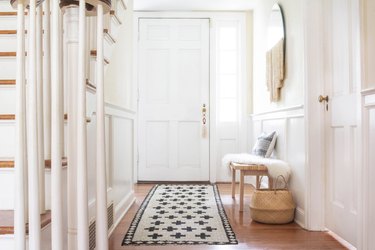 We love a hallway or entryway that meshes seamlessly with your home decor rather than feeling like an afterthought. So if your other interior design ideas focus primarily on Scandi style, you can carry that look right through to your passageways as well. In fact, simple, chic elements will work perfectly in a corridor, especially if space is tight. Think neutral tones, natural materials, and classic functionality. Want to know more? We have some ideas and inspiration to help you complete a beautiful Scandinavian hallway makeover of your own. And disclaimer — you're going to love it.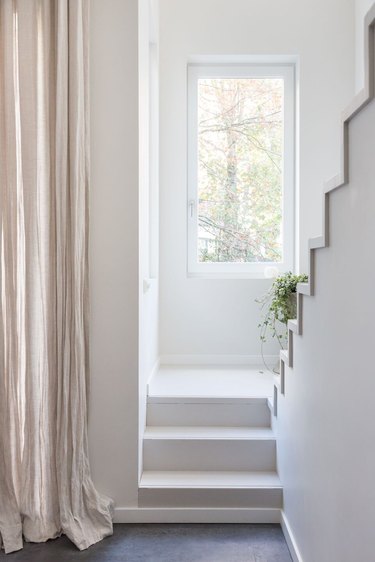 Scandinavian design is all about the neutrals, but if you don't want to commit to white and cream paint colors, hanging neutral-colored drapes over a white wall or in a blank space will create texture and the coziest Nordic feel. This hallway has a very light curtain that adds tonal interest and dimension. Plus, it can cover up unsightly storage in a pinch.
2. Bring in a neutral rug.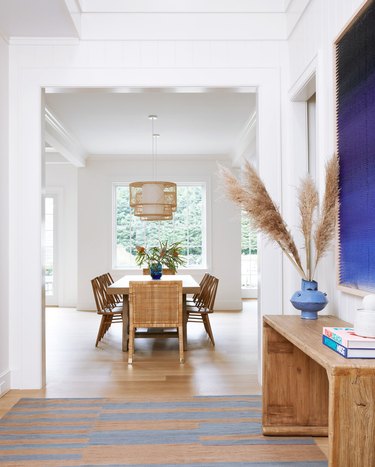 If you're opting for a minimalist Scandi feel, you can skip the rug and instead let your bare floors do the talking. However, adding a subtle rug can bring in a dash of fun. This one, with its earthy tones and little pops of blue, adds some Scandinavian flair into the hallway. (We like this option from IKEA for a similar effect.)
If you look for Scandinavian hallway inspo, you'll find that many of them have a huge round mirror on the wall. Why? Because it's the perfect Scandi decor element. The shape provides a contrast to the harsh lines of the furniture, walls, ceiling, and floor, while the reflective surface bounces the light.
4. Sprinkle in black accents.
Add some flair to your neutral palette with a pop of black for the focal point. In fact, a black-and-white color scheme complements Scandinavian decor well, especially in modern builds. Case in point: This home from Alexander and Co. The walls and decorative items are all white, but an inky black art piece adds the perfect amount of contrast and pizzazz.
5. Paint your walls a neutral shade.
Needless to say, the best way to design a Scandinavian hallway is to start with neutral-colored walls. While many Scandi homes feature white or nearly white paint, you don't have to go the sterile route. A soft beige hue, like the one in this hallway, will be soft and moody at the same time.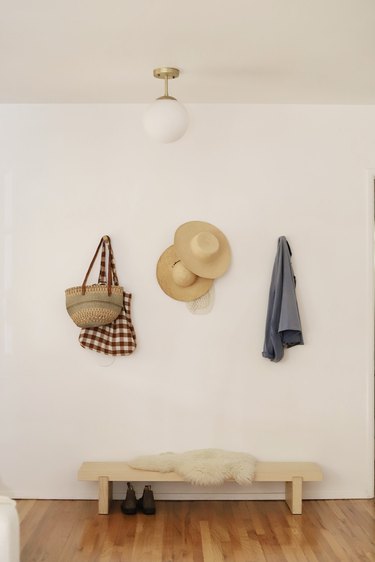 Consider adding texture in unconventional places like Andrea Ochoa did here. Her Scandi style hallway has a low bench that features a sheepskin, and we love the dimension that has a bit of minimalism too. Scandinavian decor is all about simplicity, nature, and functionality, and this textile has all of those components. The throw is comfy when you're sitting down to slide on shoes but also serves as the perfect decorative element. Pro tip: Add baskets underneath for extra storage if you have a similar bench in your hall.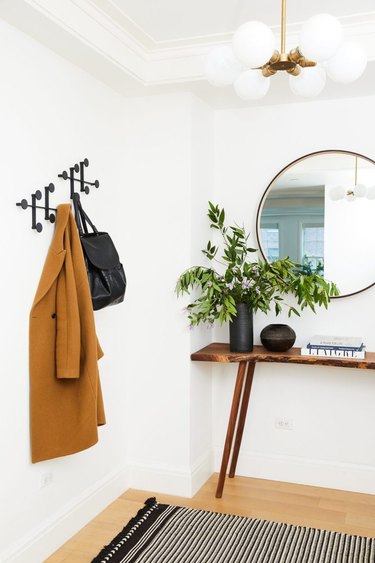 Want another way to dress up the hall? Add Scandinavian-inspired furniture. Look for wooden accent pieces — like bookshelves or a console — with simple lines or even a coat rack that's sleek and angular. These items won't overwhelm a narrow space, and they'll be super functional as well. If you're up for a DIY, try mounting floating shelving to get the look.