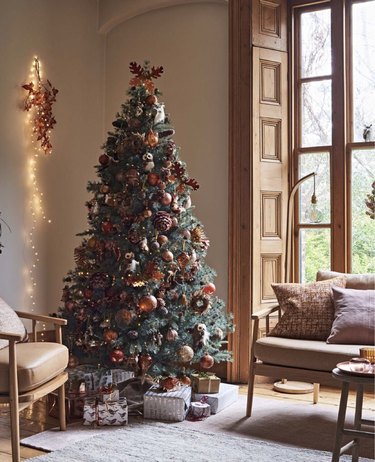 It's time for Fall at Home: Hunker down, bundle up, and make the season as cozy as possible with our foolproof guide to autumn.
Each year, there's a small but steadfast group of decor lovers who set up their Christmas trees mega early: like, now early. Some go with a fall theme, while others fully embrace the kitschy Halloween tree.
We're sure you've heard the reports: Christmas will feel like it's coming even earlier this year. With people spending more time at home, they'll be extra focused on decorating and making the holiday feel uber-festive. So, now more than ever might be the time to bring a fall-themed tree into your home. Granted, if you love fresh trees, you'll probably want to replace it before December 25; otherwise an artificial tree would make adopting this trend totally doable. Check out these ideas below:
DIYer Emily Jones made her Halloween tree feel extra on-theme thanks to nearly black branches, and orange ribbon, and pumpkins galore.
An array of pumpkins takes the spot of presents under the tree — but totally works to create a theme-y display.
You wouldn't think a faux tree in white would work so well for a Halloween scheme, but here we are!
This Halloween tree is worthy of a department store window.
Don't want to fully commit to a whole fall tree look? Mini trees can also provide the same autumnal spirit.
Okay, we did say your fall-themed tree would need switching out come Christmas, but from this photo, we'd say, just put the same fall stuff back on! Autumn-esque decor in combo with those presents is a totally holiday-worthy look.