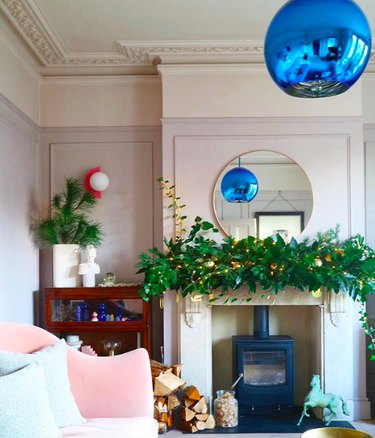 Our current design Insta crush is 2LG Studio, a London-based outfit that has a knack for mastering colorful spaces that feel extra modern: Think rounded forms paired with pops of bold hues and furniture that feels just a wee bit funky. Lately, the design duo has been posting holiday-focused images from their home studio, and we gotta say, the ideas are really quite inventive. Read on for our favorite images from their Insta:
Pink Tree
Clearly, 2LG Studio got the memo: Pink trees are trending for 2019. But we kind of love how this rose Christmas tree offers the opportunity to create a fun paint moment with a scalloped doorway design. Because ... why not?
Blue Tree
Technically, it's kind of the same idea as above, just in a different colorway, but it's seriously making us think about coordinating our wrapping paper with our trees.
Monochrome Table
Technically, this is an ad/spon con 2LG Studio did, but it's so good, we don't even care! Okay, so chances are you probably don't have an entirely green dining room, but why not create a tablescape in a green hue that's just a few shades away from traditional?
Single Pine Sprig
Green and Gold Mantel
What we love about this mantel is how lush it feels — in fact, it's so fresh, it feels like it could almost be used for springtime decorating. With a few gold touches, it becomes the perfect, unexpected holiday situation.
DIY Wreath
2LG Studio DIYed this wreath. They write: "Our Christmas wreath didn't cost a penny! We used foraged #greenery from our own back garden and a metal wreath form from a previous year... all it took was time and thought."