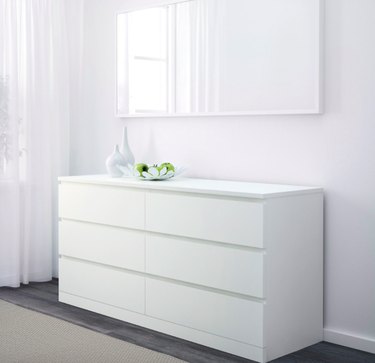 IKEA's Malm series has been around for ages, probably because it's so basic, it can work in any room without making a huge statement. The line includes a bed, but the focus is really on storage — from nightstands to dressers — all in that signature, blocky style. Of course, you don't have to rock a bland Malm. See how people transform the pieces into truly unique creations:
1. Match your Malm to your walls.
With a coat of blue paint that matches the walls, plus some leather tab pulls, this DIYer created a true design moment.
Add some Hollywood glam with some gold tape attached to the back boards.
4. Give a nightstand a modern makeover.
Follow along with this video to see how ribbed wood panels completely transform the Malm nightstand.
6. Fake a worn wood look.
We're not quite sure how this Instagrammer accomplished this trickery — either through lots of sanding and staining or by attaching wood panels.
7. Hack the Malm into a desk.
Get two of the 3-drawer Malm chests, add a plank on top, and voilà: Megadesk.
This just goes to show that a few coats of paint in a single hue can turn the Malm into something cute and modern.
9. Tape + handles = winning combo.
Adding gold tape to the back boards is a popular option (as we saw above), but you can take the look a step further by adding your own handles.
Adding a natural wood top is all you need to get those farmhouse vibes going.