There's a good reason why IKEA's Tarva dresser is one of its most popular items: The affordable piece is infinitely adaptable. Of course, the Tarva looks great naked in its natural grain, but even the most novice DIYers can find ways to jazz it up. Between paints, stains, and hardware, there are so many easy ideas you can bring to your IKEA Tarva dresser. Check out the following for inspiration:
1. Bespoke Finishings
This Berlin-based Instagrammer gave the Tarva a moss-green coating, finishing the look with pulls found from a blacksmith in Portugal.
2. Green Dream
Green bedrooms are both soothing and luxurious. To make the look go the extra mile, try using your leftover wall paint to give your dressers a matching coat. Here, Instagram user @a_story_of_home used Farrow & Ball's Green Smoke.
3. All-Black Impact
Looking to make an impact? Try jet-black paint and black leather pulls.
4. Pretty in Pink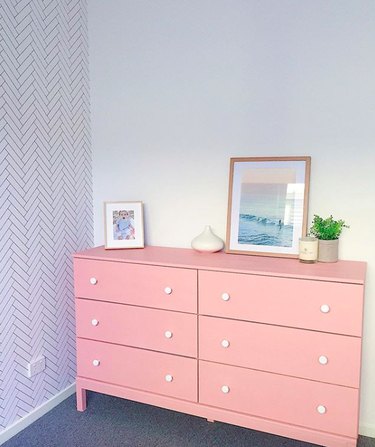 For a feminine combo, try painting the knobs white and the body of the dresser a punchy pink.
5. Cane Fronts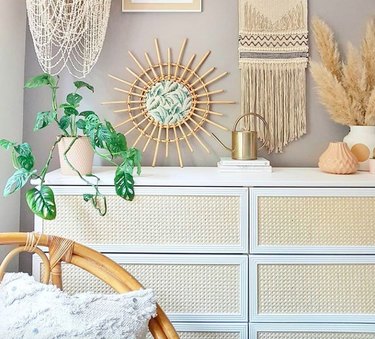 Insta user @caffeineandcacti knows how much cane can class up a piece. Here, she added ribbed frames to the drawer fronts, behind which is a panel of cane.
6. Chevron Dowels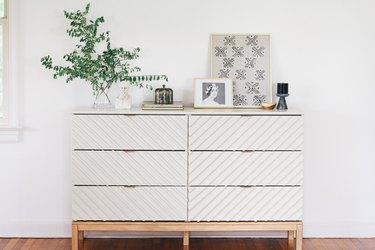 7. More Modern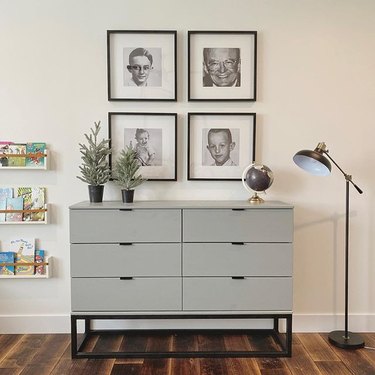 DIYer @nikki_grandy makes the Tarva feel a bit more modern thanks to a coat of Sherwin Williams' Illusive Green and a steel base.
8. Homespun Charm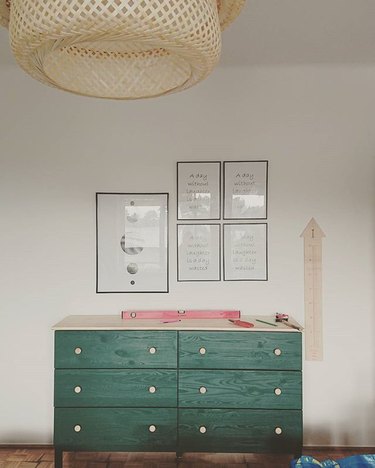 Don't go too crazy with the paint. Try leaving the knobs and top raw. For the drawers, a single coat will allow the natural grain to still remain visible.
9. Complete Overhaul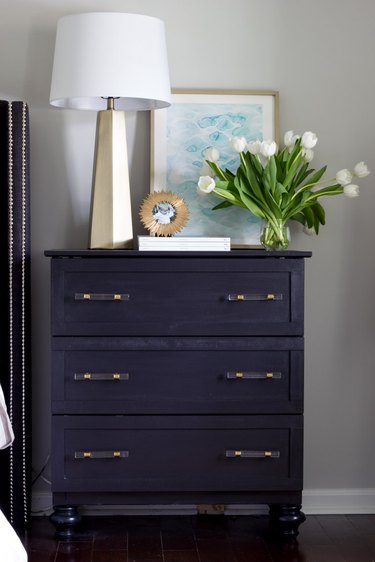 DIY blogger Erin Spain's makeover is so classy, it seriously makes the Tarva look like a totally different piece. Find full instructions here.
10. Neutral-Glam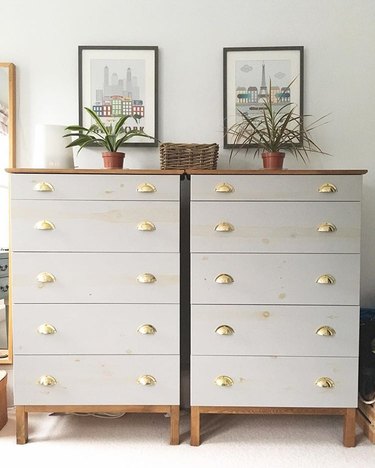 Whether you have a farmhouse-inspired bedroom or are just looking for a storage addition to go with a modern room, try this treatment from Instagrammer @the_grey_terrace: Give the tops and base a darker stain, lightly paint the drawers gray, then add some gold hardware.
11. Faux Industrial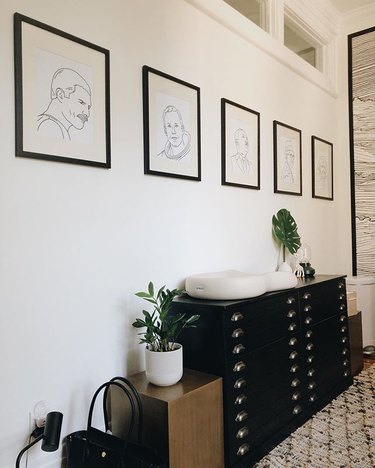 Fake an industrial filing cabinet by giving the Tarva a black stain and stacking up on silver hardware. $35 later, and voilà.
12. Imaginative VW Van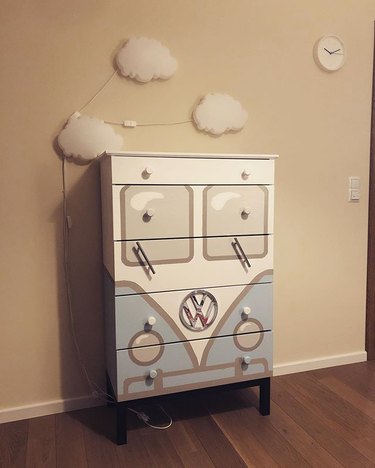 For a really fun kids' room idea, why not transform your Tarva into a VW van-inspired piece of whimsy?
13. Antiqued Treatment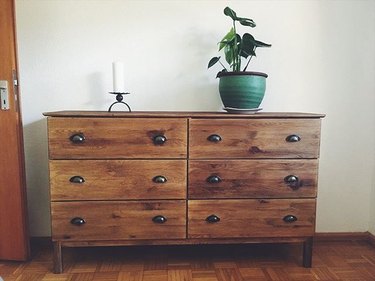 Here's a great hack for making your Tarva look like an antique farmhouse piece: "Sanding the surface, wiping the dresser with a damp cloth, applying two coats of walnut stain, finishing the wood and replacing the standard knobs with new cup pulls," writes Instagrammer @poppiesinjune.
14. Gender-Neutral Nursery Addition
A coat of minty-blue paint and natural knobs make this the perfect addition to a gender-neutral nursery — one that can grow with your child.