As if they didn't already seem busy enough, Chip and Jo Gaines (America's favorite farmhouse couple) continue to build their brand across mediums. In the midst of running their Waco design Disneyland — which features Magnolia Market, Silos Baking Co., and Magnolia Press Coffee Co. — it turns out Jo was also tinkering in the kitchen.
À la Julie and Julia, I decided to give the recipes a whirl and share the results. The Magnolia brand thrives on wholesomeness — particularly with a family focus. Magnolia Table, Volume 2: A Collection of Recipes for Gathering is all about experimenting with new ideas. "This time around, my team and I worked to develop new recipes, which required me to study cooking in a way that I never had in order to learn how to go about refining dishes I'd always craved but couldn't put a name to," Jo writes.
Armed with her culinary suggestions and my face mask, I headed to the grocery store to grab supplies for at least a few of the recipes. Unlike a pre-stay at home time, though, I couldn't be picky. Thankfully, there weren't many complex ingredients or tools needed for the majority of the recipes.
The Savory
Jo's Honey Garlic Chicken definitely falls into the sheet-pan category, making it great for groups or couples/roomies who want leftovers for the next day. It tasted tangy and sweet, thanks to the mix of pineapple and the healthy amount of apple cider vinegar (we skipped the sesame seed topping due to an allergy). The chicken cut easily and retained moisture; served with rice, it made for a filling meal.
Another challenging thing to find in the midst of current events: Old Bay? Thankfully we procured some just in time to make Jo's Cajun Shrimp recipe, which calls for quite a bit of it (and more butter). This dish had a nice kick from the spices and a burst of freshness from the corn and the lemon wedge. The recipe says four to six servings, but it ended up being more like three-and-a-half servings (oops).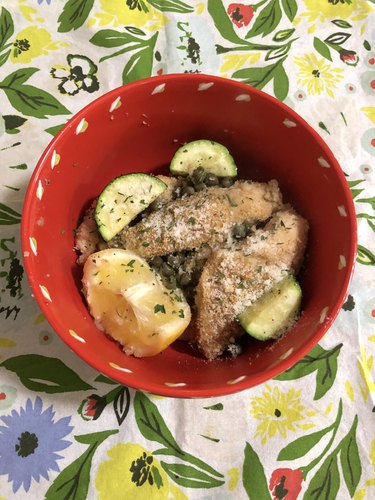 Jo's Chicken Piccata was lemon-y goodness and felt healthy yet satisfying. Overall, the savory dishes were easy to make and good for large portions.
The Sweet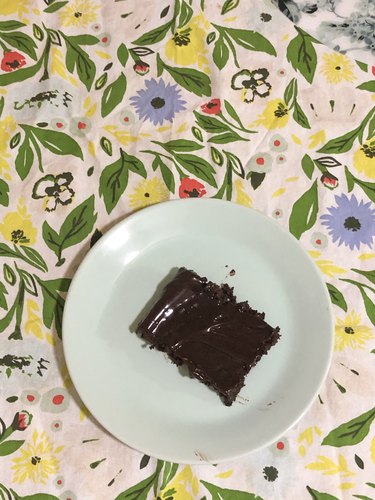 The Flourless Chocolate Cake recipe really came in handy because, well, I couldn't find any flour (since everyone is making bread). You start by melting an entire stick of butter and combining it with chocolate chips in a saucepan, a simple combination that I basically wanted to drink on its own. While you gather the rest of the ingredients and pop the cake into the oven, you make the ganache. I made the mistake of using a bigger cake pan than recommended, so the resulting cake was thinner than I wanted. This is a cake for serious chocolate lovers, each bite more decadent than the last.
The cookbook also includes recipes you can get at the Silos Baking Co. (aka their Waco bakery) so I decided to try one out. I actually found flour during our next grocery trip, so I attempted the Silo Cookies. Unfortunately, half of the ingredients called for things that my partner was also allergic to so we turned the rolled oats (which I just didn't have), walnut, peanut butter, semi-sweet chocolate chip cookies into a simpler version using just the chocolate chips. The recipe calls for chilling the dough before baking; the result is a buttery, soft cookie that we will probably make again.
So there's my brief stint as a Joanna Gaines-inspired cook. Later in the future, maybe I'll make the recipes for a group of people, but in the meantime it helped split up the days inside and gave us an excuse to eat at the table instead of in front of the T.V.
I still didn't feel like covering my home in shiplap, but that's just a personal preference.
---
Eva is a Los Angeles-based writer who covers trends, news, and makers for Hunker. Her writing has been featured in the Los Angeles Times, The Guardian, Bustle, KCET and more. She is a proud bookworm and organizes her books by color.
View Work