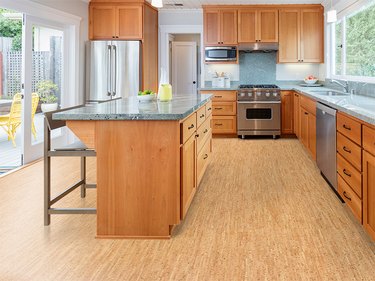 When it comes to kitchen flooring, it's not just about looks. Many homeowners are now interested in finding environmentally-friendly flooring options. Enter cork kitchen flooring, a durable option that's created from tree bark (meaning there's no need to cut the whole tree down).
You can find a variety of cork flooring styles to fit into your cook space's look. Here are just a few cork kitchen flooring ideas to get you started.
1. Gray and Sleek
When looking for kitchen flooring ideas, think about the color of your cabinets and kitchen island, too. This cook space uses concrete gray cork flooring to create a sleek vibe. Matched with black cabinets and light wood, the floor fits right into this modern kitchen.
2. Rustic Meets Minimal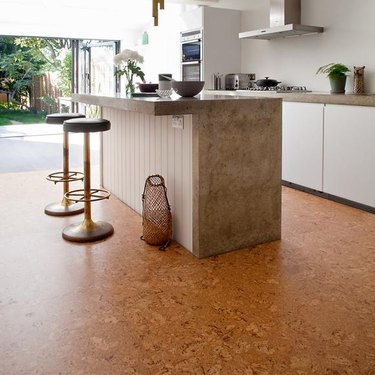 If you actually like the natural tone of cork, you can opt for a find like this one. A cook space with white kitchen cabinets and concrete accents looks effortlessly stylish when paired with the cork flooring.
3. Traditional Yet Modern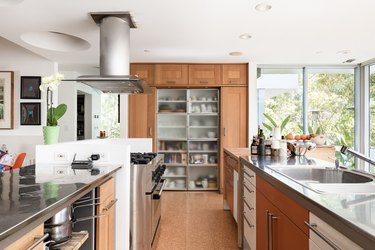 We love a good mix of modern and traditional. This kitchen's multicolored cabinets with modern hardware are paired with light wood accents and steel countertops. The cork flooring helps tie everything together and almost blends in with the tall wood cabinets.
4. Retro Chic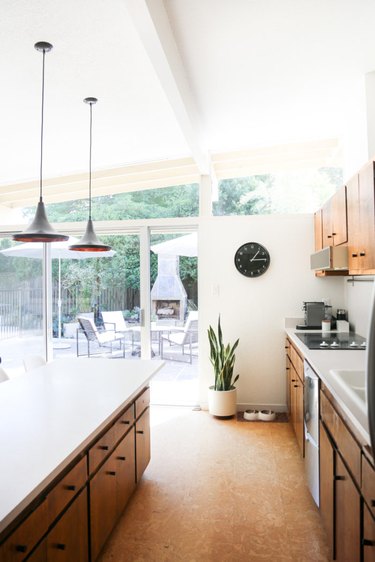 This space feels just a touch midcentury modern thanks to copper lighting fixtures and dark wood cabinets. The cork flooring here vibes perfectly with the style and — as Hither & Thither writes — has proved pretty resistant to all the activity of a family household.
5. All Wood Everything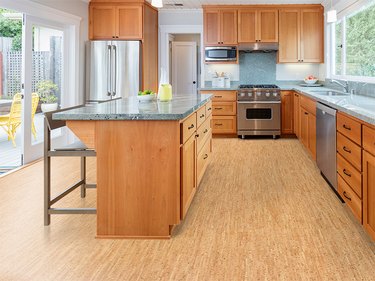 Feeling like a more unified color palette works best? Take this cook space as inspiration. It uses wood cabinets paired with cork flooring for a classic look.
6. Wood Meets Clean White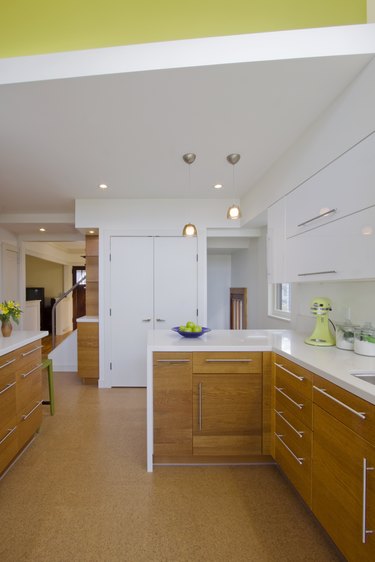 If you can't decide between wood kitchen cabinets and white cabinets, why not go for both? This space uses cork flooring to create a clean and functional space; the sleek hardware and wood cabinets fit perfectly. The flooring seems to almost blend into the cabinets.
Pros and Cons of Cork Kitchen Flooring
Besides the more eco-friendly nature of cork kitchen flooring, there are some other pros to choosing the material. For starters, it can deal with quite a bit of wear. And it's mold and mildew resistant. You can find it in a variety of grains and even color variations, like gray and cream.
On the other hand, cork flooring can often get easily dented if heavy furniture stays on it for too long. If you place it somewhere near direct sunlight, its hue might also change over time.
Cost and Maintenance of Cork Kitchen Flooring
Like any other material, cork kitchen flooring requires regular cleaning. If you're working with sealed cork flooring, use a dry mop or vacuum with a hard-surface attachment to get your floor looking spiffy in no time. For unsealed cork flooring, use a dry sponge or damp cloth to get rid of dirt and stains. Just take care not to leave too much moisture behind. In general, when spills happen, you should make sure to clean them up promptly so nothing seeps into the flooring.
Where to Shop for Cork Kitchen Flooring
Here are a few places you can start your shopping (or browsing) for cork kitchen flooring: