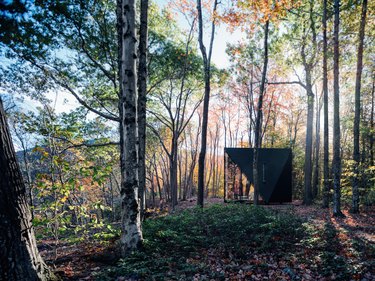 Hygge — a Danish concept of coziness that has crept into the modern American zeitgeist in the past few years — can be described as an effort to embrace all things comfy. "Think candlelight, music, fireplace, home-baked goodies," designer Søren Rose (of Søren Rose Studio) told Hunker. Along with Copenhagen-based architectural firm Bjarke Ingels Group and Rose's tiny house initiative (Klein), the team developed a design that embodies all the elements of hygge: a 180-square-foot cabin in the woods of Upstate New York.
Klein, whose mission is to combine prefabrication manufacturers with top-notch architects in order to bring more beauty into the realm of small sustainable houses, set out to create a small house that could still yield all the comforts of a family home. "The goal for the home was to create a prefab, low-footprint home that could be built with minimum equipment and excavation," Rose said. The 13-foot-tall A-frame house features natural materials and eco-friendly appliances, and runs completely off solar power. Large triangular windows feature floor-to-ceiling views of towering spruce and fir trees outside.
Rose insists that tiny homes are especially equipped for low-footprint living. For those looking to make the jump into a smaller (and more sustainable) lifestyle, he has some advice: "It helps being a minimalist if you only buy stuff that you truly need — then you'll be fine in a tiny home. But if you love spontaneous shopping, you might fill up your home rather quickly," Rose said.
The 45-degree angle on the A-frame sets a geometric tone for the home, a modern contrast to the surrounding nature.
Rose equates the immense popularity of tiny houses to population growth and a desire for affordability. Also, environmentally conscious design is important to a growing number of people. The house, powered by solar energy, has a small ecological footprint, especially in comparison to many suburban homes.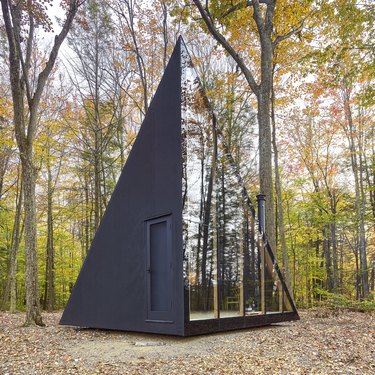 According to Rose, one challenge of building houses of this nature is finding the right prefab manufacturer. "We have found a few [manufacturers] but are still looking for more capable of building tiny houses by the world's leading architects," Rose said.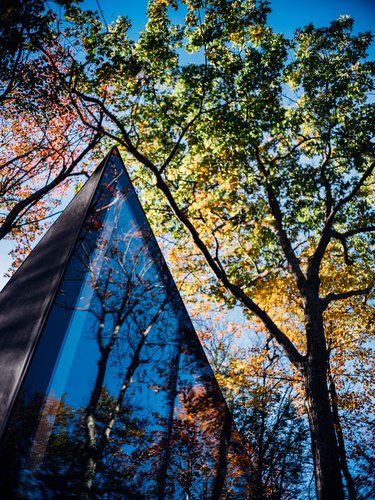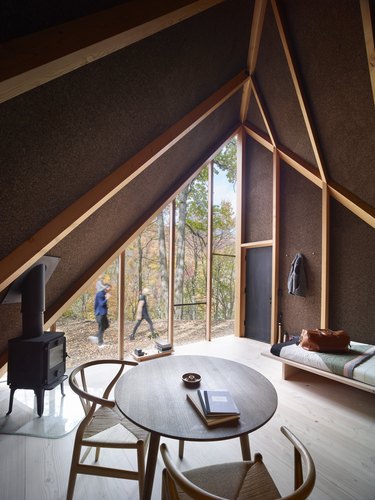 Minimalism is not only an aesthetic choice but a practical one in a house that measures less than 200 square feet. A Københavns Møbelsnedkeri-manufactured kitchen has all the necessary trappings for a small family.
Although the house is small, privacy was still a priority. The cork lining on the walls provides a layer of soundproofing. Cork is also a natural insulator, keeping the home cozy in the colder months.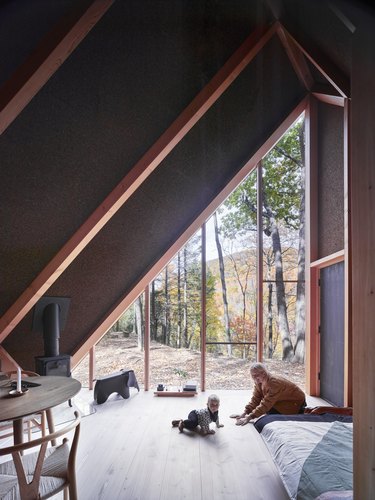 The cabin-style house evokes the concept of hygge in a myriad of ways, including with the inclusion of the Morsø wood-burning stove.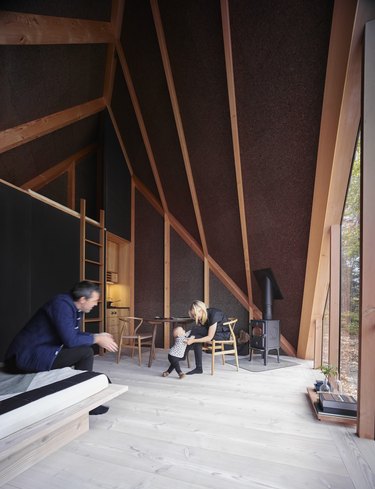 Wood is a defining material in the home, complementing its natural setting. The floors, manufactured by Dinesen, are made from Douglas fir.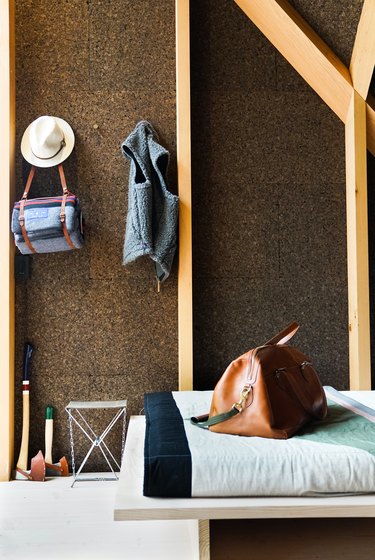 The bathroom is clad with cedar panels and features fixtures by the Danish brand VOLA.