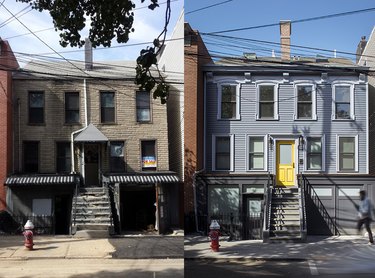 Before its 2015 renovation, looking at the facade of this Jersey City home, you never would have guessed it was in fact a historic building dating back to the 1800s. But thanks to Jeff Jordan Architects, the exterior now resembles its 19th-century form. To get there, the team had to do extensive research, finding historic tax photographs, seeking advice from the Jersey City Historic Preservation staff, and relying on some on-site evidence to recreate the original siding and trim.
The inside, however, is a different story. There, it's all streamlined, inspired by Pacific Northwest modernism. Think: a mix of natural materials, minimalism, and a dash of traditional, with sleek walnut built-ins, and a kitchen that has hints of craftsman and farmhouse elements.
The 3,000-square-foot multifamily house features the owner's unit, with a generous five bedrooms, and a one-bedroom rental, which is completely private from the main home. Overall, the home is a special example of how city living can actually feel removed from and connected to the past at the same time.
The refreshed exterior features cedar plank siding and a mahogany trim. The color scheme feels modern without being too austere thanks to that friendly yellow door.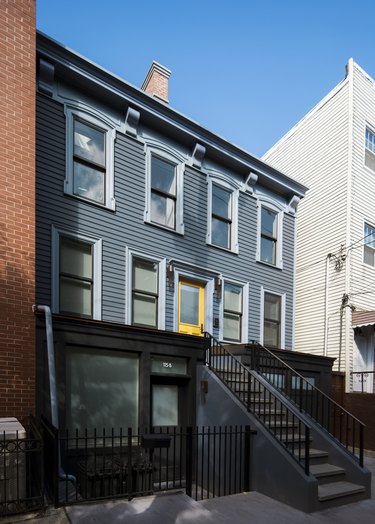 At the entrance, a box clad in walnut plywood offers concealed storage and consolidates bathroom and mechanical components. The staircase to the upper level is also accessed through the cube.
The cube also houses a small shrine, which can be opened or closed via cabinet doors.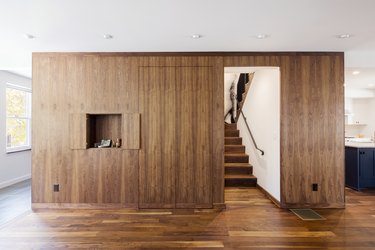 The pantry pullout and walnut woodwork was fashioned locally by Kingsley Quality Woodworking. A quartzite-topped kitchen island, in combo with white cabinetry, offers a bit of traditional contrast to the modern home.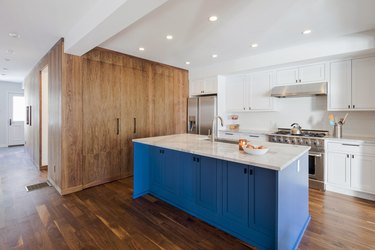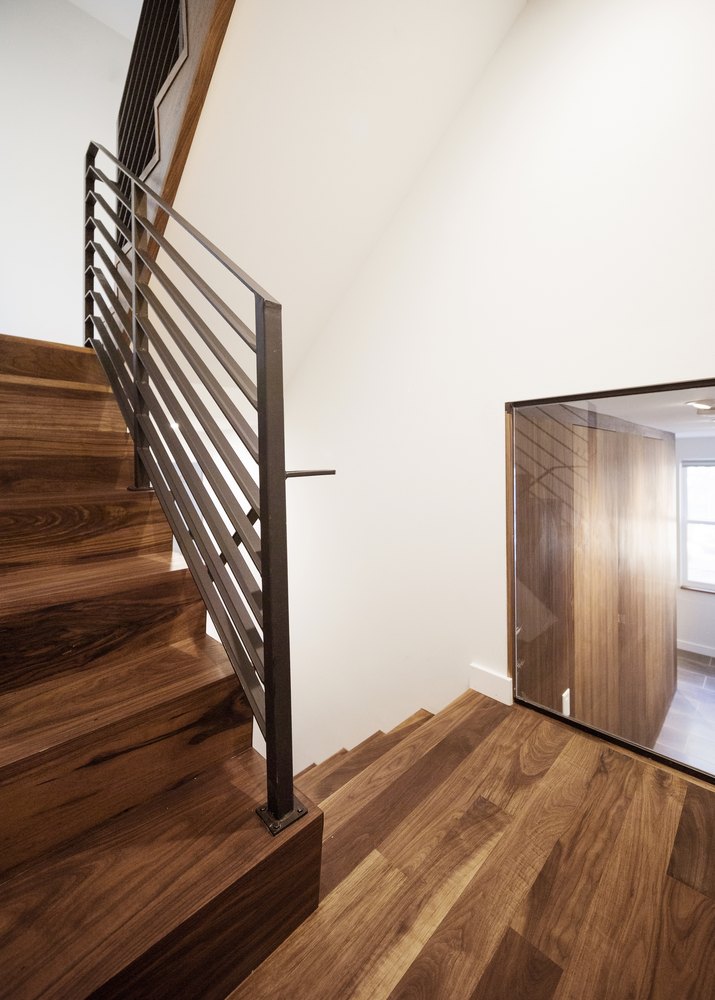 The solid walnut staircase with its iron rail is mostly concealed ...
---
Although a small interior window exposes it from the other side of the central cube. The window has the added benefit of providing the stairs with natural light.