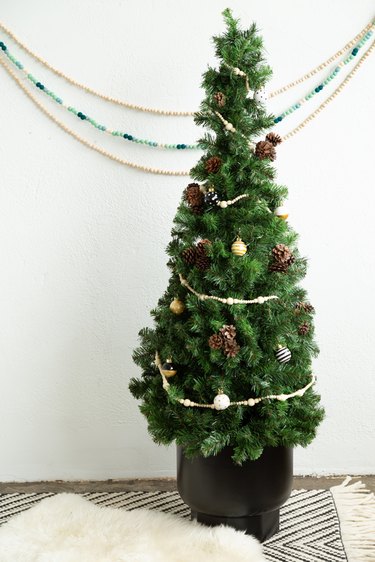 Looking for a simple and inexpensive way to decorate for the holidays? You have got to try making tomato cage trees! They are incredibly easy to make and you can display them outside or inside. A cluster of three would look so nice on your front porch, don't you think?
We are showing you how to make a tree using (you guessed it) a tomato cage with faux evergreen garland that we picked up at the craft store. You can also use fresh evergreen or greenery as well. This project is a fantastic way to use your summer gardening pots — you simply wrap the garland around the tomato cage and place it in or on top of the pot.
Things You'll Need
Faux evergreen garlands, 9 feet each (2 to 3) —

One foot tomato cage (42 inches high)

Gardening pot

Lights (optional)

Ornaments

Pine cones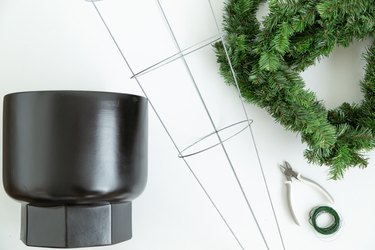 Step 1
Start by wrapping the garland on the tomato cage. Use the wire loop end to start on the widest part of the tomato cage. Wrap the wire end onto the cage.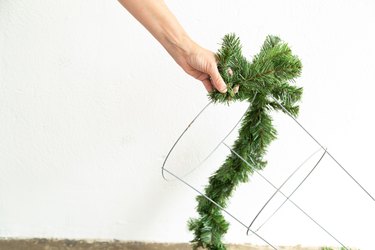 Step 2
Separate the evergreen stems and fluff as you wrap to create a tree look.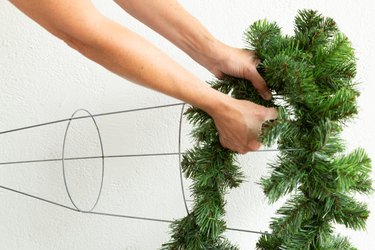 Step 3
Continue wrapping around the cage. Wrap a wired stem around the tomato cage every 10 to 12 inches to secure.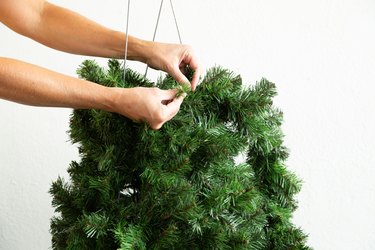 Step 4
Wrap wire around the top.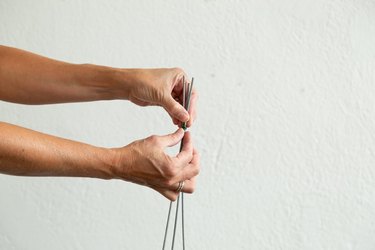 Step 5
Place onto the garnering pot. Secure if necessary. Add a wood bead garland and ornaments. You can also add lights to the tree!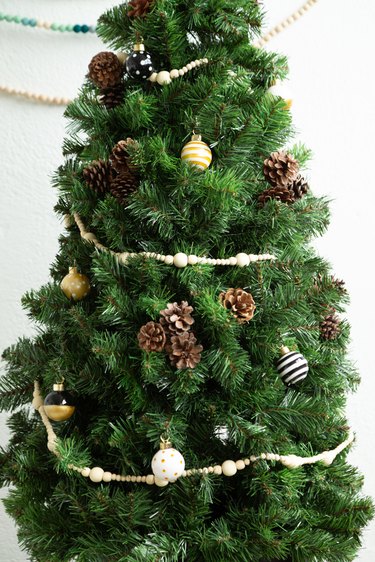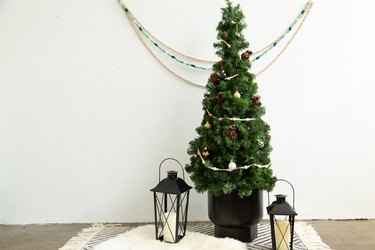 ---
Alice & Lois is a DIY and lifestyle blog where twin sisters Sara and Melissa share their inspiration, projects, connection and celebrate the good in life. They create inspiring posts centered around home, family, style and creativity, specializing in simple, yet sophisticated DIY projects. Sara and Melissa live in two very different places – Sara is in the heart of the midwest, Indianapolis and Melissa in the majestic ski town of Crested Butte, Colorado. Alice & Lois was named one of the Top 10 DIY and Decorating Blogs by the editors of Better Homes and Gardens in 2015 and 2016 and recently named one of the Top 30 DIY Blogs to Follow by Domino.