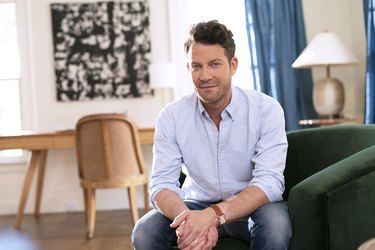 As a teenager, designer Nate Berkus remembers visiting his grandmother in her condo as she explained the challenges of her home. She often struggled to find her keys and purse, making her late to appointments. She frequently bumped into the arm of a chair. Her struggles stemmed directly from one specific ailment: macular degeneration, an eye condition that leads to vision loss. Her home, then, started to feel difficult to navigate.
The designer recently teamed up with healthcare and pharmaceutical company Novartis to launch the My Home in Sight campaign and kit. It's a project that aligns with both his career experience and his personal life.
"I remember what it felt like not having the information for somebody I loved who was losing their vision," Berkus tells Hunker.
The My Home in Sight Kit includes both a written and audio guide, with design principles categorized by room type. Users can get the kit via mail or email. Novartis also worked with partners like the Macular Degeneration Association and Prevent Blindness on the project.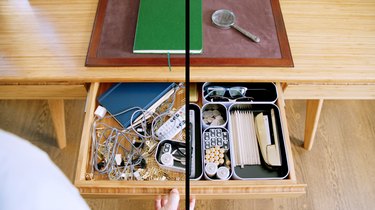 The kit outlines five major areas — including safety and color — to keep in mind. Homeowners with stairs, for example, can use bright tape to help make steps easier to see.
For the project, Berkus focused on increasing the safety of the home space "without sacrificing style." Basic tenets of design — like including a light source next to each seating area — become even more important when taking vision loss into consideration. Organization is crucial, too. Keeping items in specific groupings (batteries all in one place, pencils in the same container) can make a big difference.
"This particular experience has allowed me to sort of take everything I've learned in the field of design and apply it to a very specific issue," says Berkus.
And Berkus definitely keeps busy in the design world. His projects include a recent collection with Kravet and new items for his Living Spaces collection with husband Jeremiah Brent. The couple also stars in the TLC show Nate & Jeremiah by Design and recently moved to a new home in NYC with their kids, Poppy and Oskar. They like to let Poppy make the design decisions for her room; on walks, they often ask her to "point out what she finds beautiful."
Berkus said that integrating personality with your space is one of the most important approaches in design. For the My Home in Sight project, he kept in mind the familiarity of the existing spaces. The changes should fit into the person's home, without changing it too drastically.
"It was about being able to make changes that weren't particularly expensive [and] that didn't look sort of medicinal," says Berkus.
And as Berkus points out, these changes should also help people "continue to live independently." The suggestions serve as a starting point for making even day-to-day tasks a little easier.