Ever wish you could just ask advice from some of the knowledgable people behind popular home decor brands? Get ready to take notes, because Parachute's Ariel Kaye just released a new book.
How to Make a House a Home guides readers through creating flow, optimizing light, finding the right colors, and more essentials for a cozy home. We've written about Parachute's many releases, including a recent Madewell collaboration, and are used to seeing inspiration on their site and social media. But for Kaye, putting her expertise and eye for comforting spaces in printed form felt like an important step.
"There is something very special about the tactile experience of reading a book, flipping through the pages and bookmarking those special pages that you want to return to," Kaye, founder and CEO of Parachute, tells Hunker. "For me, getting to touch and feel the pages and see the images in print helps to bring the words to life. I'm very grateful and excited to share my perspective on intentional design and purposeful living."
Kaye wove in her own journey to finding her design style and founding Parachute in order to create something different from "a decorating book in the traditional sense." She hopes that by sharing her own takeaways and insights, she can "help people blend purpose and style to create a home with intention."
That includes finding the right textile personality, in line with Parachute's focus on bedding. Kaye organizes textiles into "Light, Airy" "Warm, Cozy" and "Textural, Tonal" categories.
Other practical and easy tips include placing a mirror across from a window to increase the sunlight in the room and also using glass-top and acrylic furniture pieces; removing all the decor accents from a room and then adding them in slowly to create a cohesive aesthetic; and mirroring a specific color on opposite ends of a gallery wall.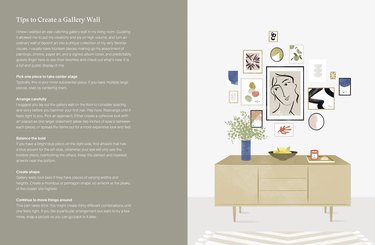 All this to say, if you're ready for a spring refresh, Kaye's book can help you get started. Although, don't feel like you need to change every thing; Kaye operates from the standpoint of finding your style and just making a few adjustments throughout the seasons.
"I gravitate to neutral colors and minimalist design — so the style in my home doesn't change drastically," Kaye says. "Instead, I look for small ways to make a big impact when it's time to revamp. I change my textiles, bring in new plants and update artwork to create a look that is comfortable and unique."
From color palettes to wallpaper uses, How to Make a House a Home is Kaye's way of encouraging readers to make our space a little more cozy.