When a Los Angeles-based couple decided to make the move from the bustling streets of West Hollywood to the tranquil beachside neighborhood of Venice, they invested in a three-bedroom, four-and-a-half-bathroom blank slate. To transform the light and airy space into a warm and welcoming home, the new owners and newlyweds, an Irish jewelry executive and a Persian venture capitalist, knew they needed to bring in a professional to help make the space their own.
The couple called on the expertise of none other than Kerry Vasquez of Kerry Vasquez Design, known for her eclectically modern approach to interior design. "The goal was to create a beachy sanctuary that would be more comfortable and stylish than your favorite West Hollywood haunt and that also reflected a slightly Middle Eastern aesthetic," the designer tells Hunker. "In general, I wanted the home to feel warm, comfortable, modern, and timeless while reflecting the clients' personalities and backgrounds." Frankly, the designer nailed it, as you'll see ahead.
1 of 14
Living Room
"To achieve the laid-back, California-beachy vibe, I wanted to keep the palette clean, light, and neutral while utilizing as many natural materials as possible, like linen, rattan, jute, and warm woods," Vasquez explains. The designer then used vintage textiles and gold accents to bring a luxe Middle Eastern aesthetic into the space.
2 of 14
Living Room
Vasquez made a point to incorporate natural and handmade materials into the home whenever possible. For instance, the living room boasts a jute and sisal rug, a pair of rattan armchairs, and steel-frame side tables that are made from 99% recycled raw materials.
"I think the most sustainable aspect of the home was utilizing vintage textiles as much as possible," says the designer. "To me, reusing existing materials rather than buying new is an incredibly sustainable practice and gives the home a welcome feeling of patina."
3 of 14
Kitchen
Though most of the home was a blank slate that already lent itself to being infused with bohemian charm, with its existing brushed stainless steel finishes and glossy black tile backsplash, the kitchen required a bit more ingenuity. To give the space some much needed warmth, the designer introduced natural materials like warm wood tones and brass accents to tie in the glam, Middle Eastern vibe.
4 of 14
Kitchen
Although the contemporary materials initially posed something of a design challenge, Vasquez confesses that brushed stainless steel is one of her favorite materials for keeping things modern, clean, and timeless in a kitchen. "There are lots of trends that come and go, but brushed stainless steel is forever," the designer says.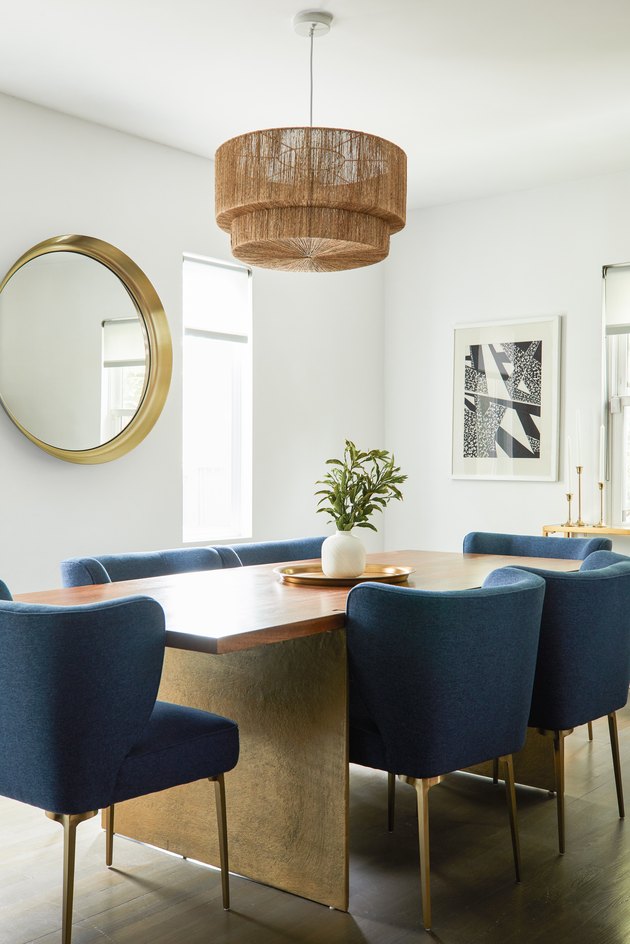 5 of 14
Dining Room
In the dining room, a jute pendant from Anthropologie adds texture and bohemian flair to the space, while a gold-framed mirror, gilded serving tray, luxe candlesticks, and dining chairs with brass legs lend just the right amount of glamour.
6 of 14
Guest Bedroom
Given the three-bedroom layout of the home, the clients tasked Vasquez with designing both a Middle Eastern-inspired guest room and an Irish-inspired guest room to reflect their individual backgrounds.
"The design challenge with this room was that it's actually quite narrow," Vasquez divulges. "The clients already had the queen-sized bed frame they wanted to use, which made the room even tighter."
7 of 14
Guest Bedroom
To make the most of the room's limited square footage, Vasquez opted for a pair of slim, antique brass-finished West Elm nightstands. To minimize visual clutter, she also used sconces, rather than styling table lamps on the nightstands. "The client had mentioned wanting to have a Moroccan-inspired light source that created a pattern on the wall, so I found these sconces that create the most dreamy lantern effect when illuminated," the designer says.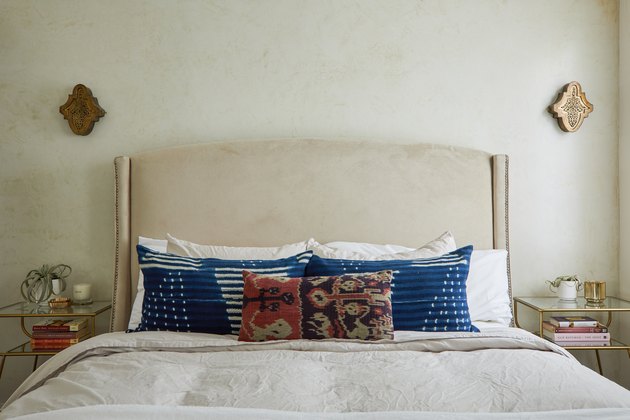 8 of 14
Guest Bedroom
"We chose some vintage textiles and a Persian rug to further tie in the Middle Eastern vibe," Vasquez shares. "To add another level of texture, the last thing we did was use a neutral plaster to create a rich and subtle accent wall that exudes such warmth and dimensionality, and when those sconces light up the room," the designer says, "it's pure magic."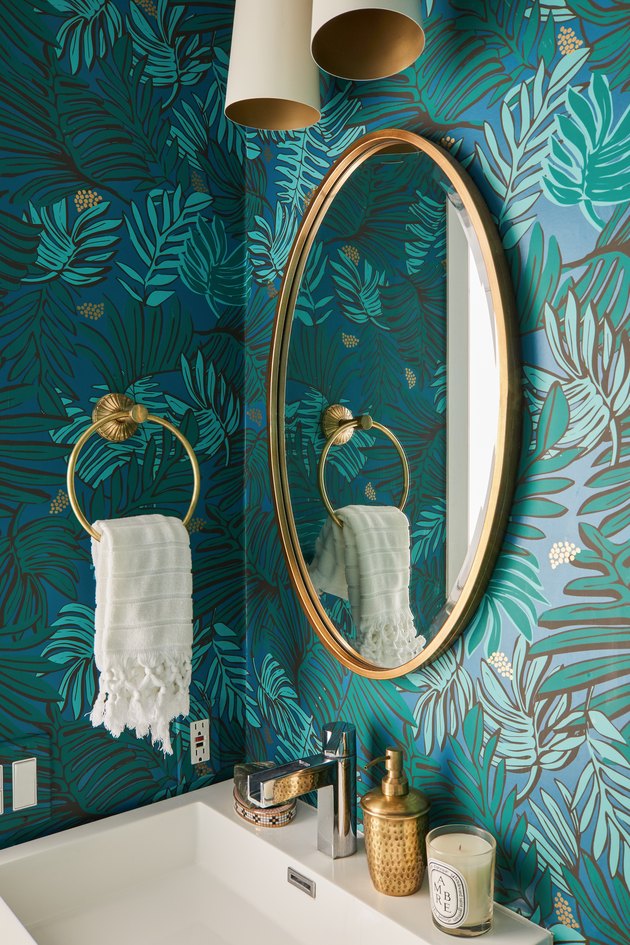 9 of 14
Bathroom
Around the corner from the guest room, the powder bathroom also draws inspiration from the Middle East. "The client wanted to go bold with wallpaper in this space, and I was over the moon when she agreed to use the (sadly now unavailable) Aja teal wallpaper by Justina Blakeney from Hygge & West," Vasquez says.
"I always recommend going bold in a small space like a powder room because the design effect is enclosed," the designer says. "It's a space you don't use every day so it feels like a fun surprise every time you do see it, rather than something that you would get tired of or that feels overwhelming," she adds.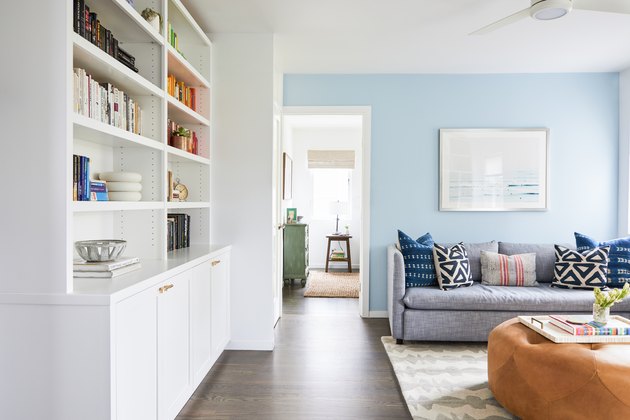 10 of 14
Den
In the den, the designer installed a built-in bookcase, which she filled with the clients' color-coded books. "They really wanted the den to feel like a library and also have a place to house their extensive book collection," Vasquez says.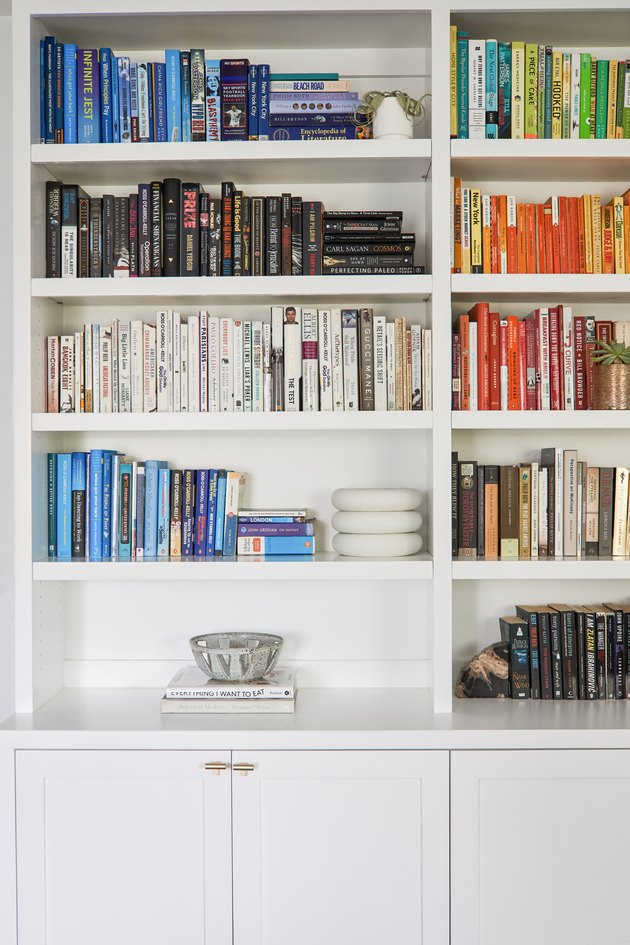 11 of 14
Den
"We tried to go the IKEA route for shelving and cabinets, but the look and feel just wasn't right," Vasquez tells me. "In the end, I'm so happy they splurged on the custom cabinetry. It looks integral to the house and is exactly the look they were after."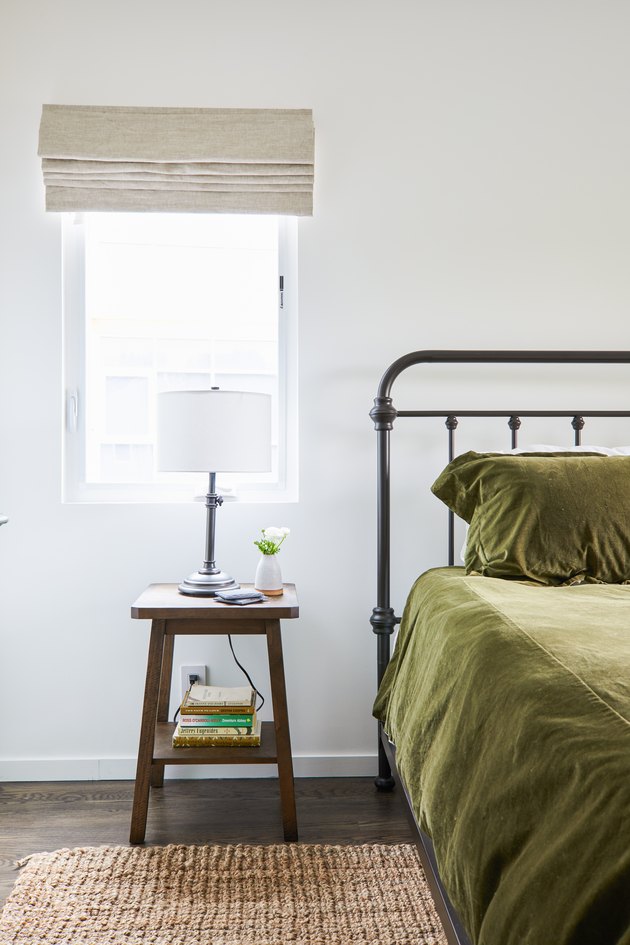 12 of 14
Guest Bedroom
Steps from the den, the Irish-inspired guest room boasts rustic nightstands, plush moss bedding, and wrought-iron finishes.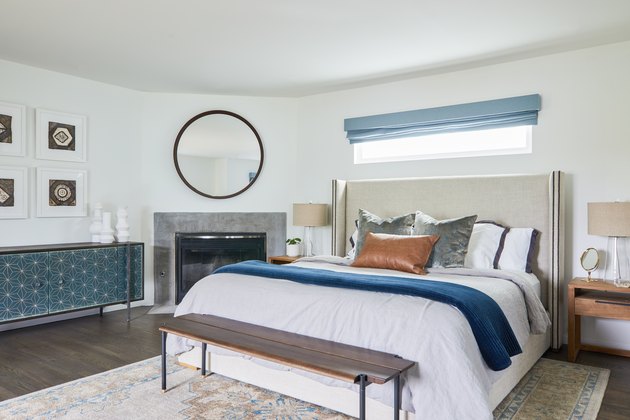 13 of 14
Master Bedroom
While color is present in many rooms throughout the home, the master bedroom is comparatively toned down. Decorated predominately in white, gray, brown, and blue tones, texture in the form of linen bedding, velvet throws, and leather accent pillows lend visual interest to the calming space.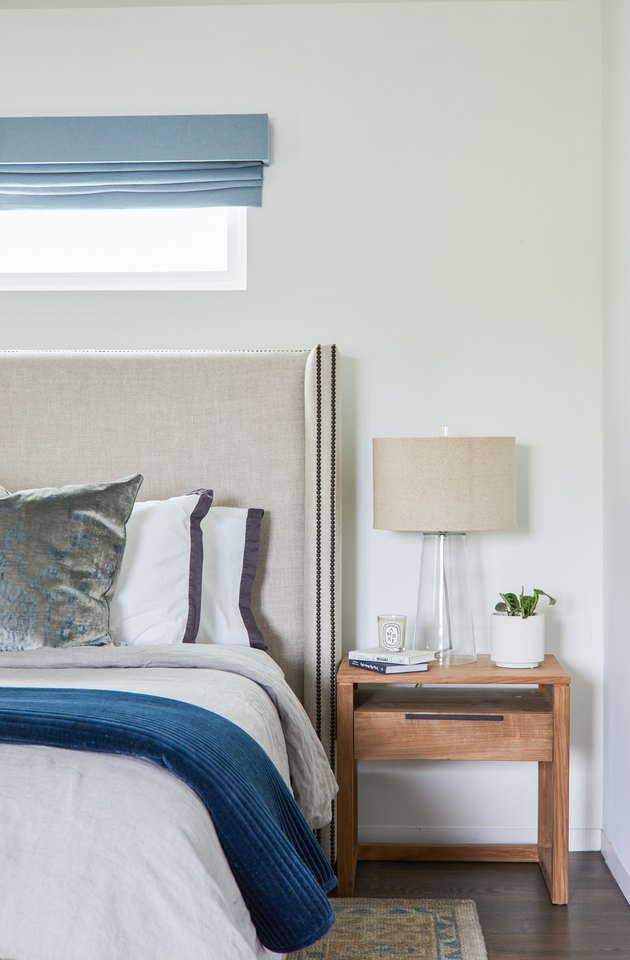 14 of 14
Master Bedroom
"My favorite aspect of this home is how much we captured the laid-back, California-beach vibe while honoring the Middle Eastern sensibility," says Vasquez. "I think it's the perfect 'marriage' of the two for this newlywed couple."
---
Megan Beauchamp is a writer and editor in Los Angeles. Her writing has appeared in MyDomaine, House Beautiful, Bustle, and Brit + Co., among others.
View Work