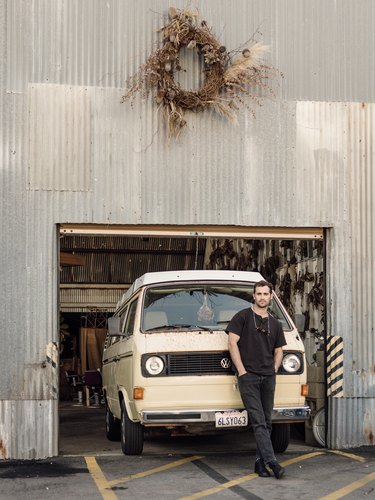 Who: Spencer Falls
Where: Venice, California
Style: Free-spirited, boho-industrial
If a Volkswagen bus pulled up to Woodstock and started selling flowers to concertgoers in search of good vibes, it would probably look a lot like the 1980 VW van belonging to renegade florist Spencer Falls.
Growing up in his native New Zealand, Falls developed a deep appreciation for nature, and simultaneously, a taste for adventure and the unexpected. He seems to have lived several lives in the course of his time — snowboarding in Lake Tahoe, working as a lobster fisherman in Maine, pursuing acting in Hollywood — and it all led to the most unexpected of places: floristry. He says, "I'm a florist, albeit an unlikely one, and I got into floristry by luck really. My beloved van was the catalyst."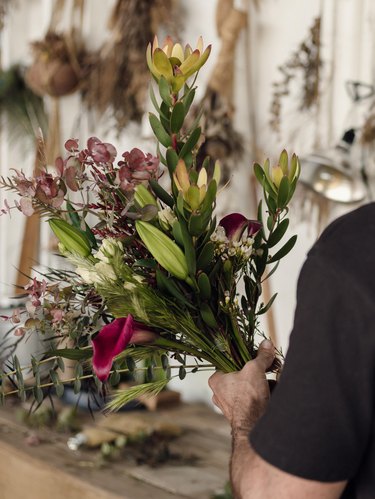 If you walk around the streets of Venice, California, you might just spot Falls' VW — his partner in crime, which he's nicknamed "Unthos Fiores," or "Untho" for short. The van teems with gorgeous bouquets and blooms that mirror his personality: untamed, vibrant, and a bit rebellious in the best possible way. The van has quite literally become a character in his story.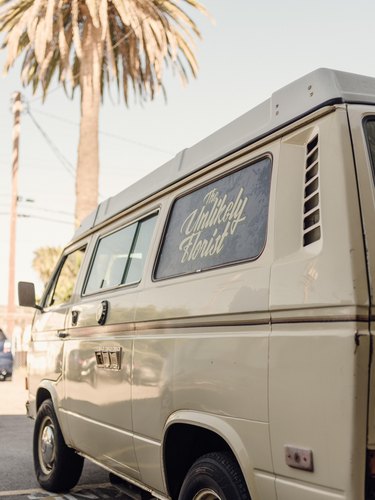 "I took a trip to Costa Rica back in 2012 and was introduced to the character Untho. He was richer than you, faster than you, and smarter than you. He could move to the city rhythms but leave for the mountains or the beaches at any time."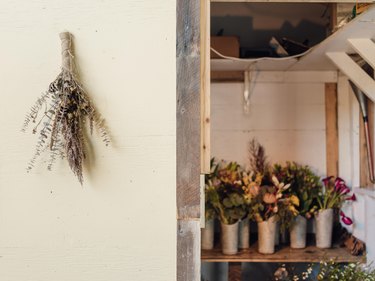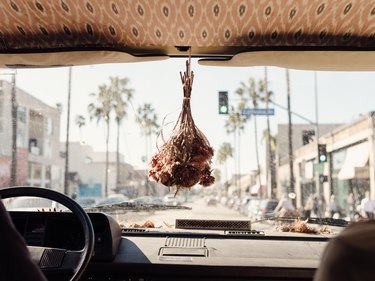 As a nomadic florist who's quite comfortable with the mobile lifestyle, he felt a pull toward putting down some roots in addition to selling flowers from his van. In April 2017, he found himself drawn to a studio space that fit him like a glove.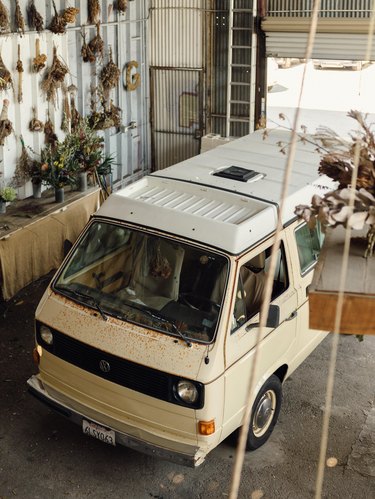 The 2,000-square-foot space, with high ceilings, slanted floors, and a missing wall, tugged at his heartstrings, and he loved that he was within biking distance from his home. He immediately noticed the bones of the one-time warehouse. "It was pretty bare when I moved in — just a ton of space inside a rusted tin box," he says. "After that, it inspired a strong sense of nostalgia to my childhood days, converting my dad's packing shed into 'The Hangout Zone' as me and my mates dubbed it."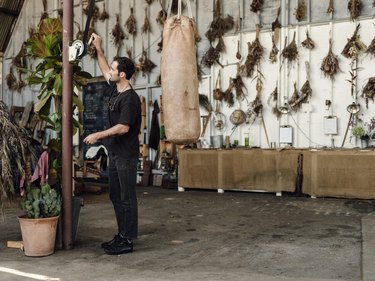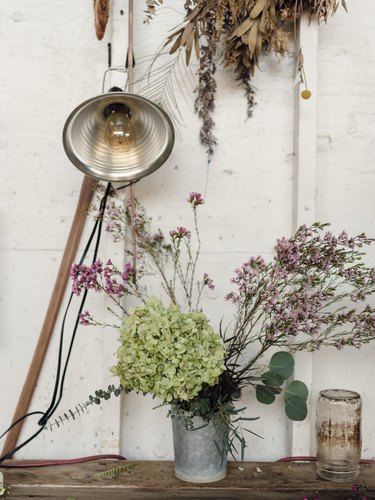 Today, the studio is indeed a relaxed place where it feels as if everyone can simply "hang out" and breathe in the beauty of stunning floral arrangements that Falls creates. Clients can make an appointment to visit the space, where they'll experience the carefree vibe and unfussy ambiance firsthand.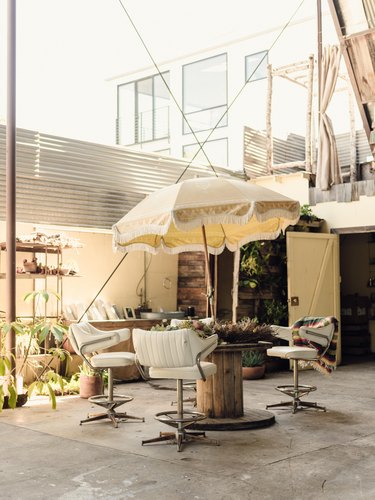 Describing his studio as "rustic" and "reclaimed," Falls says that nearly every piece in the space is found or "donated by mates." He's made several tweaks to the studio to truly make it his own, ranging from fresh coats of paint here and there to filling in a window so he could install a cooler for his flowers.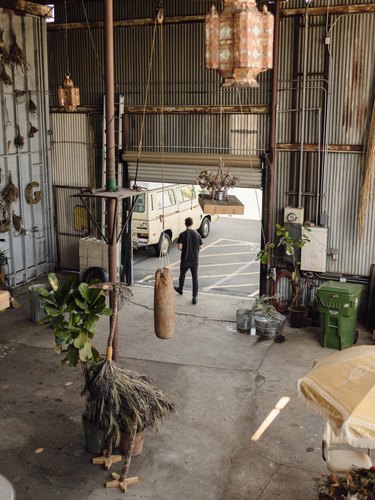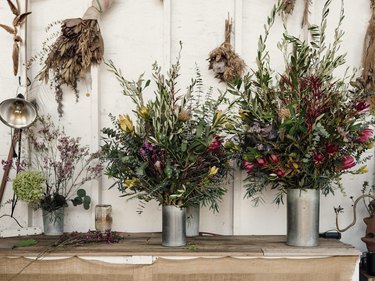 Budget is top of mind for Falls when it comes to renovating and decorating, devising inventive, out-of-the-box ways to achieve the look he's aiming for. "I always do things on a shoestring as long as it doesn't affect the quality of the final outcome," Falls says. "I think finding ways to elevate a space in a way that is semi-temporary is key. It makes you exercise your creativity to the max." This includes scanning the streets for free items on the curb that can live out a second act in his studio. "One man's trash is another man's treasure," he says.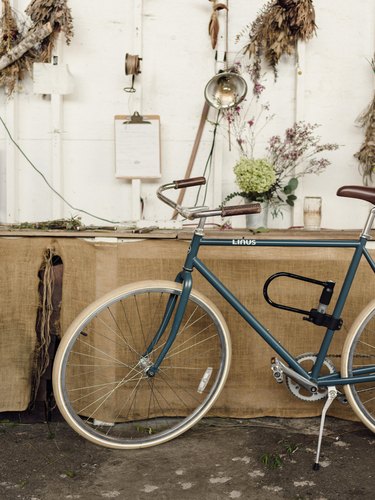 Falls says that his space is undergoing "constant transformation," with visuals that transform and fluctuate according to what is currently inspiring him, and he doesn't force anything. "Everything that adds function to the space happens under organic circumstances," he adds.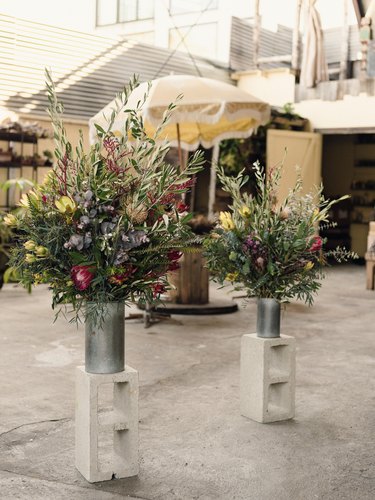 The elements that Falls uses in his arrangements lend themselves to the atmosphere of the studio. "The materials I use inspire me," he says. "The flowers themselves have always impressed the hell out of me." His travels to France and Spain, and his homeland of New Zealand, echo their inspirations in the studio as well.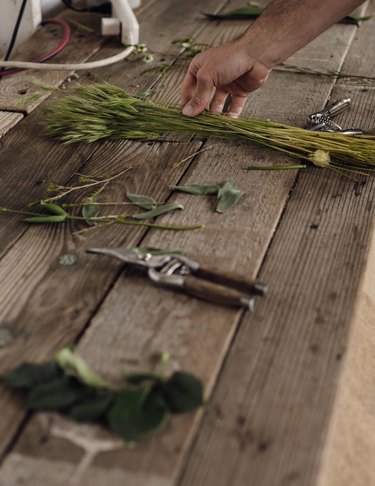 With an affinity for big and bold protea flowers, the imagery in his studio also has a clear identity. Falls describes his philosophy, saying, "I have a pretty strong commitment to an aesthetic. I can't stand the sight of plastic or artificial colors. I guess I'm all about an organic approach to art, business, and just life in general."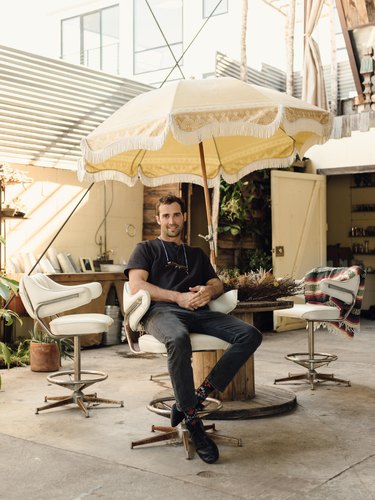 His easygoing methodology is witnessed in the jazz concerts and movie nights he hosts at the studio, a place that he refers to as "The Hangout Zone," a throwback to his childhood. "It's safe to say that this is the perfect place for me," Falls says.