Tile is one of those magical elements that can completely transform a space — and one that requires thoughtful consideration. If you've ever experienced tile remorse, you're not alone. A contractor may have nudged you toward a certain tile style or size to stay within your budget without considering your aesthetic or the function of its location. Or maybe you chose the ubiquitous subway tiles staggered horizontally on the wall in the bathroom or kitchen because you liked it in other people's homes, but now it looks too basic to you. The message here is to take your time when deciding on tile. And, yes, size matters. Here are some tile insights and tips as you prepare for your next project.
Large-format tile on walls or floors can make a room feel more spacious.
Large-format tiles (greater than 12 inches) placed horizontally on walls tend to make a space feel bigger because there are fewer lines to break up the surface visually. Even with some patterned tile, such as marble, you can still accomplish this feeling if the pattern runs horizontally. And choosing lighter-colored tiles can increase the effect, as they reflect more light.
Especially in a small shower, a larger white tile can make it feel less cramped. (Though if you're tiling a closet-sized shower, a medium-size tile, such as 4 x 8 and 6 x 8, could work better.) For the floor, larger tiles (square, hexagon, or rectangular) with tighter and fewer grout lines can similarly make a room seem more open.
Consider small tiles for bathroom and shower floors.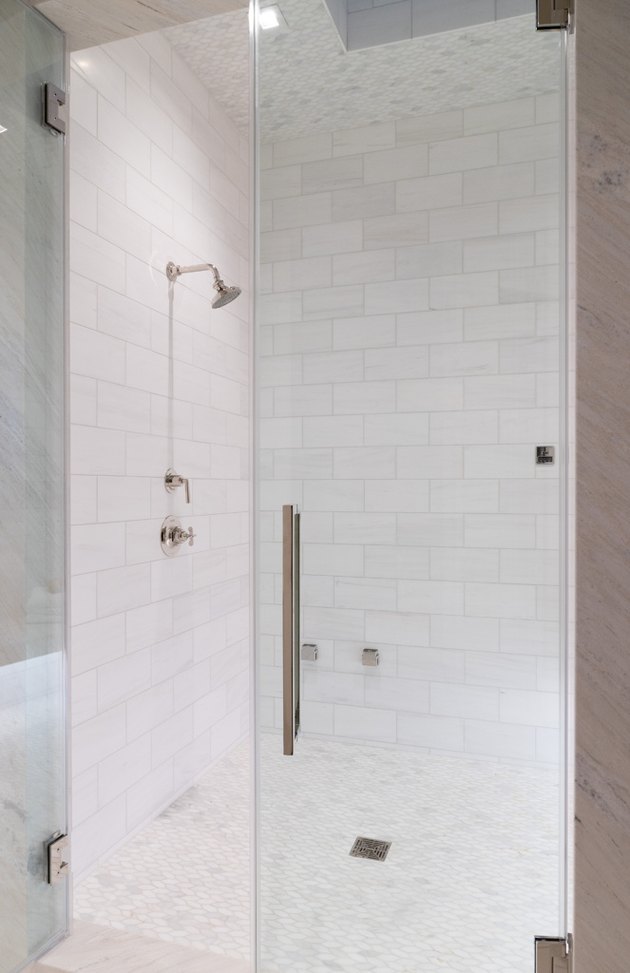 There's a very smart reason to do this: safety. With slips and falls accounting for millions of injuries each year, choosing the right tile in any room is key, especially in wet areas, and if you are or live with a senior citizen. (More than one in four older adults fall each year, according to the Center for Disease Control.)
"I usually will do a mosaic tile or smaller tile on the shower floor to prevent slipping," says Los Angeles–based designer Brooke Gardner, whose projects have included Hollywood studio offices and Paris pied-à-terres. A larger floor tile often means a larger slick surface — unless you use slip-resistant tile or apply a nonslip coating to your floor — versus smaller tiles sectioned off by grout.
Or go small and large on the bathroom floor with strategically placed "carpet."
LA designer Angelica Moyes agrees that smaller tiles can be safer, while also acknowledging clients may want flexibility. She opts for a solution that includes both sizes: "In large bathrooms with large floor tiles, I have introduced tile carpets made up of smaller tiles with more grout lines," she explains. "The tile carpets not only add visual interest to the space, but they also provide slip resistance in front of bathtubs and other wet areas of bathroom floors."
Be open to directions, whatever the size.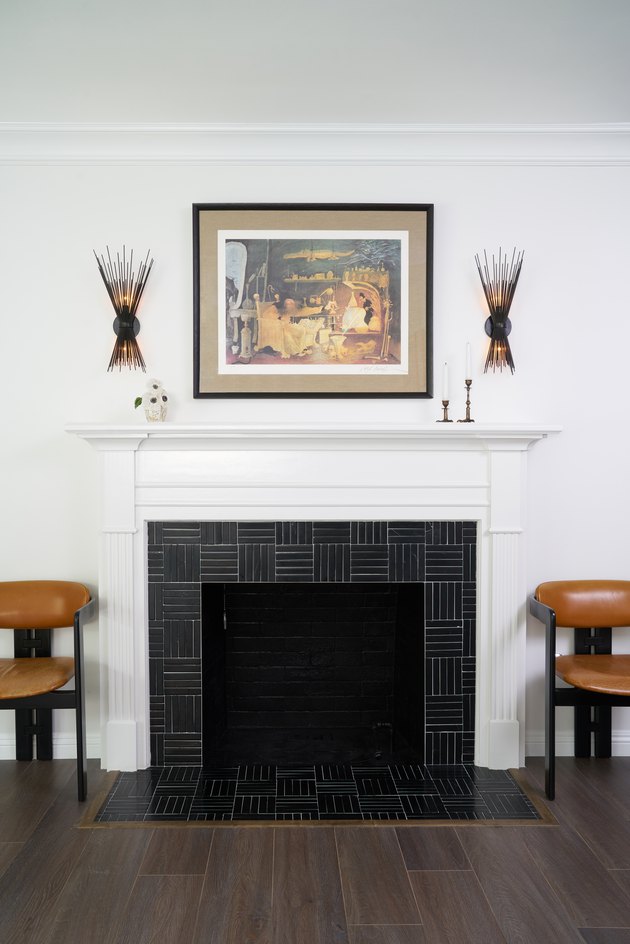 "Turn it on its ear" is an approach Charlotte, North Carolina, interior designer Annie Fair adopts to take the familiar into the extraordinary: "Even the most simple (AKA affordable) tile can be made more impactful by getting creative about the installation," she shares. "I've used Dal Tile rectangles in black and white on the floor of public restrooms, but it was installed in a herringbone pattern."
Likewise, with tiles in any room, you don't necessarily need to run them horizontal or staggered. "Many designers are opting for the aligned (or straight-stacked) tile installation. You could align it on the long or short side," adds Fair. "This gives a more midcentury feel rather than farmhouse modern. It also looks clean."
Say yes to mixing tile sizes and using trim pieces for added flair.
Just as a combo of tile sizes in the bathroom is practical and stylish, don't be afraid to carry that into other rooms as well. "For example, 3 x 6 tiles on the wall and 6 x 12 on the floor, or vice versa, separated by a chair rail (horizontal molding), and then a mosaic on the floor," suggests Gardner.
To "turn a boring tile installation into something spectacular," she also discourages scrimping on trim pieces for ceramic and stone tiles: quarter rounds, beaks, coves, crown moldings, and chair rails. "All of these pieces elevate the aesthetics of the installation, while providing practical solutions to starting and stopping tile where it meets another surface or wall plane, or where the size of tile or the shape of tile is integrated into the overall design."
Mind the grout.
Most tile installation requires grout, so choose the color wisely. "Too often, I meet clients who oversimplify and focus too much on one aspect of design that derails the very outcome they are attempting to achieve," says Moyes. "For instance, contrasting grout colors applied between smaller tiles may create visible lines that split up the room and inadvertently draw attention to the fact that the space is small." Especially in areas that get a lot of foot traffic, using lighter grout on the floor could require constant cleaning, which no one wants. Opting for gray could mean less maintenance.
When Fair contemplates grout, she thinks of possibilities: "Grout is another tool that will help execute your design vision. You can find grout in many colors, so it can become a contrast or an extension of your tile." Her advice: "Consider how the positive (the tile) and negative (grout) spaces work. This is especially important for smaller tile, but is impactful even with the most simple of shapes large or small."
Take your time.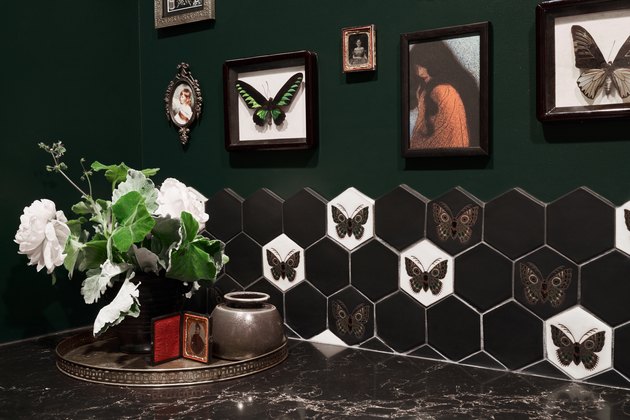 If you're able to spend time to really research your tile options, do it. Beyond browsing photos for inspiration, visit friends' homes, see how the tilework looks in the context of different spaces, and ask them about how easy or difficult it is to maintain. If you don't find what you're looking for online or through a local supplier, there are many artisans who can create your dream tile for you.
---
Author and book editor Teena Apeles is a collector of vintage pieces and untold stories. She founded the Los Angeles–based creative collective Narrated Objects, which released the anthology Dear Seller: Real Estate Love Letters from Los Angeles, a unique exploration of the lives and homes of Angelenos.
View Work