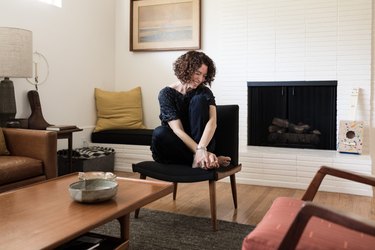 Who: Julie Burton of Verre Modern
Where: Los Feliz, Los Angeles, California
Style: Functional elegance
Julie Burton's exquisite Verre Modern jewelry, wall hangings, and mobiles are geometric and colorful glass wonders of varying shapes that dangle (or stand, in the case of her sculptures) in harmonious and pleasing ways. Some even look like they're dancing.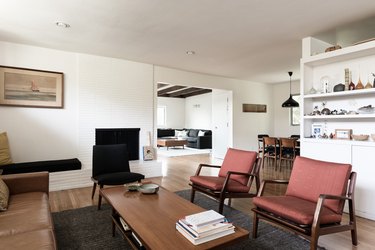 Her midcentury home in Los Angeles shares some of the same qualities of her work, filled with curved and angled furniture and covet-worthy curio, thoughtfully collected over time — some, obsessed over, in their acquisition — placed in an orderly yet imaginative manner that reflects her and her husband's discerning sense of style.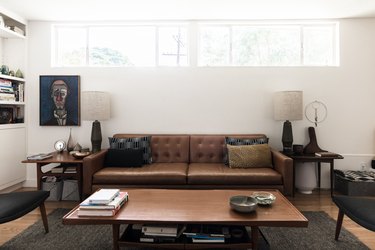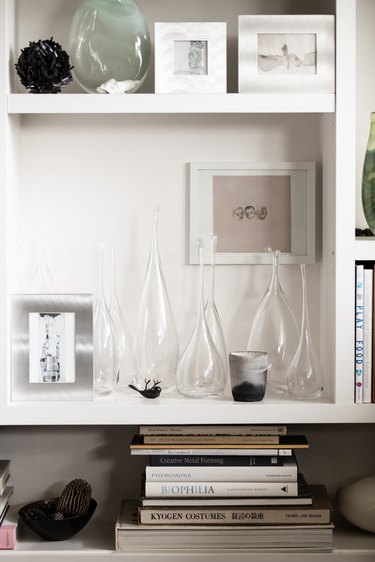 "You can tell by the lack of art in our house we are very picky," says Burton, referring to the bare walls of their living room, save for its original '50s light sconces, which she brilliantly flipped from a vertical to horizontal position. "My husband and I are really particular people, and I think that we got lucky that we have very similar tastes."
Well, being picky and particular when furnishing the 1954 abode that she, husband David Brody, a former marketing and branding exec, and son moved into in 2012 resulted in very welcoming spaces, designed to accommodate each family member's needs. To achieve, this required serious renovations to fix the haphazard update the original owners did in the '70s and, shares Burton, "a lot of looking on Pinterest ... and time budgeting out what we could do and couldn't do."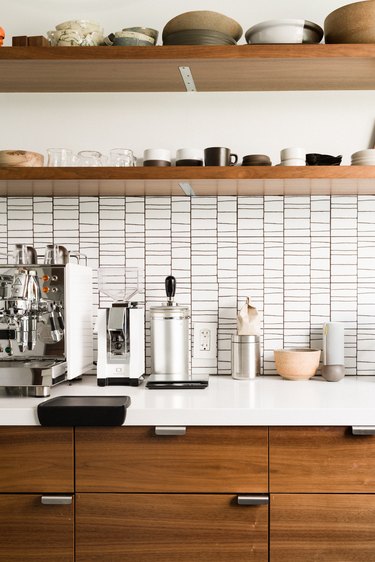 They turned to architect friend Peter Kim to help redesign the kitchen, brightening it up by replacing dark-wood cabinetry with lighter wood from IKEA and adding custom open shelving by local craftsman Saul Torres. They also lightened up the space by adding a modern white island with bar seating; and using chic, unusually cut white tile for a backsplash that, Burton admits, took some serious effort to find while remaining within budget.
"I looked at, like, a bazillion places," she says, with Brody nodding in agreement, until finding one she liked and finally secured — by way of a guy in Germany, who connected her to German-born Felix Schmeing of Ceramic Concepts in nearby Echo Park. Schmeing specializes in custom and hand-painted tiles, something Burton appreciates, as all her pieces are handmade. His tiles were installed using red clay, a choice Burton feels made the lines more beautiful.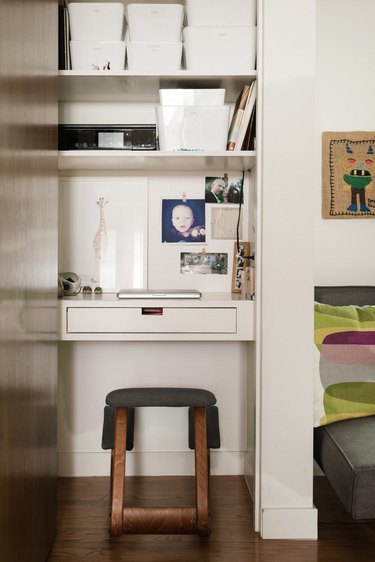 Other renovations included reconfiguring the layout of the bathrooms and bedrooms. Several pieces in the rooms were custom-made to maximize space. For instance, in their office/guest room, they built a closet the same depth of their adjacent daybed, with shelves and a floating desk for Burton that can be concealed when they host guests.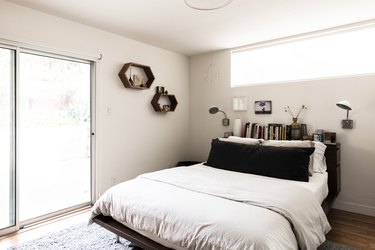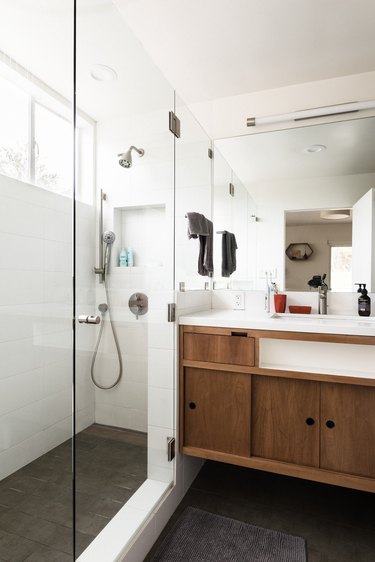 Friend Nicole Chiala designed their master bed, featuring a headboard with hidden storage; and Torres built the wood vanities in both bathrooms, as well as a large square coffee table in the living room with drawers and additional hidden storage. This is smart design at its best, but there's more.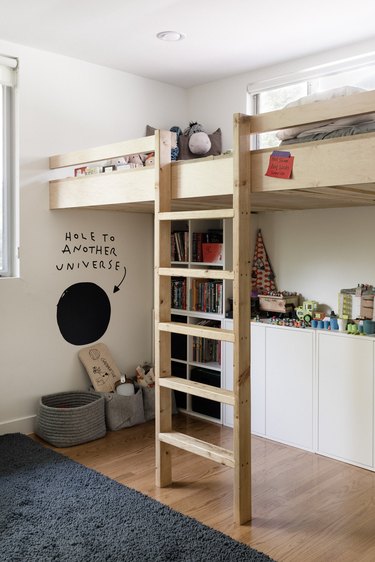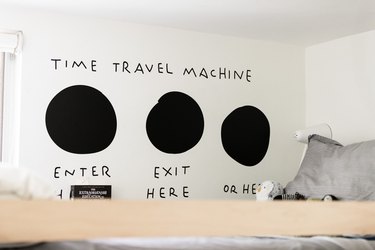 They recently redid their son's room — "so I could get my living room back," jokes Burton — installing a loft bed that Brody designed that runs the length of the room, with tons of shelving and drawers above and below, allowing for ample play area underneath.
Outside, they also had a playhouse built on the edge of their property, with another loft bed that, wait for it, has an interior rock-climbing wall to access it. Fun and functional.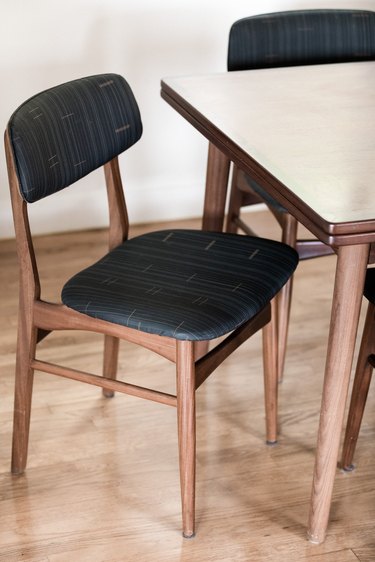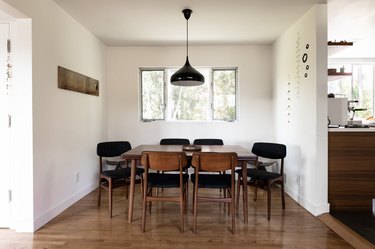 Their dining room chairs are from MIDCENTURYLA, where Burton happened to — and apparently wasn't supposed to — find some black suiting fabric in the store's back hallway perfect for the seats. The owner was going to use it in his own home but was nice enough to re-upholster her chairs with it.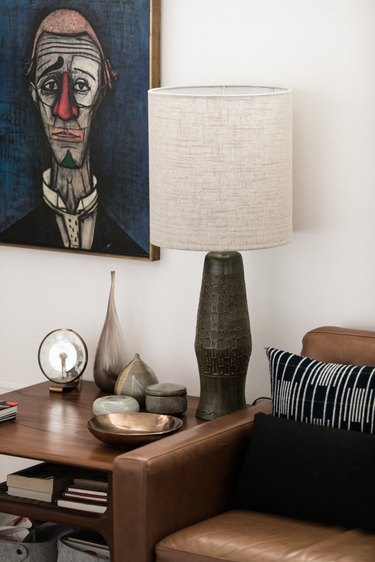 Other midcentury furniture in the family room includes tables and lamps they inherited — though Burton uses the word "stole" — from their parents or grandparents, and chairs they found at the Rose Bowl Flea Market and refreshed with Sunbrella fabric.
Burton's favorite room is the living room, which they also had renovated, removing the "nasty 1970s office drop ceiling" to reveal wood beams above and replacing the original linoleum flooring with hardwood. Some furnishings include a Room & Board couch and carpet, a steel specimen cabinet Brody bought for $5 from a former workplace, and what looks like some tall midcentury torture device that, when Burton lowers it to the ground, is actually a stylishly designed rowing machine by WaterRower.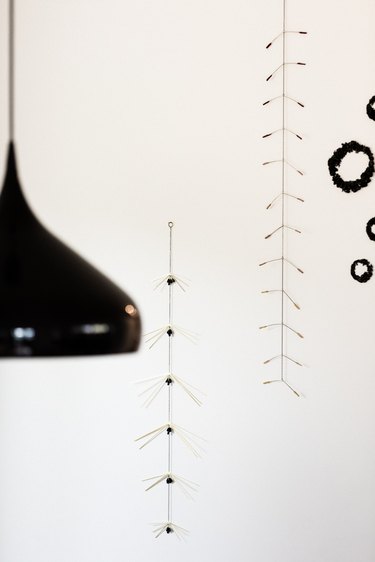 Though perhaps what stands out most in the home are the smallest objects, artfully grouped together in different rooms, including her glass sculptures and recent forays into pottery, soon to be featured in her Made Only One store of, you guessed it, one-of-a-kind creations.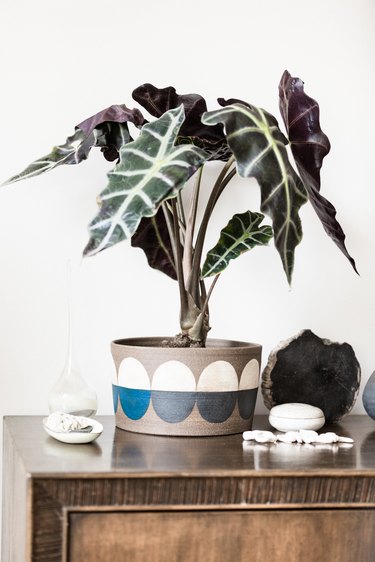 "Almost everything here is made by somebody that I know," she says, referring to pieces atop a cabinet, including ceramics from Klein Reid, MQuan, and Ana Cho. Elsewhere is pottery by Gina Zycher and glassworks by Laura Kramer of LBK Studios, each piece beautifully handcrafted and, as with many details of Burton's home, likely having a wonderful backstory.