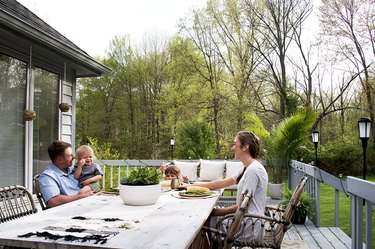 With warmer weather gracing us with its presence and the sun finally deciding to make its debut again, the drive to be outdoors is acute. But for home interiors obsessives, that goal ideally includes one thing: not really leaving your property.
And that can be accomplished by setting up a home-adjacent outdoor sanctuary. Bre Bertolini, the Ohio-based design blogger behind Bre Purposed, has done just that with a space she's curated for family meals, friend get-togethers, and morning coffees. While she doesn't like to put herself into a specific design category, Bertolini describes her space as modern, casual, comfortable, and vintage—so, all of the good things.
According to Bertolini, the trick to getting an outdoor entertainment area just right is emulating the spaces you love. "I try and think about what I enjoy when I'm at someone else's home and make sure to incorporate those things," Bertolini says. "Think a comfy couch, or chaise lounge—for me things like a fire pit, string lights, and music always make me enjoy an outdoor party the most."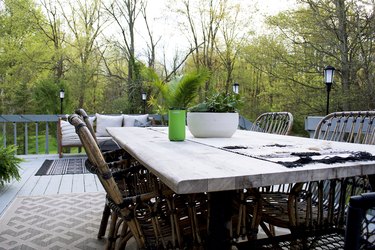 One thing that's never on that list? Mosquitos. Bertolini turns to Thermacell to keep everyone's least favorite insect from spoiling the vibe. The scent-free torches and Patio Shield repellers don't compete with your grilling feast, and offer 15-feet of bug-free bliss.
"When we first used our Thermacell torches I immediately noticed that the bugs weren't buzzing around us," Bertolini says. "I feel like with other products, it always took some time before they actually started to work and we would still get bitten"
Another plus about opting for Thermacell repellents? They actually stand the test of time AKA they require basically zero maintenance. "I feel like the torches we've used in the past have never held up to the elements in our backyard," Bertolini says. "The Thermacell repellers are super sturdy and I can already tell they're going to last a long time. Plus they totally blend in with my decor!"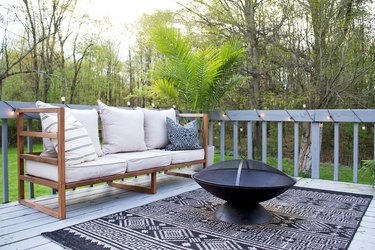 Now that you've set up a comfortable space, it's time for the accents. One of Bertolini's key components in her outdoor hotspot is her DIY couch (yep, she did that). "I didn't want to spend a ton of money on a new one, but we needed more seating so we decided to build our own," she says. "It turned out so good and paired with a fire-pit—it's our favorite spot."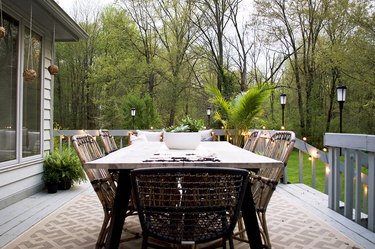 Next, it's onto dining essentials. "I also like to make sure there is plenty of seating for the number of guests we're having as well as setting the vibe of the area with lights or candles and music," Bertolini says. By incorporating a large (and beautiful) dinner table, all of her guests have ample room to relax, eat, and actually enjoy each other's time, sans one person having to draw up a lawn chair.
"It's also important to not stress that everything is perfect and remember that people are coming over to hang out with you and enjoy your company—they want to feel comfortable and not like they can't touch or sit on anything," Bertolini adds. With a mosquito-free environment and comfy mingle-friendly seating, you're creating the recipe for a good time—no complicated details necessary.