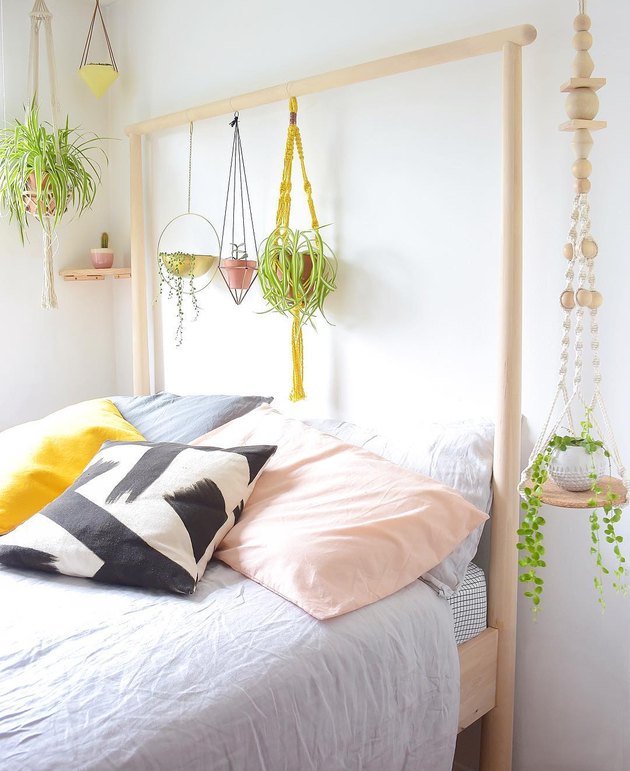 There are always lots of questions when it comes to styling a bed. What headboard should I go with? What artwork would look good above the bed? Which linens would be on-trend, but not fussy? All of which are good questions, made even more challenging when you're sticking to a tight budget.
That's when an IKEA bed, with its low, low price points and high style, can literally save the day. Often; the bed frames are pretty darn basic, too, which allows you to have fun with styling — transforming it from meh to yassss! In fact, these nine beds are styled so beautifully, you'd never know they were scored at IKEA.
1. Scandi-Rustic Flair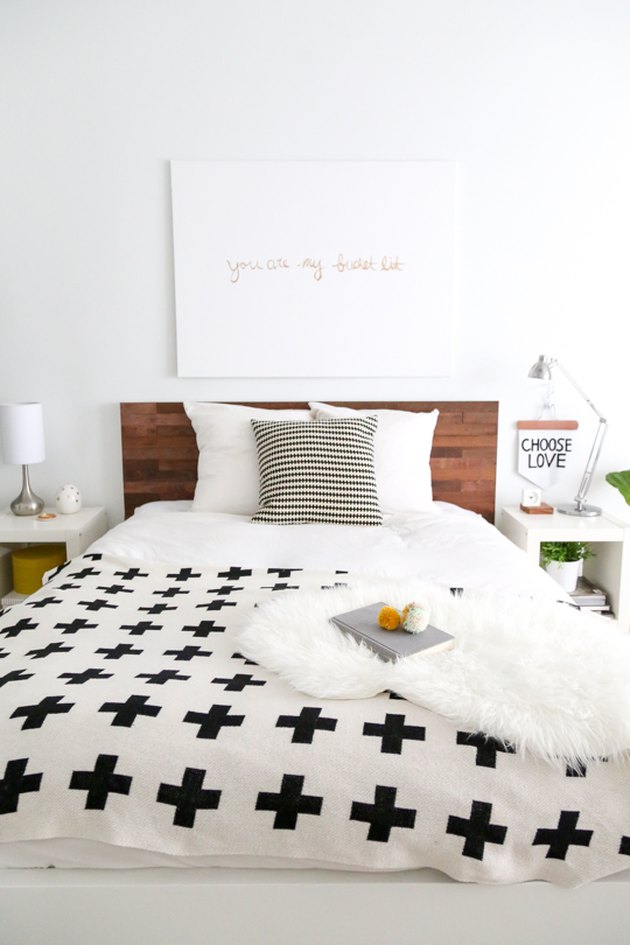 Ashley Rose of Sugar & Cloth got amazingly creative when she punched up this Malm bed. Starting with the frame (which she snatched up from the IKEA as-is section for $90), she attached adhesive reclaimed oak pieces to the headboard, which instantly resulted in a rustic, yet modern effect. You can head to her blog to find the DIY steps.
2. Elegant Neutrals
The nice thing about most IKEA beds is that they feature uncomplicated design details that mesh flawlessly with nearly every color, style, and texture that you can dream of. Interior designer and prop stylist Tiffany Wys began with a Malm bed frame ($649) in stained white oak, then brought in pillows and linens in whispery tones, a simple vase filled with greenery, and a handwoven rug for a current, sophisticated look.
3. Sleek and Minimal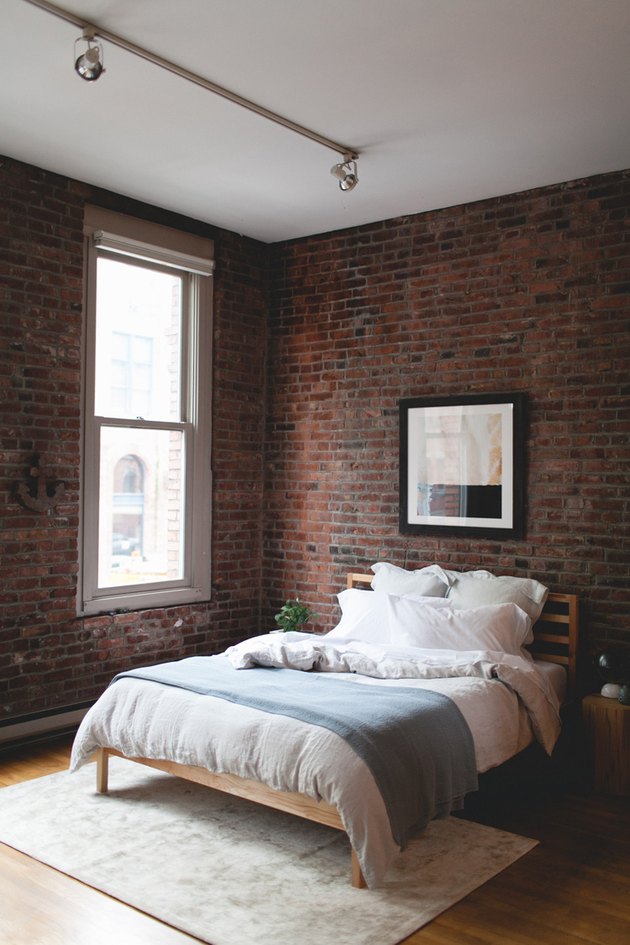 The minimal design of IKEA beds, like the Tarva ($169), permit people to refresh their bedrooms at a moment's notice, which is what Joanna of Jojotastic did in her bedroom. For spring, she freshened things up with lightweight, subtly-hued linens, a neutral area rug, and abstract artwork which looks great against the red brick backdrop.
4. Shining Brass Accents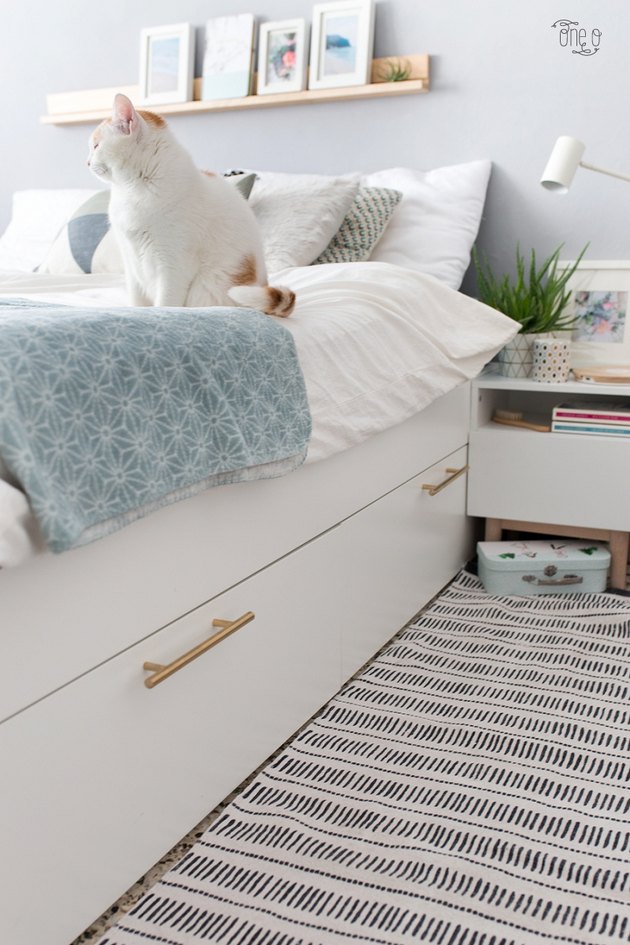 If you search Pinterest, IKEA hacks abound. No matter which make and model you purchase, there are near-endless ways to change up any IKEA bed you purchase. Thanks to a little DIY magic, Chiara and Irene from One O added some new shiny brass hardware to the drawers of this Brimnes bed ($399). Visit the blog post for the full instructions.
5. Patterned Wallpaper
You can use linens or throw pillows to add interest to a bed, or you can look elsewhere, like the wall behind it. In her son's bedroom, Jen Green of Green Spruce Designs made a Malm bed ($359) look a lot more interesting by stenciling (yes, stenciling!) the wall behind it. Check out all of the details here.
6. Burst of Green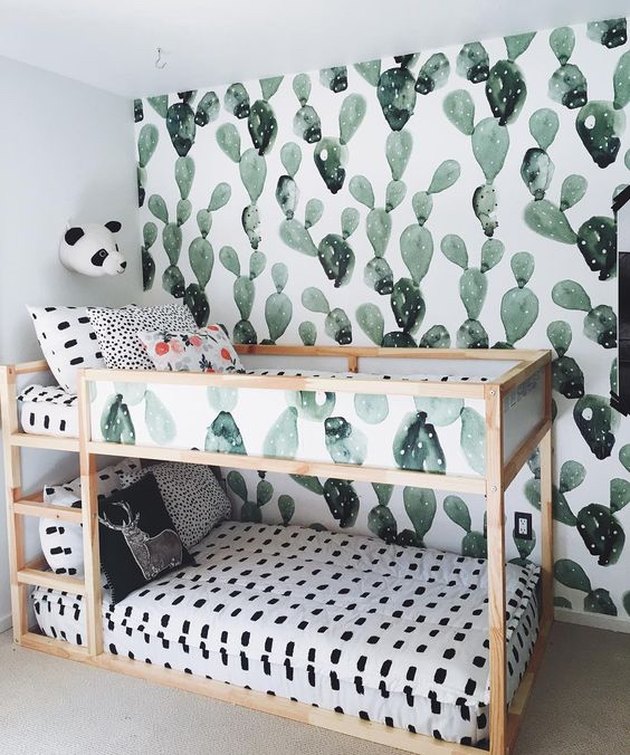 And if you want something for the kiddos, an easy way to add a fun pop of color is to add a little wallpaper. We love the way that blogger Suzy Holman decked out her kids' Kura bunks ($199) with the same adorable cactus print that's on the wall, paired with contrasting black and white bedding. Swoon!
7. Modern Matchmaking
Or, if your little ones are too old for bunks, other IKEA beds are ideal for kids' rooms, too. Melanie from Rave Interior Design paired two white Minnen beds ($119) with textured throw pillows. She also opted for a cactus print on the wall. We don't know about you, but we would gladly steal any one of these accents for our own grown-up bedrooms.
8. Vintage Charm
9. Plant Perch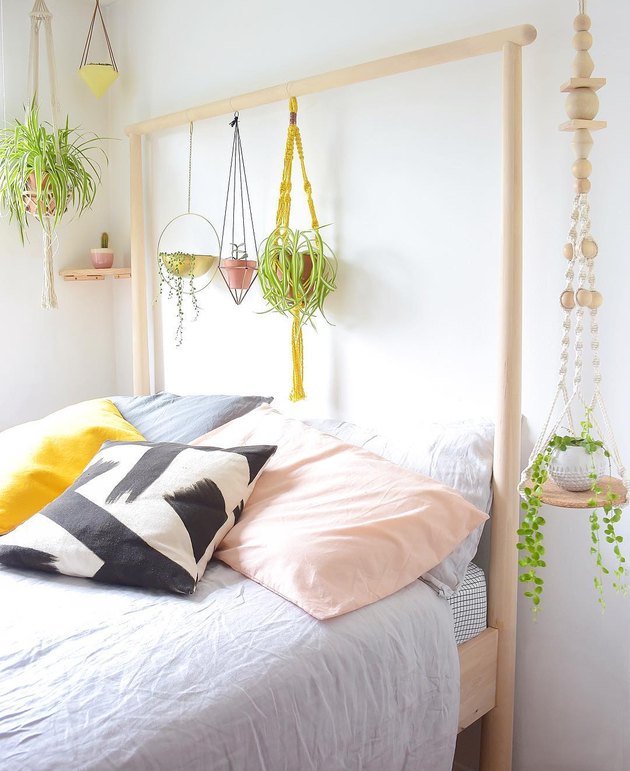 We're betting that when you consider bed frames, you've likely never thought, I'd like to find a bed frame that doubles as an indoor garden. But it actually is possible when you purchase a Gjöra bed ($329) from IKEA, proven here by designer and stylist Clare Nicolson. And we're loving all of those pleasantly-pastel hanging planters.
---
Shelby Deering is a lifestyle writer who contributes to national magazines and websites, including Country Living, Good Housekeeping, Well+Good, and more. When she's not writing, you'll find her shopping flea markets, hiking, and going for walks with her corgi.
View Work