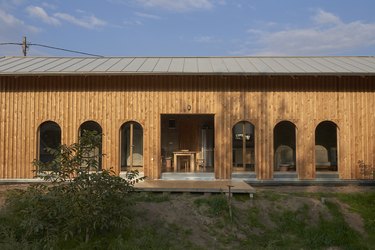 A tight budget for a new house in Csömör, Hungary (near the capital of Budapest) became a portal of creativity for Budapest-based architectural studio Architecture Uncomfortable Workshop. By using simple materials, clean geometry, and an open plan, the architectural team was able to create a large space for the clients, a young family with a soon-to-be-arriving newborn.
But it's the creative use of raw materials that make the home special. In the 750-square-foot interior, cinderblocks coexist with wood paneling and touches that almost look unfinished. The exterior is equally striking, with a wood facade lined with long, arched windows.
For many other architectural firms, the build's strict budget (an allowance of about $70,000) would have been nearly impossible. But because Architecture Uncomfortable Workshop specializes in experimental projects, the price point was actually a catalyst for creativity.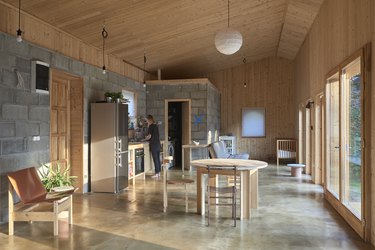 A lounge chair in the living room, created by the firm using brown tin, takes inspiration from midcentury design. An experimentation in geometric shapes led the firm to create an asymmetrical yet balanced ceiling design. Walls within the house are made from timber, insulated material, and a concrete sandwich wall.
A cylindrical side table made from tubing and concrete was crafted by Architecture Uncomfortable. Large windows give the family a great view of a garden hidden behind the house (referred to as a "secret garden" by the firm).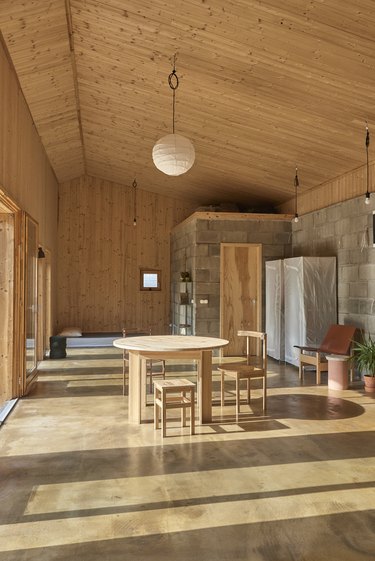 The dining table and chairs were designed and constructed by the team. A simple paper pendant light purchased from IKEA adorns the ceiling.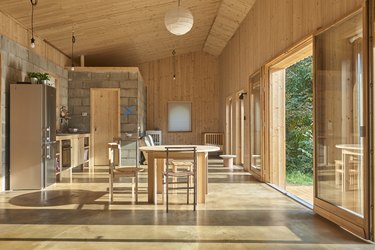 A carpenter designed and crafted cabinets for the kitchen. Hanging light bulbs purchased from IKEA appear on different areas on the angled ceiling. Because the home was for a family, top-tier appliances (like the fridge from Swedish company Electrolux) were necessary.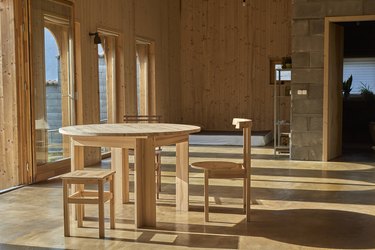 The floor is made from raw pine oiled in a Padlopon, a solution used to even the surface.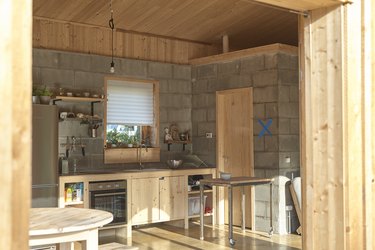 A table with wheels offers added functionality in the family's kitchen. Planters on the windowsill house a variety of Hungarian spices and herbs. Tin blinds add to the industrial feel.
In order to create arched windows in an inexpensive way, the team opted to shape the wood to create the rounded, arched shape, but kept the glass as is — in its rectangular form.