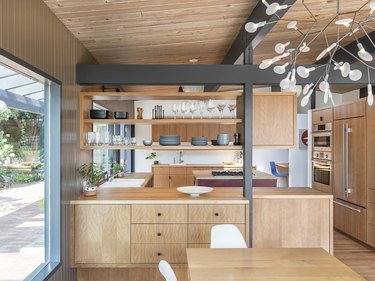 When a couple with two small children found a charming hillside midcentury home in central Seattle, they knew they wanted to bring it up to date while restoring it to its original beauty. Working with the architects at Shed and interior designer Jennie Gruss, the couple got to work transforming the home, which was designed in 1957 by architect Arnold Gangnes. The team tried to salvage as many original details as possible, including the hardwood floors in the living and dining rooms and entry's slate tile. They avoided any major structural changes and focused on opening up and combining spaces to better fit the family's lifestyle. Two bedrooms were joined to create a spacious master suite and an open air-storage space became the indoor pool, which was one of the family's must-haves for the redesign.
Shed kept the palette of materials neutral to complement the floors, but added maroon cabinets in the kitchen for a bit of color. Black beams and woodwork highlight the architecture and create contrast with the warm wood ceilings. Gruss added furnishings that combine a midcentury vibe with comfort. The end result is a space with '50s style that's just right for a modern family.
---
Elizabeth Stamp is a freelance writer in Los Angeles. Her work has appeared in Architectural Digest, Elle Decor, and CNN Style.
View Work