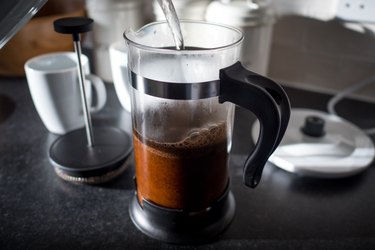 There isn't much that's better in the morning than a fresh cup of hot, delicious coffee. A French press is a great device for brewing small amounts of coffee without having to dedicate precious counter space to a large automatic drip coffee maker, as they only consist of a glass carafe and a filter.
But despite their efficient set up and size, French press coffee makers still need to be maintained in order to brew the best tasting coffee for the longest amount of time possible. Fortunately, cleaning a French press is easy and inexpensive, especially if you make regular upkeep a part of your clean up routine.
Cleaning a French Press
French press coffee makers do not rely on paper filters, which means that oil from your coffee can stick to and stain them, so you'll want to keep yours clean. The first thing you'll need to do when cleaning out your French press coffee maker is tossing the coffee grounds that have collected in the bottom of your carafe.
Pouring them into your sink drain or garbage disposal is not recommended for regular discarding, so be sure to throw them into the trash or in a compost pile. Then, remove the plunger and the filter that's attached and set them aside. Rinse your carafe with warm water, then gently wash the sides and bottom with a small amount of dish soap before removing that sudsy water completely. This will stop soap residue from sticking to your French press and potentially ruining your next cup of coffee.
Quick and Easy Cleaning
You can also clean the inside of your French press carafe quickly by using the plunger and your French press spring, which is the device attached to the filter that helps push the coffee grounds down when brewing.
To do this, simply pour warm water and a small bit of dish soap into your empty carafe and pump the plunger up and down a few times. If you have oily residue or other stains that aren't washing away easily, you can add a bit of baking soda to the carafe and rub it into the surface using your fingers or a soft towel or brush.
French Press Filter
The most difficult thing to keep clean on a French press coffee maker is the filter, which is still fairly easy to wash and usually only takes a few minutes. Some French press filters can separate from the plunger by being twisted or popped off, so if you can remove your filter, you should do so to ensure the most thorough clean possible. Then, disassemble your French press filter by removing the spiral plate, mesh screen and cross plate. Wash all three parts by either soaking in warm soapy water or scrubbing them clean using your fingers and a bit of dish soap. Be sure to rinse everything well when you're done.
Once everything has been scrubbed clean and rinsed out, you'll just need to assemble your filter. French press screen assembly is just as simple as disassembly. On a Bodum French press, for example, the filter rests on top of the cross plate, and is then topped off with the spiral plate. Most French press filters and plungers are designed this way whether you're working with this brand or not, and should take just a minute or two to pop back into place.
---
Krissy Howard is a NY-based freelance writer who specializes in creating content regarding pet care, skin care, gardening, and original humor. Her work has appeared on Reader's Digest, Hello Giggles, and Reductress.
View Work