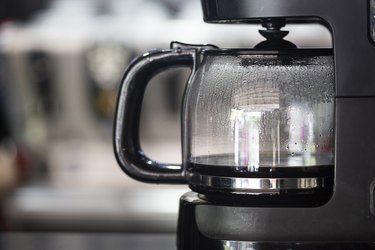 There's not much that beats a cup of fresh coffee in the morning, but if you want your brew steaming, a coffee maker that won't stay warm can really dampen your plans. In most cases, this may happen when your Cuisinart coffee maker's hot plate shuts off, but what about coffee makers that rely on a thermal carafe to keep things warm? If your thermal coffee carafe isn't keeping coffee hot, there are a few things to look out for, most of which can be repaired easily.
The Cuisinart Classic Thermal 10-Cup Coffeemaker
Unlike most traditional coffee makers, this particular model stands out as it doesn't have a hot plate to keep your freshly brewed liquid warm. Instead, this Cuisinart variety uses an insulated thermal carafe to keep your coffee warm in between cups.
The first thing you want to look for in this case, which sounds obvious but is surprisingly easy to overlook, is the placement of your coffee pot's lid. According to the Cuisinart instruction manual, the lid self-seals so air stays out and coffee stays warm and fresh. Always be sure that the lid is secured in place if you notice that your brew isn't staying as warm.
While this model doesn't use a hot plate, the resting plate is still an important element of the machine and should be in good condition to keep things working smoothly. To keep your resting plate clean, wipe it down with a clean, damp towel on a regular basis to prevent buildup over time. The same should be done with the bottom of the carafe once it has cooled down. Never submerge either of these elements in standing water. Simply wipe them down with a wet cloth and dry them thoroughly before the next use.
Keeping Your Coffee Maker On
If your Cuisinart coffee maker shuts off before it's done brewing, this may be attributed to a lid issue as well. Because the Cuisinart classic thermal coffeemaker has a brew-pause function, it won't dispense coffee into the carafe if the lid isn't secured properly. Make sure the lid is in the "lock" position if you notice that nothing is in the carafe, the water basket is overflowing or water is leaking onto your counter.
Alternatively, if you notice that indicator lights are blinking on the face of your coffee maker, you may need to adjust or clean your coffee filter basket, which could be placed incorrectly or jammed with old grinds or built-up oils from your coffee.
Preventing Coffee Maker Problems
Like any household appliance, regular upkeep will give your coffee maker its best chance at a long working lifespan. Always be sure to keep the surface elements, like the resting plate and exterior of the carafe, clean using a clean towel and water.
To keep things running smoothly inside the coffee maker, decalcifying the machine every few weeks will remove hard water buildup and result in great-tasting coffee. The 10-cup thermal model has a "clean" button to help you do this easily. Otherwise, you can decalcify your coffee maker with citric acid or a vinegar and water solution. For a quick rinse on newer machines, hot water may do the trick.