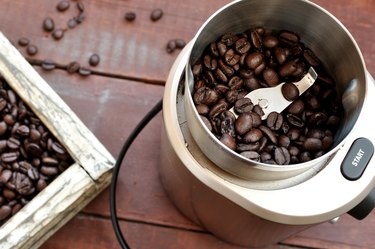 For coffee lovers, a sturdy coffee maker is an absolute essential. A Cuisinart Grind and Brew appliance will help you to whip up your favorite coffee whenever you want it, and the machine is also quite durable and reliable. Still, nothing lasts forever, so you'll also need to keep the machine clean and well maintained to encourage its longevity, otherwise you may face Cuisinart Grind and Brew problems.
Troubleshooting a Cuisinart Grind & Brew
There are some things you'll need to know about servicing your Cuisinart Grind and Brew, as well as basics that are handy to know for daily use. Luckily, there are many ways to fix or clean your coffee maker it if it's on the fritz. In a worst case scenario, you can always call in an expert to help you repair the appliance or if you're having power issues that are hindering your coffeemaker from working.
Using a Cuisinart Grind and Brew
The Grind and Brew coffee maker makes coffee by grinding down whole coffee beans. There are different options on the grinder, so you can find the consistency of ground bean that works best for you. Additionally, if you'd rather brew pre-ground coffee, you can still use this type of machine, so long as you turn off the grinder.
If you've never used a Grind and Brew, then keep in mind that the finer the grind on the beans, the more bitter the coffee will taste, because you'll be extracting the flavor to a greater extent. And the finer you grind down the beans, the higher chance you have of clogging the filter. So, if you like your coffee bitter, make sure you check the filter regularly.
However, if you keep the grind too coarse, the water won't distill through the beans as well, and you won't be left with a very strong flavor. Most coffee makers are set to a medium grind, but you can adjust this based on your personal preference.
Operating a Grind and Brew
When you plug in your coffeemaker, it will automatically turn on. Depending on whether or not you're using whole beans to grind your coffee, you'll also need to make sure you manually turn the grinder on or off.
If the machine isn't doing so, check to make sure that your cord isn't knotted or damaged.
Once you're ready to brew a cup of coffee, you'll fill up the water reservoir to your desired level, making sure not to go past the 12-cup line, otherwise it might overflow. Then, you'll open up the grinder basket and insert your beans. Add a coffee filter by opening the filter basket door. You can choose to use a paper filter, which can be composted if you feel so inclined, or a permanent filter.
From here, you're ready to brew. You'll snap the top of the water reservoir and the grinder basket closed, locking into place — a great feature that ensures that nothing will spill or coming loose. Place your coffee pot underneath and select the option of how many cups you'd like to brew, and you're on your way.
Completing the Brewing Process
When your coffee is finished, the machine will beep five consecutive times and will turn itself off. Coffee may still trickle out even after the beeps, though, so don't remove your pot right away. Most appliances of this type have a "pause brew" feature that allows you to stop it mid-brew so you can pour yourself the first cup of fresh coffee.
Programming Features on the Machine
Another helpful feature this appliance offers is the programmable option. To program the machine to make coffee for you at a set time, press the "program" button. Once a time pops up, set it as you would the clock, pressing the hour and minute keys accordingly.
If you're planning to make fewer than five cups of coffee, press the button for between one to four cups. Then, press the "program" button again to set this choice. It will light up green to indicate that the brew time has been set.
Cuisinart Grind and Brew Problems
If your Cuisinart Grind and Brew Grinder is not working, there are many simple fixes you can try. One of the most common issues seen with this machine is an overflow of the water reservoir if you aren't careful to keep contents below the 12-cup mark. If you enjoy your coffee bitter, then make sure you check that your filter isn't getting clogged by the finely ground beans.
Be mindful to check that you have a filter in place, but that there is only one and not several that have stuck together. Failure to do so could cause your coffee pot to overflow and the filter area to become clogged. You'll also want to read the instructions that come with your machine to determine what the recommended quantity of coffee beans is for your desired cup of coffee, otherwise that might also lead to overflow.
If you find your Cuisinart Grind and Brew grinder not working, you might have ground coffee beans packed underneath the feature that's causing it to stop moving properly. Giving it a good clean will help solve this issue. Additionally, if your coffee has a metallic taste, it might be because your appliance and its pieces are in need of a cleaning.
Maintaining and Cleaning Your Appliance
After each use, it's recommended that you clean each piece of your Grind and Brew coffeemaker, otherwise it could affect the performance of your appliance or the taste of your coffee. Before you do this, make sure your machine is turned off and unplugged.
Each piece of the machine can be washed with warm, soapy water or in the top rack of the dishwasher. Once you've adequately all parts of the machine, lay them out to dry on a paper towel.
Once you remove the grinder basket for cleaning, be careful not to put any water into the machine. If you do, you risk having water infiltrate the grinder motor and destroy the entire appliance. A damp cloth is usually the best way to clean the heating plate. In addition, avoid using any harsh cleaners on the machine that could potentially damage it or contaminate your coffee.
Removing Calcium Deposits
Over time, calcium deposits will likely build up in your machine on its metal parts, which is very normal and easily fixed. Whenever this occurs — or at least every six months — be sure to remove the charcoal water filter. Then, fill the water reservoir with 1/3 vinegar and 2/3 water and run the coffeemaker through one cycle. After you've done this, and the machine has beeped five times to signify the end of its cycle, repeat this process with cold water at least once to clean out the lingering vinegar mixture.
Now that you know how to use and service a Cuisinart Grind and Brew, as well as avoid any common problems, you're ready to start brewing. One of the most exciting aspects of getting started is that flavor of coffee you enjoy is entirely your choice — fresh ground coffee is just a few steps away.