Fresh, hot coffee wakes up your brain and offers a quick break from a busy day. Homemade iced coffee refreshes without the wallet-busting cost of a designer brew. However you enjoy your coffee, the first step in enjoying a fragrant cup of brew is learning the proper use of your Cuisinart brewing machine.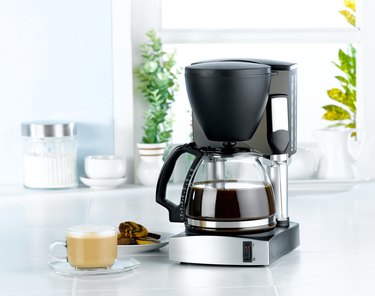 Different Types of Machines
Cuisinart offers a dozen or so different machines, from the standard one-button coffee maker to machines that grind the beans for you as well as filtering the water. Cuisinart also offers a percolator, which makes a stronger, richer brew than a drip machine because it drenches the ground coffee more than once per brewing cycle. The PerfecTemp coffee maker delivers coffee hot enough to stand up to the richest creamer. The newest addition to the Cuisinart catalog is a cold-brew coffee maker for iced coffee, while their ExtremeBrew line delivers your coffee in the shortest amount of time possible. Thermal carafes keep coffee hot for hours without letting it get bitter, while the brew-stop feature allows you to grab that first cup before the rest of the pot has finished brewing. Read your instruction manual to familiarize yourself with the features of your particular coffee machine.
Gathering Your Ingredients
The two ingredients any coffee machine or coffee-making process require are coffee and water. Beginning with your water, if your tap water doesn't taste good alone, it won't make good coffee. Certain types of Cuisinart coffee makers, such as the PerfecTemp line, come with a charcoal filter similar to the ones found in refrigerator filter pitchers. If your Cuisinart coffee maker does not come with a charcoal filter, consider using filtered or bottled water for fresher tasting coffee.
When it comes to your coffee, make sure that you are using the proper grind for your machine. Most Cuisinart drip coffee makers work best with a medium grind. Using finely ground coffee can clog the filter, causing water and grounds to back up into the machine. Both percolators and espresso machines require a coarse grind and a French press works best with a fine grind. Grind & Brew models take whole beans and grind them for you as part of the brewing process.
Basic Brewing Instructions
To begin, pour cool or room-temperature water into the reservoir of the machine, according to how many cups of coffee you wish to make. Do not overfill the machine. Cuisinart coffee makers have lines in the reservoir to guide you.
Next, place either a paper filter or gold-tone reusable filter into the coffee basket. If you're using paper filters, use a fresh one each time.
Scoop one level tablespoon of coffee into the filter for every cup of water you are brewing. This is also the correct measurement for whole beans. You can use a little less if you prefer your coffee not quite so robust, or a little more if you like it stronger. Be careful to not exceed the maximum number of scoops plus two more if you are making a full pot. Too many scoops of coffee can result in a clogged or overflowing machine.
Make sure your coffee maker is plugged in and turn it on. If you have a programmable machine, you can set your coffee up to brew later. Pay careful attention to the "AM/PM" button when setting the time.
Cleaning Your Machine
Even Cuisinart coffee machines that have charcoal filters need to be cleaned and descaled regularly. If you have a charcoal filter, remove it from the coffee maker before cleaning and descaling.
Lift the coffee basket out of your machine if you have a Grind & Brew model. Use a small brush to carefully clean the grinding teeth. Replace the coffee basket.
Fill the water reservoir to its maximum cup count with a solution of two-to-one water and white vinegar. Do not use any other type of vinegar.
Place a clean paper filter or washed gold-tone reusable filter into your coffee basket. Push the brew button. If you have a self-cleaning Cuisinart coffee maker, push the self-clean button.
Once the brew cycle stops, remove the carafe and discard the water. Run another brew cycle with plain water to remove any lingering trace of vinegar.
If you have a self-filtering Cuisinart coffee maker, hold a fresh charcoal filter under warm water for a minute or so to activate, then insert it into the machine. Wash your carafe in warm, soapy water and rinse it thoroughly. Do the same with your gold-tone reusable filter, if you have one. Lastly, wipe the outside of the machine with a damp cloth to remove any dust or accumulated debris.
Tips and Hints
Clean and descale your Cuisinart coffee maker once a month to ensure fresh-tasting coffee. You should also replace your charcoal filters every three months.
Be sure to also rinse out the carafe and gold-tone reusable filter after every use and wipe down the outside of your coffee maker to keep it looking new.