Things You'll Need
Chair or ladder

Flat screwdriver or needle-nose pliers
Tip
If the control chain is still slipping, try repeating each steps. If this still does not work, the blind control chain may need to be replaced or the blinds themselves might have to be repaired.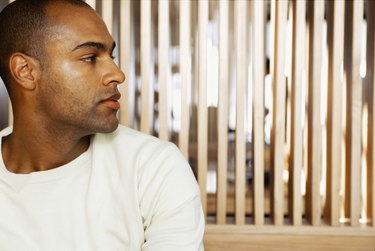 Vertical blinds come in a variety of colors, styles and materials such as vinyl, aluminum, wood and fabric. Any of these types can help you coordinate with your home decor. As with anything, vertical blinds may need routine repair for malfunctions such a slipping control chain. It's easy to fix a control chain problem yourself.
Step 1
Climb a chair or ladder if necessary to reach the head rail or long metal piece containing the track for your vertical blinds.
Step 2
Pull of the control end cap in the head rail with your fingers. Use a flat screwdriver or needle-nose pliers to help you remove it, if it is difficult to move. Place the end cap in a safe place for later.
Step 3
Look inside the head rail and locate a pulley with a long metal rod in the middle. Find the metal washer with a jagged center on the rod.
Step 4
Tap the control rod on the opposite side of the head rail with a flat screwdriver. This will help loosen the push nut, because they can occasionally tighten when you use the blinds.
Step 5
Replace the end cap in the head rail by twisting it on or lightly tapping back in place. Pull on the control chain to open and close the slats to make sure the blinds are working properly and the chain is easier to operate.
---
Dianne Christensen-Herman
Dianne Christensen-Hermance is an accomplished journalist with more than 10 years experience in writing news and feature articles for newspapers. She is a freelance writer for The Muskegon Chronicle in Muskegon, MI, and Demand Studios. She has a Bachelor of Science degree in journalism from Grand Valley State University.