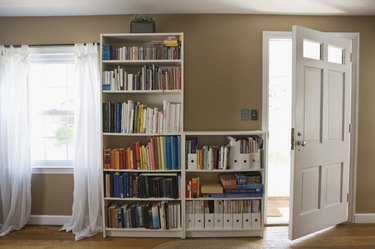 Nothing ruins the ambiance of a room more than a large, ugly hole in the wall. Whether you took out a stovepipe or cut out a section of drywall to get to the electrical wiring beneath, something must be done with the hole left behind until you have time to repair it. Use this unfortunate, temporary conundrum as an excuse to flex your interior decorating muscles and to express your home's individuality.
Royal Solution
Borrow a trick from medieval kings and nobles and cover your unsightly wall hole with a hanging tapestry. Tapestries add a feeling of warmth and elegance to any space. Choose a style that complements the room's decor. Simple geometric designs work well for a clean, modern style, while more intricate designs featuring artistic scenes may be appropriate in more formal spaces. A tapestry has the additional benefit of blocking drafts and helping to muffle noise.
Just in Case
A bookcase is a great way to cover up a hole in the wall, especially if it's located close to the floor where wall art would look out of place. In many cases, it may be possible to simply move an existing bookshelf to the damaged area, allowing you to block the hole without spending any additional money. Remember, too, that shelves can hold more than just books. Consider displaying your collection of Virginia pottery or Civil War memorabilia here.
Framed
When all else fails, wax a little eclectic and paper right over the hole with a section of leftover patterned wallpaper. Use only enough to cover the hole and cut the paper square. Outline it with a vintage flea market frame painted to match your interior. It won't stand up to the test of time, but it'll do in a pinch. If you don't have access to an interesting paper, glue a swatch of fabric to the wall instead.
Don't Break Tradition
If the hole is shoulder height or above, you can't go wrong with a painting or print. Wall art is appropriate for any room, even a hallway. It can be as personal as a family portrait or as avant-garde as an abstract modern piece. Framed art can even be three-dimensional. Mixed media and collage draw the eye in with their depth and different textures. Any single one or a grouping of many will work to camouflage your temporary situation.