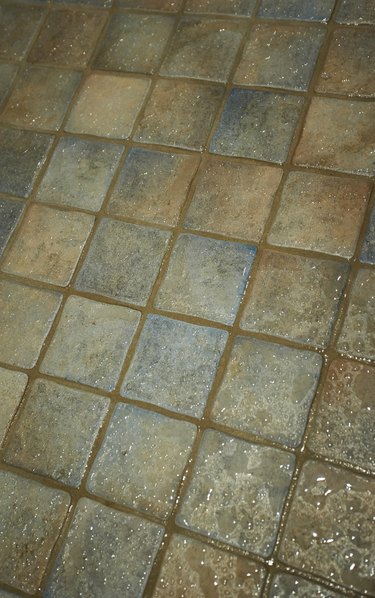 Picking new tile for your bathroom is exciting. It gives you the opportunity to create a personal spa-like oasis right in the comfort of your own home. The size of the room and the overall look you're attempting to create should determine the type of tile you use for your shower. Although the most commonly used floor tile is ceramic tile, there are other options available should you want something a little different.
Conventional Ceramic Tiles
Ceramic tile is suitable for use on shower floors because it is durable. Ceramic is resistant to water and humidity, which makes it a good material for bathrooms. The tiles are also fairly easy to clean, and this is a nice bonus. When selecting tiles, a matte finish is optimum because it makes the tiles less slippery. With a bit of a texture under your toes, ceramic tiles are very comfortable underfoot and provide you with a familiar, simple design that ups resale value.
Nature-Inspired Pebble Tiles
To add a natural element to your bathroom, consider pebble tiles. Pebble tiles are non-slippery, which eliminates much of the worry of falling down on the shower floor. They also massage the skin to make you feel relaxed. The tiles are relatively easy to install on the shower floor, unlike other tile choices. You do not need a special tool to cut the backing mesh; scissors work fine. Pebble tiles offer the convenience of no breakage and no scratches, while providing an elegant, nature-inspired look.
Elegant Carrara Tile
Carrara marble tile gives you an Old World look with the convenience of a New World material. Carrara's low moisture absorption is the primary reason the Romans used it in their own bath houses. When treated with a silicone sealant, Carrara tile holds up even better to wear and tear. Choose a pattern that comes in small honeycomb-shaped tiles for a retro look, or pick large 12 by 12-inch tiles for the entire bathroom floor, including the shower for a sleek, chic atmosphere.
Luxurious Slate Tiles
Slate is another one of those flooring materials that can be used for the entire bathroom. Place it starting at the doorway and carry it throughout the space. Its durability and texture mean that it's suitable for shower floors. Slate is relatively easy to take care of and doesn't require buffing or polishing to maintain a stunning look. From beige and gold to brown and gray-blue, slate offers a wide variety of colors for customization.