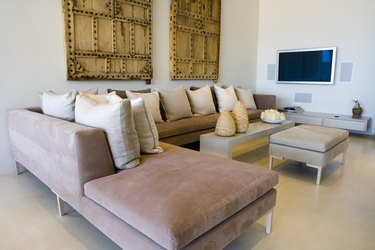 A sectional sofa is typically an "L"- or "U"-shaped piece of furniture designed to seat multiple people comfortably for conversations, or to watch movies or TV. Most furniture stores sell sectional sofas, as well as regular straight sofas. However, if you can't find the one you want, or wish to save some money, you can build one yourself.
Advantages
There are a number of advantages to building your own sectional sofa. One advantage is the savings. Most new sectional sofas cost at least $1,000, although many cost more. Building one yourself saves you money, as all you need to purchase are the materials to build the pieces. Also, you can design the exact sofa you want. Many people buy a sofa, then design the room around it. Building one allows you to do the opposite by creating the sofa that meets your exact size and design requirements. Lastly, a DIY sectional sofa is a unique piece of furniture; no one else will have one, and it is a great conversation piece.
Disadvantages
Of course, building your own sectional sofa has disadvantages as well, one of which is the amount of time needed. Even experienced furniture builders require several hours to build a sofa, so inexperienced craftsmen may become frustrated with the amount of time and effort required. Also, if the sofa breaks, there is no warranty; you are on your own to fix it. If you do not do a fantastic job, many people will be able to tell the sofa was homemade, which can be frustrating as well. However, you always can fix this by putting a sofa slip cover over the furniture, as long as the cushions are still functional.
Pieces
Most sectional sofas are comprised of two or three separate pieces of furniture that attach together to form the sectional sofa. These might include a love seat, chaise lounge chair and a larger main sofa. Some have beds built into a piece. Others might have additional pieces as well, such as reclining seats or matching arm chairs. When you build your sectional sofa, determine what pieces work well for your space and household. A family with kids might want a long couch for all to sit together, but a group of bachelors might prefer several individual reclining seats that attach together.
Building It
Before you start building, measure the room so you know how much space you have, and draw your sofa design with measurements written down. This gives you a model to work from. Construct the frame using 2-by-4 pieces of wood, and plywood at least 1/2-inch thick for the seats and backs. Buy foam cushion and whatever fabric you want for the sofa cushions and pillows. It helps to buy extra materials so you can correct any mistakes. Sand and stain any exposed wood before you put the cushions on.