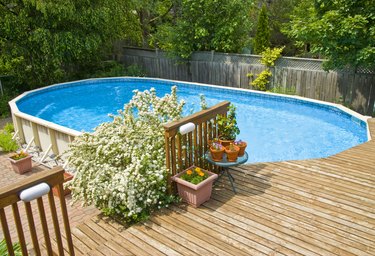 Your above-ground pool doesn't have to stick out like a sore thumb in the middle of your lawn. You can incorporate several deck ideas to help your above-ground pool blend into your yard and lifestyle. Creating a deck helps your above-ground pool function more like an in-ground pool.
1. Surround Deck
Build a deck that fully surrounds your above-ground pool. Design a deck that is essentially a round, oval or square surface with a hole in the middle for the pool. The deck should be flush with the top edges of the pool so that the pool appears to be built into the deck itself. You can add a staircase that goes up to this deck too. Be sure to leave one end of the deck open or create a movable section so that you can reach the filter, rim and wall of your pool if necessary.
2. One-Sided Deck
If your above-ground pool is located between your home and the edge of your yard, build a deck that reaches from your home to the pool. A sliding glass door from your home to the deck creates a seamless entrance to the pool area. If the level of your doorway does not meet the top end of the pool exactly, you can create landings or steps to accommodate heights so that when the deck meets the pool, it's flush with the top. One side of your above-ground pool will be exposed to your yard, and the other side will be surrounded by the deck.
3. Low Deck Around Pool
Build a low deck around your above-ground pool. This deck can be a few inches off of the ground. With a low deck, you have the option of installing a railing or leaving it open. The purpose of this deck would be to let people get in and out of the water more easily, and it also gives you enough room for a lounge chair or two.
4. Multi-Leveled Deck
Create a low deck on the ground around your pool. Then, build a leveled deck in stages from your pool leading up to your house. You can have two or three stages before the deck meets up with your home, and preferably, a sliding glass door or back door to enter the house.
Considerations
Use treated wood for above-ground pool decks so the wood is not damaged by water. Keep in mind that wood, plastic and even composite wood decks, can be slippery when wet, so post signs that discourage children and adults from running on the deck or from rough-housing near the pool.
Regardless of whether your above-ground pool has a deck, it's imperative to check with your local zoning department and your home insurance carrier about the required safety regulations for fencing, gates, locks and alarms for your pool. When your pool deck and safety barriers are installed and complete, your backyard oasis should bring your family years of summer fun.
---
Megan writes about design, travel and wellness for Domino, Architectural Digest, House & Home and more. Her life rules include: zipper when merging, tip in cash and contribute to your IRA. Be a pal and subscribe to her newsletter Night Vision.