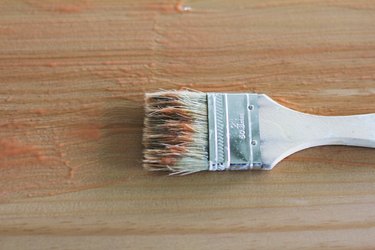 A fresh coat of paint can magically elevate any room or bring even the dingiest of furniture from drab to fab. But as transformative as paint can be, it can also be just as frustrating to clean, leaving a complete mess behind no matter the size of your project. Thankfully, Paris Karnes is here to help, recently sharing a video of four TikTok paint hacks that will make your life easier.
Paris demonstrates each simple-yet-effective hack one by one, starting with poking holes in the rim of the paint can with a nail. They say this allows the paint to drain out after you pour, preventing it from making a mess on the rim and sides of your can.
Then, they show us how placing a paint tray in a trash bag can help keep the item clean, since you can easily remove the bag, drain the leftover paint back into the can, and then have a perfectly clean tray leftover. Their third hack involves wrapping used brushes and rollers in tin foil between uses so they don't dry out. "I've done this for months at a time and it works!" they say.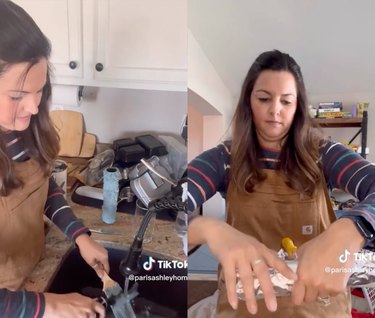 The fourth and final hack of the video is all about an incredible stainless steel tool with one side that removes paint from rollers, while the other is used for cleaning brushes. Karnes shows us how they scrape the tool along the roller while running it under water in the sink. They then use the comb on the other side to clean the paint-covered brush.
Anyone who's tried to clean a roller or paint brush without one of these tools before knows how time-consuming and annoying it always is. But this tool is a total game-changer, not to mention incredibly satisfying!