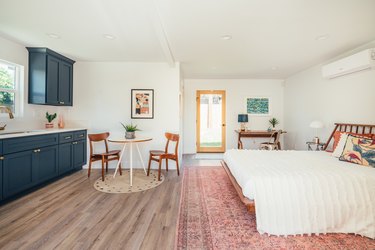 Open-floor layouts are often coveted in houses for their spacious, flexible aesthetic. If you own a studio apartment, however, you might not always love the ability to see the entirety of your living space in a sweeping glance.
Depending on the size of your studio, you might have considered adding a wall to create a separate bedroom. But is this the right move? We consulted several real estate and design professionals to see whether leaving things well enough alone might be best. Here are some things to consider for your studio.
1. You're Cramping the Layout
"Any benefit of creating a separate bedroom may be outweighed by the chopped-up spaces and less desirable configurations that can result from introducing walls where they may not have been intended to be," says Philadelphia-based architect and interior designer Melinda Kelson O'Connor. She notes that adding a new door can result in a loss of space because you'll need clearance in the adjacent room to open it.
The beauty of a studio is its efficient use of space, says Adie Kriegstein, licensed real estate agent and founder of the NYC Experience Team at Compass in New York City. "The absence of walls and partitions allows for a versatile living area, accommodating various furniture arrangements and providing owners with the freedom to adapt the space to their needs and be creative," she says. While your intention might be to add more privacy with a bedroom, it comes at the expense of valuable floor space.
Depending on the size and layout of the unit, a studio can offer a sophisticated aesthetic, not just a functional one. But you could compromise it by converting your space to a one-bedroom.
"From the open floor plan to the general layout of a studio apartment, there is this blended appeal of simplicity and sophistication that comes from the setting and arrangements, making it a really bad idea to forfeit this in pursuit of an extra room," says Rinal Patel, founder of We Buy Philly Home.
2. It's an Expensive and Lengthy Renovation
You might be thinking, "It's not like I'm redoing a kitchen or bathroom. How much time and money could actually be needed?" Quite a bit of both, says Artem Kropovinsky, an interior designer and founder of Arsight, a design studio based in New York City.
For starters, you'll need a contractor for the walls and doors along with any windows you might be adding. "The renovation costs could easily soar into tens of thousands of dollars," he says.
Then, there's the actual work timeline. It could take several weeks, says Kropovinsky, and unlike retreating to another part of a house while a renovation is underway, you'll have to find another place to stay for the duration.
3. You'll Limit the Natural Sunlight
The placement of your windows can make it difficult — and in some cases, impossible — to convert a studio to a one-bedroom. Remember that it's not just about letting in the sunshine; it's about having a point of egress, which is a factor determining whether you can even call that new space an official bedroom.
But when you ‌do‌ consider it from a natural light perspective, you're diminishing your options. "If your studio apartment's windows are poorly situated, transforming it into a one-bedroom could make the space feel smaller and dimmer," says Kropovinsky.
4. You Could Wind Up Decreasing Its Value
Conventional wisdom says that more bedrooms — or in this case, ‌a‌ bedroom — will increase your property's value. But this is not always true, says Maureen McDermut, realtor at Sotheby's International Realty — Montecito. It is important to think long and hard about a major layout change, especially when considering the neighborhood comps (comparable properties) at resale.
"When listing the apartment, you will be competing with other one-bedrooms, and your square footage will invariably be less," McDermut says, which could certainly factor into your asking price. "It is better to be the best studio among studios than an average one-bedroom amidst those units."
Kropovinsky agrees. "In fact, if the renovations aren't done properly, it could potentially decrease the property's worth," he says.
5. Studio Layouts Are in High Demand
Condo and co-op buyers with a limited budget often consider studios a more affordable purchase, especially in cities where real estate is at a premium. (And in fact, the studio apartment was originally designed to provide enough housing for the rapidly increasing New York City population in the 1800s.)
"Studio apartments have proven to be in high demand, particularly in urban areas where space is limited and rental prices are steep," says Kriegstein. "The compact and affordable nature of studio living appeals to young professionals, students, and individuals seeking a minimalist lifestyle." She says leaving your studio layout untouched could tap into a wider market of buyers when you decide to sell.
"Converting a studio into a one-bedroom risks sacrificing this openness, leading to a more confined and segmented atmosphere that may not suit everyone's preferences," says Kriegstein.
Of course, you should keep your own preferences in mind when it comes to any home renovation. If you plan to stay in your studio space for the foreseeable future, it pays to consult with a designer or architect to explore options for creating a space you'll love.