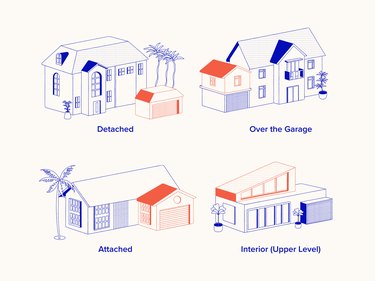 Almost everywhere you look these days, people are talking about the housing crisis. Everything from rising interest rates to lower-than-normal inventory is making it hard for folks to find a place to call home. Because of this, people are turning to some creative options when it comes to finding somewhere to hang their hat, including moving into accessory dwelling units, or ADUs.
These alternatives to single-family homes may be a trending topic right now, but are they really the answer we're looking for to fix this low inventory of housing and sky-high prices? We turned to the pros to find out.
All you need to do to understand the key features of an ADU is look to its name. First, these structures can only be added as ‌accessories‌ on lots where another larger dwelling exists (including inside or attached to the existing structure). That could mean everything from converting a garage to adding an additional unit onto the back of your house.
Next, they must be used as a residence. ADUs differ from sheds because sheds are constructed for storage purposes (or in some cases, as work-from-home office spaces) and are not meant to be used as a dwelling. ADUs need to be outfitted with some of the creature comforts of home, like climate control, plumbing, and electricity, all while following local and state building guidelines. And although people typically picture a separate outdoor building, there are actually multiple types of structures that can be considered ADUs.
The 4 Types of ADUs
‌Detached (or backyard) ADU: ‌Also referred to as a "granny flat," a detached ADU is a completely separate structure from the main house on a property and does not share any walls. These are typically the most expensive to build, but in turn are usually able to rent out for more than an attached ADU.
‌Attached ADU: ‌This type of ADU could be an addition that shares one wall with the main house on a property. For it to be considered a true ADU, you'll need to ensure there is separate access to the unit.
‌Attached Above Garage ADU: ‌An above-garage ADU is just like it sounds — it's a unit that uses the space above the garage and converts it into a separate living space.
‌Interior ADU: ‌ These are finished spaces (often basements, but can also be upper levels or attics) that are separated units from the main structure. To be in accordance with local building code, you'll need to ensure there is enough head space, which may require digging into the ground (and therefore increase overall costs to build).
ADUs Are Increasing in Popularity
Even if you're not familiar with them, depending on where you live, ADUs might already be quite popular. "ADUs are the hottest home addition in today's housing market," manufacturer Jeremy Nova, co-founder at Studio Shed, tells Hunker. "According to a recent Porch.com study, ADUs are growing at a rate of 9 percent, or around 100,000 per year, and a home with an ADU is priced 35 percent higher on average than a home without one."
Nova says his company has seen a huge increase in sales over the past few years, especially with the rise in popularity of ADUs in California, Oregon, Colorado (Studio Shed's home state), Texas, and Arizona.
ADUs Are a Boon for Urban Planning
There is an inherent benefit for the landowner who adds an ADU to their property. They'll either benefit from the additional living area — sometimes by providing a private living space for adult children who aren't quite ready to strike out on their own or turning them into "granny pods" — or from the income source as a rental unit, but neighborhoods themselves can also prosper.
As for the urban-planning perspective, Nova says ADUs provide a way of alleviating rental-market pressure by opening low-profile, distributed housing that quietly preserves a neighborhood's character. "They bring rental income to homeowners and create additional housing in urban and close-in suburban areas where young professionals gravitate, boosting density and energizing communities economically and culturally without imposing multistory structures on largely single-family neighborhoods."
The downside? Adding more people into a single space can create some logistical issues, especially for the neighbors. Parking, privacy, and views could all be impacted by adding another dwelling to your yard.
ADUs Get Buy-In from Homeowners
Because ADUs can change the literal landscape of a property (and who has access to it), it's curious to think why a homeowner would be willing to build such a structure. But homeowners are willing to make the leap because more often than not, the price (and profit) is right.
Nova broke down some of his company's current pricing options to give an idea of what people are paying to build an ADU. According to him, a small 100-square-foot project could cost between $45,000 and $55,000. Larger projects, like an 800-square-foot ADU, will run closer to $320,000, including permits, installation, and site work.
If you have sticker shock from that number, DJ Olhausen, realtor and owner of We Buy Houses in San Diego, says to consider just how much a homeowner can make by renting out that space. "A 1,000-square-foot ADU with a fully functioning kitchen, bedroom, bathroom, and climate control can rent for upward of $2,000 in our area," he says of his California home base. "Because of this, ADUs are seen as a way to make properties with a very low cap rate suddenly profitable."
Homeowners concerned with neighborhood character can also find ADUs more attractive — as they possibly prevent the need for large apartment complexes that change the look and feel of an area. In turn, renters can also benefit because they can live more affordably in walkable, desirable neighborhoods that may have previously been out of reach.
Zoning and Building Regulations Can Make Things Tricky
So, if ADUs are popular and they increase a home's value, why aren't they popping up on every street? Some of the biggest obstacles to adding ADUs to a property involve legal and physical constraints, according to Dan Tenenbaum, founding principal at Pacific Crest Real Estate. "Currently, in California, Oregon, and New Hampshire they are legal, but this may not be the case in all areas, so check your local municipality," he tells Hunker.
Beyond getting zoning approval, there are some other speed bumps Tenenbaum says homeowners need to look out for while they're on the road to adding an ADU, including "... the lack of enough land to meet any minimum size requirements [and] front and side yard restrictions that may make building a new stand-alone ADU feel too close to the existing structure and limit open space and light."
"Further, more complicated issues, such as the location of the nearest electrical pole, may restrict where the ADU can be located. If your local jurisdiction requires additional parking with the new unit, that may increase the cost significantly."
Jill Franks, interior designer and project manager with Freemodel, says there are several things to keep in mind when deciding to build an ADU on their property or when converting existing space into an ADU.
"One of the biggest challenges my clients have faced when designing and building an ADU is ensuring the small living space is functional yet meets the city requirements expected of a traditional home," she says, adding that this includes things like where the windows need to be placed, if you can add vaulted ceilings, and even how your lot layout will look once the ADU is complete.
Bottom line? It's going to be trickier than just dreaming up some plans and hiring a contractor.
Are ADUs the Future of Housing?
While there are definitely countless benefits to using existing resources to create additional housing, Tenenbaum says they're not a silver bullet. "ADUs are not a cure-all for our country's affordable housing crisis, but they certainly can play an important part in reducing the cost of housing by increasing the ‌supply‌ of housing," he says. "Like all increases in the supply of housing, the effects take a long time to see, but we know from basic economics that an increase in the supply of housing will decrease its cost."
While that may be music to some people's ears, Tenenbaum says we won't see those kinds of changes across the board. "In cities where there is increasing demand for housing, housing costs may still rise, though not at the same rate that it might otherwise have increased."
Tip
If you're considering buying a home with an ADU, Olhausen suggests doing your due diligence first. While he says the process is exactly the same as for a house without one, there is one extra step he says you should take before you sign on the dotted line. "The key is making sure the ADU is properly permitted; otherwise, it can create some headaches down the road."