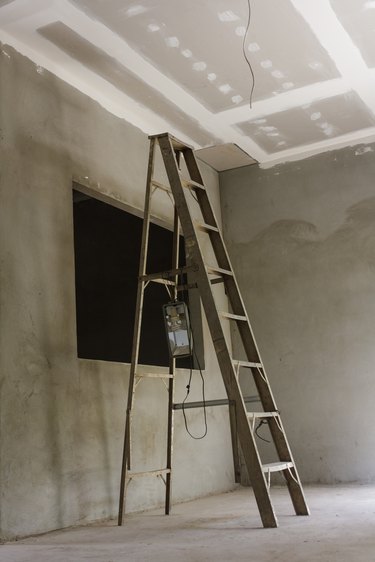 Families often outgrow the livable space in their home, therefore adding a new room is usually the best way to accommodate the expansion. However, if you are on a budget, building a new addition may be too costly a project. Fortunately, there are several less expensive ways to add a room to your home by making use of existing space or building a less complex structure to provide additional living space.
Finish Basement
One of the least expensive ways to add a room to your home is to finish off existing space. If your home contains an unfinished basement, it can easily be turned into a functional room that can be used as a family room, lounge, home gym, office or extra bedroom. Finishing the space requires less money because the bones of the structure are already in place. The walls may require framing and insulation, and flooring usually needs to be installed. Electrical and plumbing addition may be necessary as well. It is often a complex job, so you may want to hire a contractor or basement finishing company to handle the project. However, if you are an experienced handyman, you can save additional money by finishing the basement yourself.
Convert Attic
A similar project to finishing a basement, converting an attic is another inexpensive way to add a room to your home. A converted attic is often used as an extra bedroom for a growing family, but you can turn yours into a home office, gym or playroom for your kids. Finishing the space can be more challenging than finishing a basement because an attic often features gable slopes or irregular angles because it is located directly beneath the roof. To determine if your attic is a viable candidate for conversion, make sure the ceiling is high enough. Building codes typically require that it be at least 7 feet above the room's living space. Walls usually require insulation as well and the room must be properly ventilated so it is not too hot in the summer or too cold in the winter.
Finish Garage
If you have already finished your basement and converted your attic or these spaces are not suitable for finishing, you can convert your garage if you still require an additional room. Garage apartments are an ideal spot for older children or family members who come to live with you, but you can also use the space as a home office or gym. The project is fairly inexpensive because the foundation, walls, roof and wiring are already in place. You may need to insulate the walls and extend your home's heating and cooling system to cover the space. A level cement floor can easily be covered with a floating floor system or carpeting. If you have a traditional garage door, you can install French-style or sliding doors in its place or frame a new wall to add a large window that allows natural light into the room. If you plan to use the space as a bedroom and want to add a bathroom, plumbing work is also required.
Add a Sunroom
If finishing your basement, attic or garage is not possible, the least costly room addition is usually a sunroom. While it is more expensive to build than any refinishing project, it can cost as much as $10,000 less on average to build than a family room addition, according to Remodeling Magazine's 2010-2011 Cost vs. Value Report. Because sunrooms typically contain walls made entirely of windows, it does not cost as much to build as a brick-and-mortar addition. You can save even more money on a sunroom by forgoing a contractor and using a do-it-yourself kit to build the addition. These kits are available from a variety of manufacturers and come in many designs so you can choose the right look for your home.