Things You'll Need
2 x 4 studs

Measuring tape

Pencil

Carpenter's square

Hammer

16D Nails

Stud finder

Chop saw
Warning
Always exercise caution when operating power tools.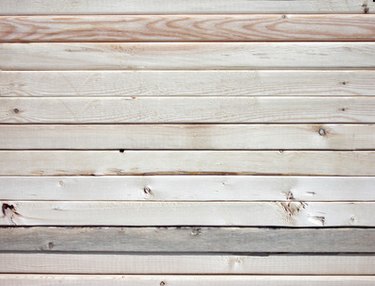 A false wall is an effective way to screen off an area from view. False walls are often used in high-end home entertainment systems, where they are used to install projection screens and to conceal speakers. However, a false wall can also be useful for obscuring plumbing pipes and electrical conduit in a laundry room or basement. Since the primary purpose of a false wall is to obscure an area from view, they do not need to be load-bearing, and are a bit simpler to construct than ordinary partition walls.
Step 1
Measure the length of the wall you'd like to build and cut two studs to this dimension: these will be the base plate and top plate for the wall. Line up the two studs side by side and ensure that they are exactly the same length.
Step 2
Determine the height and subtract three inches to accommodate the width of the top and base plates (2 by 4 studs are actually 1.5 by 3.5 inches). Cut two studs to this height and check to be sure they are the same length by lining them up side by side.
Step 3
Lay the wall framework on the floor. Set all studs on their short sides and fit the two height-dimension studs inside the top and base plates, flush against either end of the frame.
Step 4
Nail the studs together to secure the frame, driving two nails into each joint. Drive the nails through the face of the top and base plates into the ends of the height-dimension studs. Use a carpenter's square to ensure that the studs are at right angles before joining them.
Step 5
Mark the top and base plates every 16 inches for placement of interior studs.
Step 6
Cut additional height-dimension studs and nail them into place. Use a square to ensure they are square.
Step 7
Use a stud-finder to locate a stud in an existing wall. Position the false wall against the existing wall, with the end of the false wall aligned with the stud in the existing wall. Nail the exterior stud of the false wall to the stud in the existing wall.
Step 8
Paint the false-wall framework black and cover with acoustical fabric if the wall is part of a home-theater system. If the wall is being used to obscure pipes or electrical conduit, drywall the framework and paint it to match the surrounding walls.