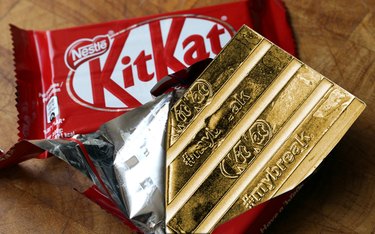 It may have just been a catchy jingle before, but you might hear "break me off a piece of that Kit Kat bar" a lot more this year. The ongoing egg shortage throughout the world continues to have a ripple effect on other products you may be used to buying cheaper.
Unfortunately, major companies like chocolate giant Nestlé are not immune to these disruptions to the supply chain. The company, which produces iconic candy bars like Nestlé Crunch and Butterfinger, said earlier this month that it plans to raise prices on its products for the second time in two years to make up for higher production costs on items like eggs. The brand already raised prices by 7.5% in 2022, the most significant price increase in decades.
In an October interview with Bloomberg Television, CEO Mark Schneider cautioned that inflation could remain a problem in 2023, suggesting potential future price increases. That same month, Schneider commented in a sales report on how he hoped the company could balance the needs of consumers with its bottom line. "The challenging economic environment is a concern for many people and is impacting their purchasing power. That's why we aim to keep products affordable and accessible while considering the interests of all our stakeholders."
While the company has not yet elaborated on how much shoppers can expect their favorite candy bars to increase by or when the pricing could take effect, fans of Nestlé's signature candy bars should still prepare to pay more for their fix as 2023 rolls along.