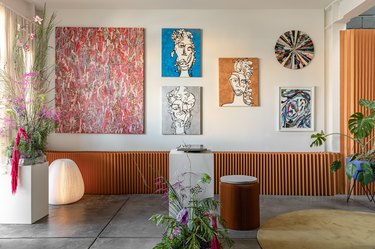 For Black History Month, we are highlighting the people and projects you should know about all year long.
As Hunker's senior design editor, I was lucky enough to curate a selection of home and lifestyle goods — including coffee table books, self-care essentials, stylish decor, and culinary must-haves, just to name a few — in celebration of Black History Month for the Hunker House Showroom, our IRL space located in Venice, California. Not only are the carefully edited picks ridiculously cool but they are also all sourced from talented Black creators and brands. Every piece in the collection is a reflection of each creator or brand's unique voice, background, and perspective.
The thoughtful collection is a celebration of Black culture, creativity, and design spanning across different categories, which means there is a little something special for everyone. For instance, you can't go wrong with the Hip Hop Candle from Bright Black, the Forest Candle from Goodee, or the Luxury Room Sprays from Harlem Candle Co. However, if you're all set on home fragrances, consider a swanky set of dominoes by Be Rooted or a groovy puzzle by Domonique Brown. Dress up your walls with the Yowie Print by Joshua Itiola or top off your coffee table with the book ‌Black Food‌ by Bryant Terry.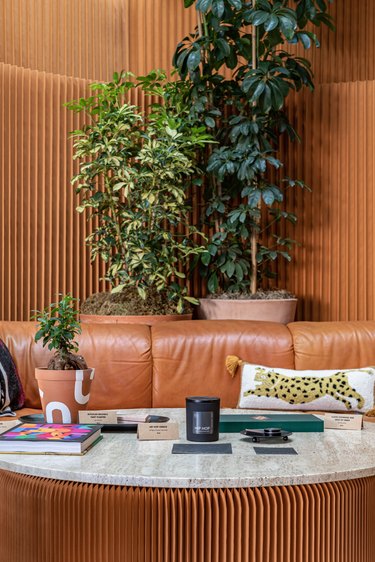 If you're a coffee drinker, you'll love Kahawa 1893's Safari Blend. Or, if you like a little variety in your refreshments, alternate between that and Golde's Cacao Turmeric Latte Blend. Either way, you can't go wrong sipping any beverage out of the Rock Mug from Utility Objects or the Tubular Mug from Ekua. Perhaps you or a loved one has a thing for plants? In that case, the Plant Shawty planter from Plant Economy and the Bogolan Bauhaus Twist Planters from xN Studio will be nice additions to your collection.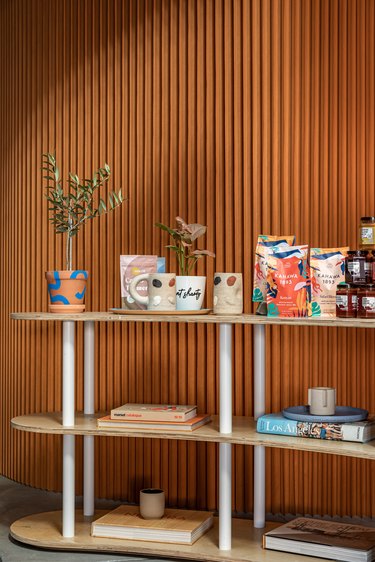 In addition to the products, the re-design of the space is also quite the visual treat, full of color, texture, warmth, and undulating curves. Our talented team, led by Hunker Creative Director Paul Anderson, worked tirelessly to give the space a brand-new look worthy of such a special occasion. "I wanted the initial space to disrupt your expectation that you're going into a store," states Anderson.
When you first walk into the Hunker showroom, it feels a lot more like an art gallery than a retail space. The front area features a salon wall filled with beautiful works of art from Samuel Fleming Lewis and K'era Morgan. The artwork is complemented by eye-catching floral installations from Vega Alfirina that tie into the overall color palette as well as a manifesto wall that welcomes you into the space.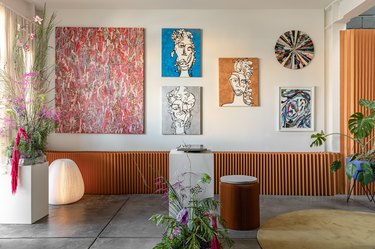 The accordion-style partition walls meandering throughout are from the Vancouver-based brand Molo. While at first glance these unique freestanding dividers might appear to be made of wood, they are actually made from layers of paper, believe it or not. Woven together with an intricate honeycomb design, these modular units offer incredible flexibility, which afforded Anderson the freedom to get really creative and think outside of the Hunker Showroom's otherwise industrial, concrete box.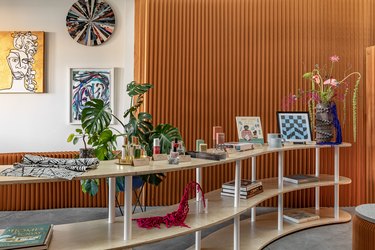 Toward the back of the showroom, a living room setup provides the perfect opportunity to bring an assortment of products to life, including a throw blanket from Bolé Road Textiles, a coffee table book by Jeanine Hays and Bryan Mason, and a fun accent pillow flaunting a leopard by none other than Justina Blakeney.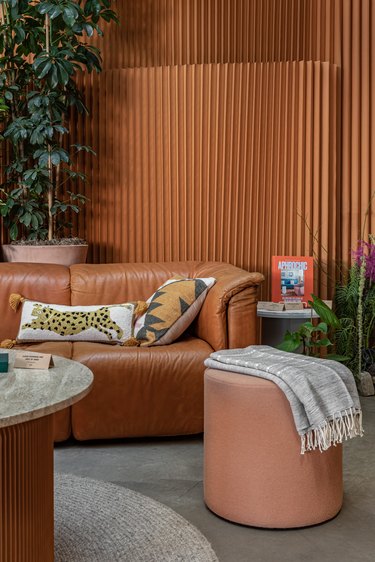 Whether you just want to stop by and check out our beautiful showroom filled with the above items and so much more or you're shopping for someone special (and yes, that includes yourself!), I hope you enjoy getting to know each product, brand, and creator as much as I have.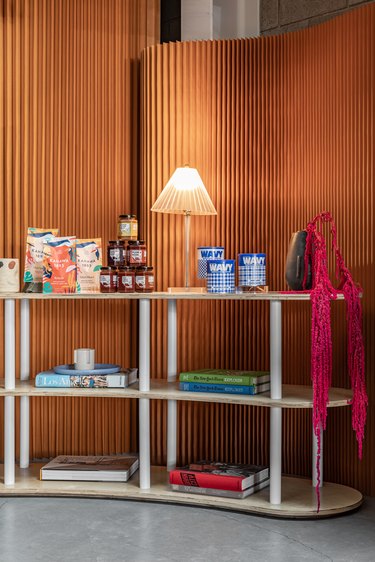 Visit us at the Hunker House Showroom in Venice, California, or online to shop the entire collection.