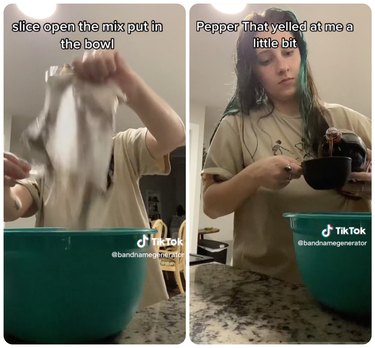 A two-ingredient cake almost sounds too good to be true, but TikTok user @bandnamegenerator has us ready to bake. That's right: All you need for this cake is a box of cake mix and a can of Dr Pepper.
The recipe is as simple as it gets — just pour the cake mix into a bowl, add 2 cups of Dr Pepper using a liquid measuring cup, and whisk until slightly thicker than pancake batter, but runnier than brownie batter. (Although the original recipe was for a cake, @bandnamegenerator riffed and made Dr Pepper cupcakes instead!)
The frosting for the cake is only a tad more involved: Mix ⅓ cup of Dr Pepper, 1 stick of butter, and 6 tablespoons of cocoa powder. After it's all mixed, add 2 cups of powdered sugar and blend one more time. Now you're ready to top that cake (or cupcakes).
Naturally, people in the comments had thoughts.
"We've always made this, but we put cherry pie filling at the bottom," said one user, while another said, "My dad used to make this, but with orange soda and vanilla cake, it was awesome!" (Both genius ideas, if we do say so ourselves.)
Elsewhere in the comments, someone asked why eggs were unnecessary for the recipe. The answer is science. In short, the carbon dioxide bubbles in soda act as a leavening agent, just like an egg, meaning the cake will still be just as light and fluffy as if you used eggs or oil.
Best of all, @bandnamegenerator says that any combination of soda and cake mix will work for this recipe. Root beer Funfetti cake, anyone?