Some may say that I am easily influenced. If there's an item circulating around social media that's 1) pretty and 2) able to make my life easier, I will absolutely be making a purchase to see if said adorable product does indeed deliver. Case in point: the kitchenware brand Our Place. Since the Always Pan went viral on social media a few years ago, Our Place has fleshed out its kitchen cookware to include everything you need for your home chef dreams to come true.
True to form, I fell in love with the Always Pan (and its 2.0 iteration), and to my delight, my husband and I received the brand's Perfect Pot for Christmas, adding to our collection of Our Place cookware. Even though the Perfect Pot has been around since 2021, it was new to me, and I was curious to see if I would fall head over heels for the pot in the same way I did with the pan. After a few months with this beauty, the verdict is in, and the good news is that this pot doesn't disappoint. Read on for an honest review!
Why is Our Place so popular?
The cookware brand is responsible for creating multifunctional, toxin-free, and aesthetically pleasing kitchen essentials. Its products are thoughtfully designed and are meant to make your life in the kitchen easier, with details you probably wouldn't have thought of — think spoons designed to rest on handles, roasting racks that double as steamers, and steam release lids. The idea is that you don't need a ton of pieces of cookware in your home; you just need a few that do it all. Plus, it doesn't hurt that they're beautiful.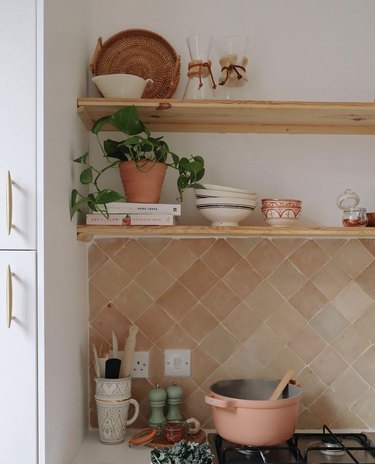 What's so special about the Perfect Pot?
Similar to its older sibling, the Always Pan, the Perfect Pot is a 5 1/2-quart pot that is an 8-in-1 kitchen appliance. This baby bakes, crisps, braises, steams, roasts, boils, strains, and serves.
What sets the Perfect Pot apart from similar items are the little things that make the brand so special in the first place. The colors are gorgeous, and this is the kind of pot that you can take directly from the stovetop or the oven and set it on the kitchen table amidst a pretty tablescape for serving.
Similar to the Always Pan, there is a pour spout on the side of the pot that makes for easy straining, and the lid is designed to release steam or keep it in as needed. Making pasta is a breeze, and I've said goodbye to our little plastic colander simply because I don't need it anymore. Finally, the nonstick surface is slick and nontoxic, which is not only lovely for cooking but makes for easy cleanup.
What does the Perfect Pot come with?
The Perfect Pot package arrives with the pot, of course, and a large, dome-shaped lid. It also comes with a beechwood spoon that can rest on the handle of the pot in two different ways as well as a roasting rack that doubles as a steamer. Another nice touch is a natural sponge for keeping your pot in tip-top shape.
What are the pros of the Perfect Pot?
PROS
Large and lightweight
Includes a roasting rack that doubles as a steamer
Wide and easy-to-grab handles
Oven-safe
Easy to clean
Comes in an array of colors
CONS
Oven-safe only to 425 degrees
Grips get very hot
Nonstick enamel has about a five-year life span
Expensive
Cooking with this pot has been a joy. It's 5 1/2 quarts, so it's pretty large and built for things like soups, stews, and roasting chickens. The steaming rack has come in handy for Trader Joe's dumplings (it fits six dumplings with no problem), and even though this pot is quite big, it only weighs about 4 1/2 pounds.
The handles are wide and easy to grab for moving the pot in and out of the oven, and I can't say enough about how the color delights me. I now have a matching pot and pan (I have them both in Spice, a dusty pink), and if you're into aesthetic cookware, you really can't beat Our Place. It looks beautiful on my stovetop, and I leave it out all the time!
What has been especially fun and a little bit of a surprise is baking with it. One small disappointment with the Always Pan is that it's not able to go into the oven (no frittatas for me, unfortunately), but the good news is that the Perfect Pot can.
My husband loves to bake bread, and even though we were a little nervous to put the pot in the oven at first, we went for it, and it worked beautifully, just like a Dutch oven. The Perfect Pot is oven-safe up to 425 degrees, and while that may not be hot enough to bake certain breads, like sourdough, we've certainly been enjoying our homemade bread regardless.
The cherry on top is that the Perfect Pot cleans up in a snap. It's not recommended to place this pot in the dishwasher, but hand washing once it's cool takes no time at all thanks to the nonstick coating. All it needs is some warm, soapy water and a quick scrub.
What are the cons of the Perfect Pot?
One con that's already been mentioned is that although it's oven-safe, this pot only withstands 425-degree heat. Another perhaps obvious thing to point out is that the handles get ‌very‌ hot, so oven mitts are a must. I've gotten so used to the Always Pan not having a hot handle that I needed the reminder to use oven mitts! Our Place does offer hot grips that fit perfectly around these handles (and match whatever color pot you have), but they are an add-on and cost $25. If you're looking for something that can withstand more heat, though, the Perfect Pot also has a cast iron option that includes hot grips, and it can be placed in an oven up to 500 degrees.
Since I've only had my Perfect Pot for a few months, time will tell how long the nonstick enamel will last, but in general, you can expect about five to seven years of use before it wears away. It's worth noting for the sake of longevity, and this may mean you choose an enameled cast iron Dutch oven instead.
Finally, this pot could be considered a splurge for many. Coming in at $165, it's on par with other high-quality cooking brands but is more expensive than basic stainless steel pots, saucepans, or Dutch ovens. Considering how many things it does and how pretty it looks on your stovetop and table, though, I'd say it's well worth the investment.
Is the Perfect Pot worth buying?
If you're short on space and are looking for a nonstick workhorse of a pot that is lightweight and aesthetically pleasing, I would absolutely say the Perfect Pot is a great buy. Especially if you have a family or have a household with at least four people, it's the perfect size for serving a small group. Plus, if you're already a fan of the brand, it's exciting to build your collection and pair the colors so your kitchen is cohesive and uniform. The quality and thoughtfulness that come with the Always Pan are the same for the Perfect Pot, just in a larger, multifunctional, oven-safe package.
Our Place also offers a no-strings-attached 100-day trial and free returns, so if you're still on the fence, you could try it and return it if it doesn't float your boat, no questions asked. But if you ask me, I bet you'll fall in love with it as soon as you open your package. Just opt for the cast iron version if you have your sights set on sourdough.