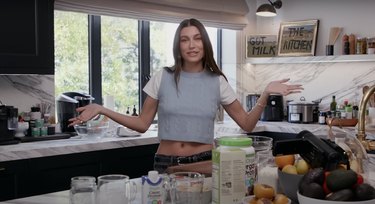 There's a lot to be jealous of when it comes to Hailey Bieber, but today, we have our sights set on a specific design choice in the model's very own, very beautiful kitchen. On her YouTube channel, Bieber started a brand new series called "What's in My Kitchen?" to try out different recipes, providing the perfect opportunity for us to give her cook space a good once over.
Bieber's kitchen features inky navy cabinetry and marble countertops that match the wraparound backsplash. However, it wasn't these elements that made us green with envy — it was the lengthy, built-in marble spice shelf that runs the along an entire kitchen wall. The shelf extends above the stovetop, but under the range hood, and comes complete with recessed strip lighting underneath the marble.
Even more impressive, Bieber's spices are arranged in matching glass, labeled jars complete with wood caps. In another camera angle, we can see that once she ran out of spices for her shelf, Bieber added a black cup filled with dry pasta, terra cotta-colored salt and pepper shakers, and two gold-framed (potentially DIY?) art pieces that respectively read "Got Milk" and "The Kitchen."
If you're giving your kitchen a design refresh or are forever upgrading your storage game, take a note from Bieber's spice shelf. Of course, it doesn't have to be built in to your kitchen to work — you can simply connect longer floating shelves together and add under-cabinet LED lighting strips. You can also buy glass spice jars with wood lids at retailers like Food52 and World Market.
Here's to having our spices beautifully organized and on display in 2023.