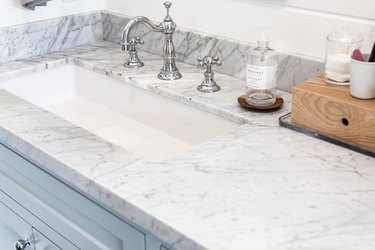 If you've been wanting marble countertops, but don't want to foot the bill, TikTok user @jenniferlauraliving is here to save the day. Using a three-step marble countertop kit that she bought on Amazon for only $179.95, @jenniferlauraliving was able to completely transform her brown granite countertops, turning them into a smooth white marble.
First, @jenniferlauraliving painted her countertops using four coats of a white primer. Then, she went in and hand-painted the grey marble veining. Next up came the epoxy resin, which gives the countertop its glossy look and takes seven days to cure. Lastly, the project was finished off with white caulking around the edges.
User @jenniferlauraliving was able to do all of this with the Giani Carrara White Marble Epoxy Countertop Kit, which costs less than $200. That's quite a steal when you consider that marble countertops typically cost thousands of dollars to install.
We love how this affordable DIY completely elevated @jenniferlauraliving's kitchen, making it feel brighter, cleaner, and airier.