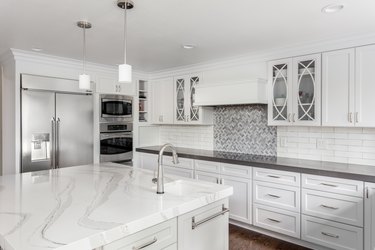 It's a simple fix to a common decor problem. Renovating countertops with a paint treatment is a fairly easy and affordable do-it-yourself project. Bland swaths of beige cultured marble countertops can be transformed into gleaming granite surfaces in your kitchens, bathrooms and other living spaces. To paint cultured marble to look like granite, gather all the tools and materials or grab a kit and get the job done in a few days.
Prepping the Cultured Marble
Thoroughly clean the surface with a mix of 1/2 gallon of hot water and 1/2 cup of ammonia. Slowly add 1/4 cup of both baking soda and vinegar. This will take down years of dirt that may have been ground down into the countertop surface.
Go over the area three times to ensure that the surface is as clean as possible. This will make the next layers of paint and sealers adhere well to the old marble countertops. Allow the countertop to thoroughly dry before sanding down any divots or dents you've found in the marble while cleaning.
Use a fine grit sandpaper to gently smooth any scratches or divots you may have discovered. For larger gouges, fill the pockets with an acrylic resin epoxy, allow to dry and sand to blend in with the rest of the countertop. If you have sanded or repaired the countertop, clean the area again with the homemade cleaning solution or the one that comes with the kit.
Painting Marble Countertops
To paint cultured marble to look like granite, you'll need a lot of materials and tools. A paint kit, such as the Giani Countertop paint kit, has all you need in one box with instructions to create the marble mottled and veined look. These kits are easy to use and efficient with one kit covering a 35-square-foot area, according to House Beautiful.
The basic instructions are to roll on a primer on a cleaned countertop that works with the paint you have chosen for this project. An oil-based paint is recommended for durability. Then apply a coat of the base paint color. Allow this to dry overnight before applying the secondary color gently and evenly with a sponge.
Use a feather or the edge of a thin paint brush to run lines over the countertop. They shouldn't be exactly even — spacing them about 3 to 6 inches apart will offer that luxurious, natural stone look. Finally, HGTV recommends that you seal the new granite finish with a coat or two of clear acrylic.
Countertop Paint Colors
There are a wide variety of countertop paint colors to choose from when refinishing marble countertops. If working with dark cabinets, then a bright white with veins of gray, gold or tawny browns can bring light into the space.
Warm browns and creamy yellows can highlight the surrounding wood cabinets and walls. If you have white walls and flooring, a dark granite finish with flecks of white or thin rivers of cream can make a bold impact in an otherwise plain kitchen or bathroom.
---
Kimberley McGee is an award-winning journalist with 20+ years of experience writing for a variety of clients, including The New York Times, Las Vegas Review-Journal Home section and other national publications. As a professional writer she has researched, interviewed sources and written about home improvement, interior design and related business trends. She earned a B.A. in Journalism from the University of Nevada, Las Vegas. Her full bio and clips can be viewed at www.vegaswriter.com.