Love the amorphous look of the pink Joleen Wall Mirror by France & Son, but ‌don't‌ love its $2,298 price tag? You're not alone. That's why TikToker Nell of Creative by DIY Design (@creative.by.diy) came up with an ingenious way to riff on it, which they beautifully shared in a video.
The base of the DIY project is a $12.99 IKEA Lärbro mirror, to which Nell added their own take on the blobby Joleen frame. They used packing paper and masking tape to create the form, supporting it with a piece of cardboard behind the mirror and attaching it with mounting adhesive.
Then, Nell covered the structure with wet paper towels and a layer of papier mâché to get the smooth surface they were seeking. (Pro tip: Protect your mirror from the mess with a layer of plastic wrap, just like Nell did.)
While Nell kept their mirror frame white to match their own decor, you could easily paint it any color you desire, including the Joleen pink.
You can also choose any other number of customizations, like a different shape, for instance. You could opt to use IKEA's Blåser mirror, which only costs $5.99.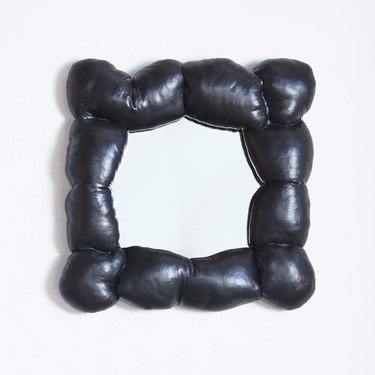 Want to riff on Kelly Wearstler's $3,800 Puffy Mirror? You can use the same technique, sectioning off pieces of your DIY frame to create the balloon-like effect.
For step-by-step instructions and a full materials list, Nell has shared the details in an Instagram reel. We'll never cease to be amazed by the power of DIY.