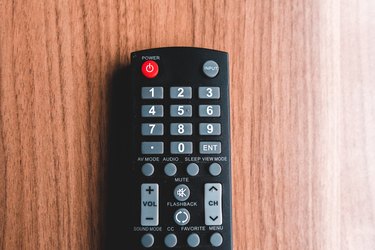 There are few things more frustrating than sitting down to watch a movie, only to realize that the remote is MIA. The item is prone to slipping between couch cushions, falling under tables, or sometimes, ending up in another room. Does this sound familiar? If so, you'll want to try a clever hack by TikTok user @sarafarrellbaker.
The idea involves metal hardware with a half-circle loop, a retractable badge holder, and a silicone remote control case. In the TikTok, the content creator screws the hardware into a nearby coffee table, then attaches the badge holder.
Next, they place the remote control in the silicone case, which ‌also‌ has a loop. This silicone case is attached to the badge holder, ensuring the remote control stays in one spot.
Of course, there are some caveats to this hack. It will only work if you (or another person in your household) leaves the remote control in the silicone case. Similarly, one can simply unclip the remote, so it's important to avoid doing just that. Otherwise, the hack is brilliant for ensuring the remote control doesn't end up in the depths of the sofa ... or on the other side of the house.
Now, TikToker @sarafarrellbaker didn't specify the exact hardware they used, but you can pull this off with a typical drawer handle. One such example is this chic brass and matte lack drawer pull from Home Depot.
Other ways to stop losing your remote:
If you don't want to buy multiple pieces of hardware, consider purchasing a dedicated remote control cable. It consists of a cable with an adhesive pad on one end and a small plastic box on the other. The pad is designed to be attached to the remote control, while the plastic box is can be adhered to a flat surface, like a side table.