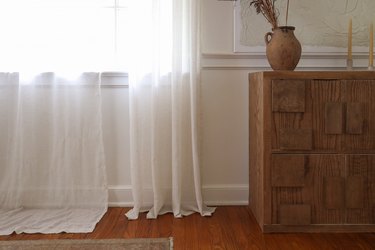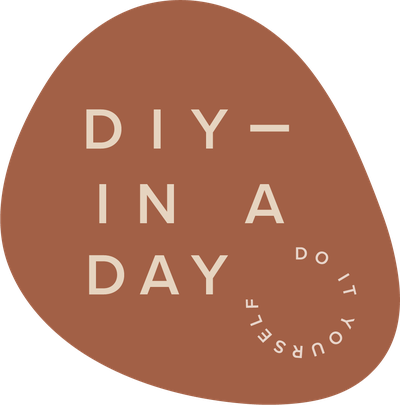 DIY in a Day brings you step-by-step instructions for easy projects that will spruce up your space — within 24 hours (or less!).
Finding store-bought curtains that are the perfect length for your space can be tricky. Of course, there's always the option of getting custom-made curtains, but that's generally an expensive endeavor. A more affordable alternative is to buy curtains that are longer than you need, and hem them yourself. This way, you can get a completely tailored look with control over whether you want them to graze the floor, pool slightly, or hang just above the floor. The best part? You can hem curtains ​without​ sewing — plus, this easy no-sew method doesn't even require you to take down your curtains.
Things You'll Need
Step 1
With your curtains hung at the desired height from your curtain rods, determine what your desired length is, and insert a few sewing pins along the edge to mark it. We went with a length that allowed for a slight pool, but you could opt to have them slightly graze the floor or hang a bit above it.
Tip
To make your window appear larger, hang your curtains higher and wider than the actual window.
Step 2
Measure the distance between the bottom of the curtain panel to the edge you marked with pins. Subtract two inches from the measurement, and mark a straight line across the fabric with either pencil or chalk. This will be how much fabric you need to cut off. For example, it was 11 inches from the bottom edge of our curtain to the new desired length. We subtracted 2 inches from that and marked a line at 9 inches from the bottom edge of the curtain.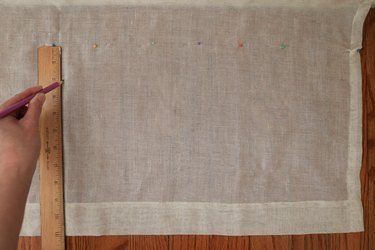 Step 3
Cut the fabric along the line you marked.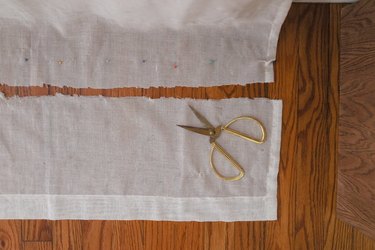 Step 4
Fold the raw edge of the fabric under by one inch.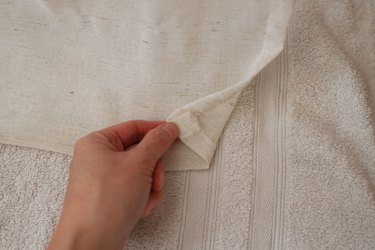 Step 5
Press the folded edge of the fabric with a hot iron. We put a towel underneath the curtain to protect the floor from the hot iron, but you could also set up an ironing board close to the curtain, if you'd prefer to not iron on the floor.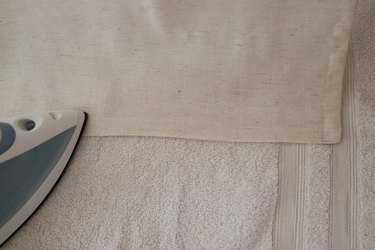 Step 6
Fold the edge of the fabric under by another inch, and press the fold with a hot iron.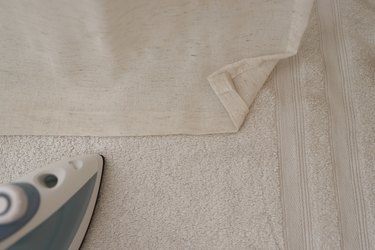 Step 7
Cut a strip of iron-on hemming tape, and insert it underneath the folded flap of fabric.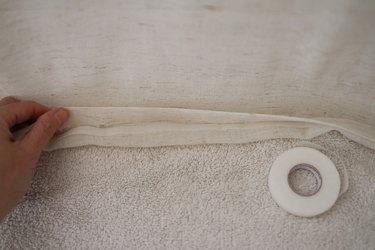 Step 8
Fold the fabric back over the hemming tape, and press the fabric with a hot iron to activate the adhesive and bond the hem.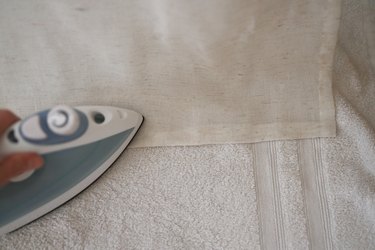 And that's it — you're done! Try this easy no-sew hem method on your living room dining room, or bedroom curtains. It's just so easy.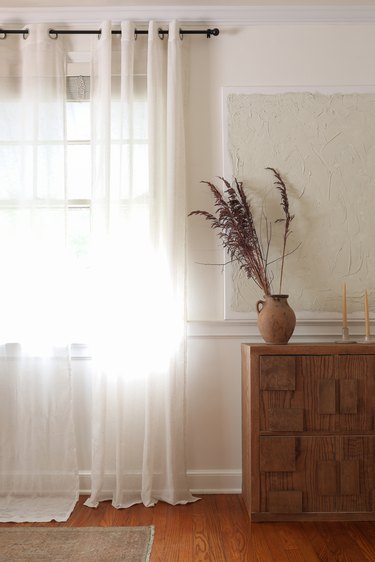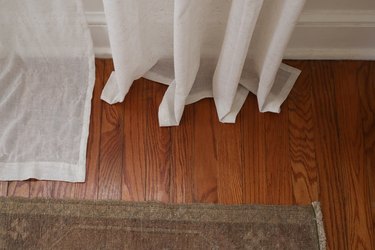 More Sewing Projects and DIY Projects You Might Like